F202 Dollie: CrossDresser License


CrossDresser 4 License for F202 Dollie. Purchasing this license allows you to convert clothing from any supported figure to F202 Dollie.
Be sure to run the XD Updater application to download the proper figure support files before installing your license.
The CrossDresser is a one-click, high quality, fast clothing conversion program for Poser and Daz Studio. It takes clothing designed for one figure and converts it to fit onto another figure. The conversions run in seconds and fit the target character almost perfectly. The converted clothing is also placed directly into your Runtime directory, and can be used immediately. Most clothing will only need minor adjustments to work just as well as the original clothing.
Bonus:?CrossDresser, CrossDresser2.1
Requirements:?F202 Dollie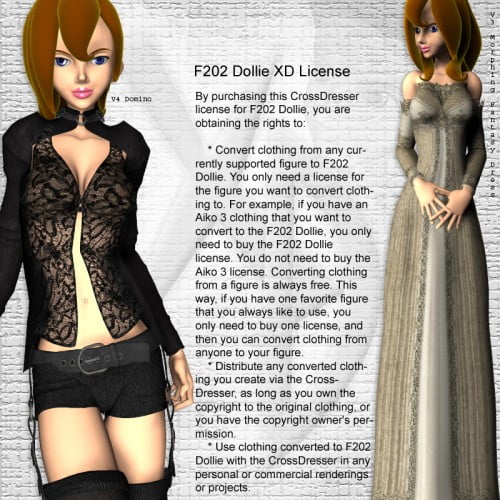 www.renderosity.com/mod/bcs/bubbling-jewelry/58051
---