False Nails for Genesis 9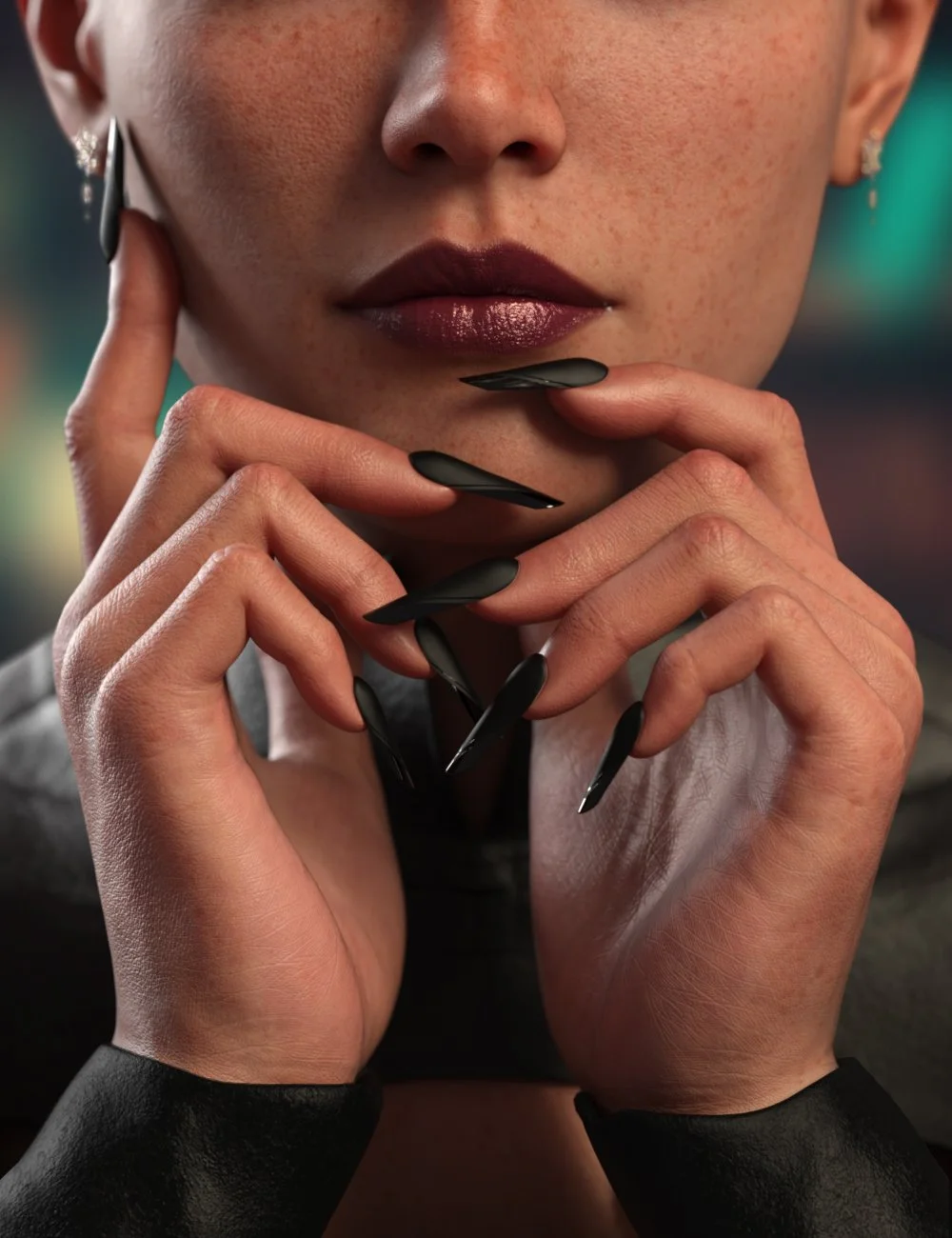 ---
False Nails for Genesis 9
False Nails for Genesis 9 aims to expand upon Nails for Genesis 9 with the addition of concepts found in modern nail design. Ideas such as the inclusion of the APEX of false or gel nails, which is integral to the look and structure of these types of nails, thus offering a more believable and realistic look to your characters. With FN Nails being separate objects and not morphs, this gives users the freedom to choose what sort of shaders are applied to the nails, including transparent and translucent options that would previously not have been achievable with nails that only had morphs applied.
False Nails for Genesis 9 opens the doors to an unfathomable range of designs and will help to bring your characters into the modern day, as acrylic gel or false nails have boomed in the fashion industry in recent years!
Grab yours today and dive into your next render, comfortable in the knowledge that your character's nails will look salon-fresh from any distance!
False Nails for Genesis 9 (.DUF)
Wearables
FN Ballerina Long Set
FN Ballerina Medium Set
FN Ballerina Short Set
FN Coffin Long Set
FN Coffin Medium Set
FN Coffin Short Set
FN Oval Long Set
FN Oval Medium Set
FN Oval Short Set
FN Square Long Set
FN Square Medium Set
FN Square Short Set
FN Stiletto Long Set
FN Stiletto Medium Set
FN Ballerina Long Style Set
FN Ballerina Medium Style Set
FN Ballerina Short Style Set
FN Coffin Long Style Set
FN Coffin Medium Style Set
FN Coffin Short Style Set
FN Oval Long Style Set
FN Oval Medium Style Set
FN Oval Short Style Set
FN Square Long Style Set
FN Square Medium Style Set
FN Square Short Style Set
FN Stiletto Long Style Set
FN Stiletto Medium Style Set
FN Ballerina Long Tip Set
FN Ballerina Medium Tip Set
FN Ballerina Short Tip Set
FN Coffin Long Tip Set
FN Coffin Medium Tip Set
FN Coffin Short Tip Set
FN Oval Long Tip Set
FN Oval Medium Tip Set
FN Oval Short Tip Set
FN Square Long Tip Set
FN Square Medium Tip Set
FN Square Short Tip Set
FN Stiletto Long Tip Set
FN Stiletto Medium Tip Set
Supported Shapes
Genesis 9 Base Shape
Other Shapes may be supported in Daz Studio by Auto-follow
Materials Iray
FN 001 Basic Nail Reset Color
FN Basic Matte Black
FN Basic Matte Blue
FN Basic Matte Cool Grey
FN Basic Matte Green
FN Basic Matte Purple
FN Basic Matte Red
FN Basic Matte Warm Grey
FN Basic Matte White
FN Chrome Black
FN Chrome Blue
FN Chrome Champagne
FN Chrome Cool Silver
FN Chrome Copper
FN Chrome Gold
FN Chrome Green
FN Chrome Purple
FN Chrome Red
FN Chrome Rose Gold
FN Chrome Warm Silver
FN Glitter Bright Silver
FN Glitter Royal Black
FN Glitter Royal Blue
FN Glitter Royal Champagne
FN Glitter Royal Copper
FN Glitter Royal Gold
FN Glitter Royal Green
FN Glitter Royal Purple
FN Glitter Royal Red
FN Glitter Royal Rose Gold
FN Gloss Black
FN Gloss Royal Blue
FN Gloss Royal Green
FN Gloss Royal Purple
FN Gloss Royal Red
FN Gloss White
FN Matte Translucent Cool Grey
FN Matte Translucent Pale Pink Gradient
FN Matte Translucent Pale Pink
FN Matte Translucent Saturated Peach Gradient
FN Matte Translucent Warm Grey
FN Matte Translucent Warm Pale Gradient
FN Matte Translucent Warm Pink Gradient
FN Matte Translucent White
FN Matte Transparent Gradient complexion01
FN Matte Transparent Gradient complexion02
FN Matte Transparent Gradient complexion03
FN Matte Transparent Gradient complexion04
FN Matte Transparent Gradient complexion05
FN Metallic Satin Black
FN Metallic Satin Blue
FN Metallic Satin Champagne
FN Metallic Satin Cool Silver
FN Metallic Satin Copper
FN Metallic Satin Gold
FN Metallic Satin Green
FN Metallic Satin Purple
FN Metallic Satin Red
FN Metallic Satin Rose Gold
FN Metallic Satin Warm Silver
FN Translucent Cool Grey
FN Translucent Milk White
FN Translucent Pale Pink Gradient
FN Translucent Pale Pink
FN Translucent Saturated Peach Gradient
FN Translucent Warm Grey
FN Translucent Warm Pale Gradient
FN Translucent Warm Pink Gradient
FN Translucent White
FN Transparent Gradient complexion01
FN Transparent Gradient complexion02
FN Transparent Gradient complexion03
FN Transparent Gradient complexion04
FN Transparent Gradient complexion05
Shaders Iray
FN Arrow Tip Thick Cutout
FN Cross Stripe 1
FN Diagonal Slice
FN Diagonal Stripes
FN Double Arrow Base Thick
FN Double Arrow Base Thin
FN Double Arrow Inverted
FN Double Arrow Tip Thick
FN Double Arrow Tip Thin
FN Double Arrow
FN Down Top Gradient
FN Down Top Harsh Gradient
FN Geometric Rectangle Design Small
FN Glitter Base Gradient
FN Glitter Gradient
FN Glitter Tip Gradient
FN Horizontal Double Stripe
FN Horizontal Stripe
FN Horizontal Stripes Large
FN Horizontal Stripes Thin
FN Large Center Stripe
FN Moon Base
FN Outline Base
FN Shard
FN Side Blocking
FN Side Line
FN Small Center Stripe
FN Star Gradient Left to right
FN Star Gradient Tip
FN Star Gradient
FN Top Down Gradient
FN Top Down Harsh Gradient
FN Twin Arrow Base and Tip
FN Vertical Stripes
FN Vine
Textures Include
61 Texture, Bump, Displacement, Normal, Reflection, Specular, and Transparency Maps (1024 x 1024)
Daz Studio Iray Material Presets (.DUF)
---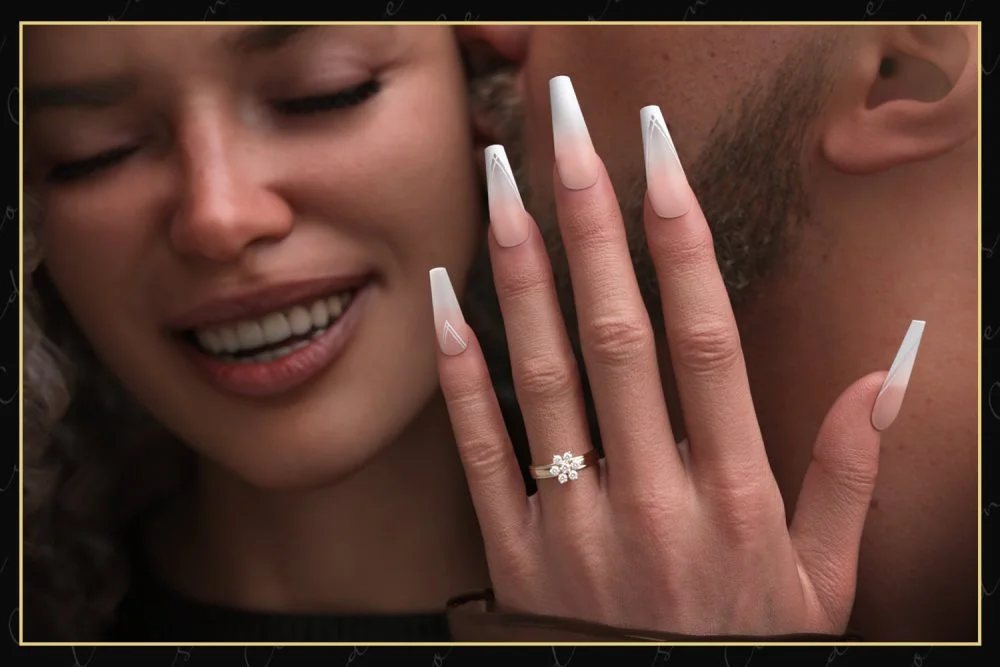 Download from QtyFiles Service
---