Figure Setup Tools Bundle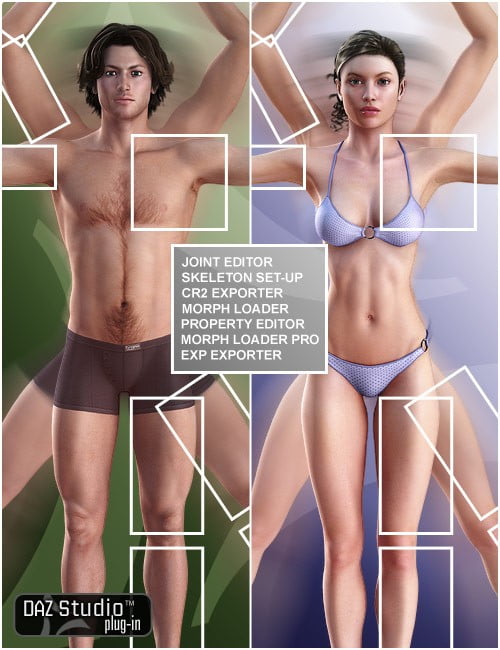 Save time and money with the Figure Setup Tools Bundle! This product bundle contains the Figure Setup Tools and the Advanced Figure Setup Tools at a great savings.
The Figure Setup Tools for DAZ Studio will allow you to create a figure skeleton, edit joints, and even includes an exporter for Poser's .CR2 file format.
Created by professionals to be used by professionals, the Advance Figure Setup Tools are strictly for serious content creators developing complex figures and accessories.
Includes
Skeleton Setup – A tool that allows you to define the hierarchy of a figure?s bones, their geometries, and the relationships between them.
Specify a skeleton?s geometries (notice plurality)
Create and modify parent/child relationships
Establish joint rotation orders individually, or all at once with multiple selection.
Identify which joint parameters to create; twist, bend, curve, etc
Establish welding for bone geometry boundaries; parent/child and other
Establish inverse kinematics (IK) chains; and weights
Joint Editor – A tool that allows manipulation of a figure?s Joint Parameters, along with the ability to create and/or remove bones.
Visually manipulate all Joint Parameters currently supported by DAZ Studio and Poser; without additional tweaking.
Visualize weighting of Joint Parameters in Points, Wireframe or Solid display modes; with the ability to customize display colors and opacity.
Viewport navigation in DAZ Studio compliments your workflow, making editing faster and easier than ever.
Viewport manipulators give faster, easier and more robust control of Joint Parameters.
Optionally limit matrix (joint spheres) rotations to 2 axis for compatibility with Poser; (DAZ Studio does not exhibit the same limitation with matrix decomposition, thereby avoiding the common ?joint sphere popping? during manipulation and sometimes unpredictable results).
CR2 Exporter – An exporter that allows users and content developers alike to export figures to the Poser Character (.cr2) format.
Support of Extensible Parameter (ExP) technology
Option to collect referenced files
Property Editor – A tool designed for mass property attribute editing, as well as creation, deletion, grouping, ordering and linking.
Create properties
Mass delete properties
Mass edit property attributes; limit state/values, hidden state, etc
Mass property grouping; across multiple nodes
Mass ordering/sorting of properties; across multiple nodes
Move properties; to other nodes
Mass linking/unlinking of properties; expressional and direct
ERC Freeze – Allows a user to adjust property values (via Parameters tab or Presets/Poses) and link those properties to a controller; automatically calculating the scalar required to drive the properties to their current value when the controller is set to its current value (or 1 in the case of a 0 value)
Display of Property Hierarchies; both Top-Down and Bottom-Up views
Property selection; for scripting access
ExP Exporter – An exporter specifically designed to generate ExP product files through a visual interface. This tool greatly simplifies a very tedious and time-consuming process that had to be done by hand prior to this tool.
Provides visualization of the four ExP file types
Provides the ability to mass select file type options by type, node and name
Configurations can be saved for later [re]use.
Optionally embed deltas
Optionally generate INJ/REM source library files
Optionally generate INJ/REM user library files
Morph Loader Pro – A tool designed which allows users to quickly and easily add their own custom and third-party OBJ morphs to their objects.
Load morphs that span a figure?s group boundaries, in their entirety rather than individually, group by group
Limit morphs that span a figure?s group boundaries to specific groups; selected nodes.
Load vertex-only morphs onto static objects
Morphs can be ordered and loaded en masse, with each being uniquely configured.
Use the Reverse Deformations feature to subtract the affect of any currently applied geometry deformations, such as joint and/or morph modifiers.
Project and object configurations can be saved for later [re]use
Configuration settings include naming, property grouping, property linking and updating
Seamless integration with the DAZ Studio Hexagon Bridge
Download from QtyFiles Service
---