FPE Blush Effect Geoshell for Genesis 9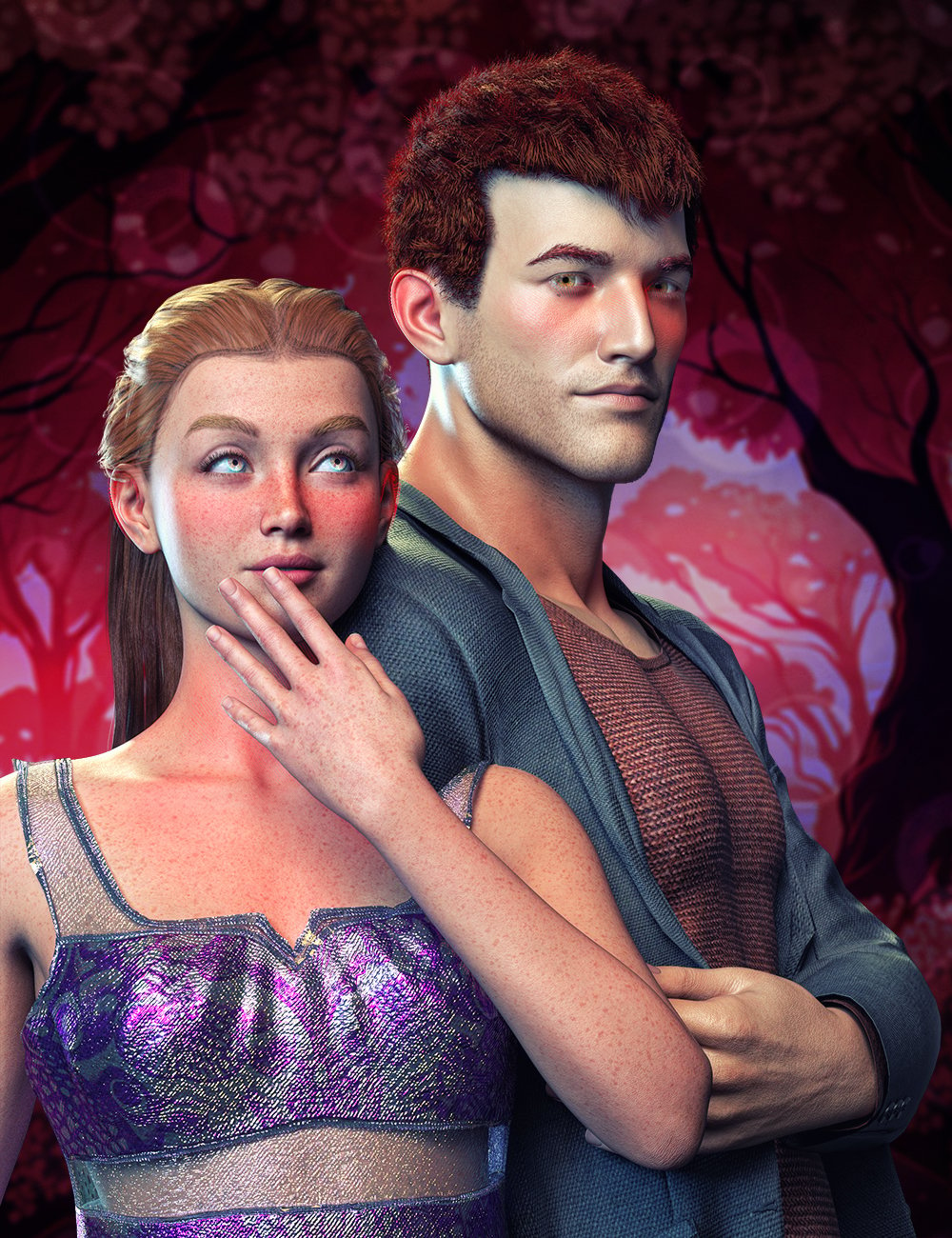 FPE Blush Effect Geoshell for Genesis 9 consists of 2 geoshells and 27 LIE presets of unique cutout opacity masks to allow you to build a wide range of blushes. The geoshells embrace the stylization output by adding emission into the mix for a result typically seen in comics, anime, manga, cartoons, manhuas, manhwas, and even dramas. Of course, we have included a preset to turn the emission off for a more subtle look.
Simply put, these geoshells work as a glowing dye. The visibility of it is built via the Layered Image Editor (LIE) presets, which build a mask in the cutout opacity channel. This means that the LIE application is quite fast. And the versatility of the geoshells allows you to quickly and efficiently build, change, tweak, and/or delete the blush without altering your character's underlying skin.
FPE Blush Effect can serve as a fantastic storytelling tool to showcase the emotions of your Genesis 9 character. By combining the different blushes (LIE) and stacking the geoshells, you'll be able to build blushes that will cover a wide range of expressions: from shy and timid to happy and excited; from angry and frustrated to tired and weary; from enjoying a healthy meal to being sick with the flu; from charming and mischievous to showing someone so miserable, that they wear on their face signs of having bawled their eyes out. Whatever scenario you envisioned, we hope this pack will help you tell your story!
Use this product to add charm to your character or to help you convey silent aspects of your story in a visual way.
FPE Blush Effect Geoshell for Genesis 9: (.DUF)
Wearables:
FPE Blush Effect 01 Apply Geoshell
FPE Blush Effect 01 Apply Lines Geoshell
Property Presets:
FPE Blush Effect 07 Lines Offset Closer
FPE Blush Effect 07 Lines Offset Default
Layered Image Editor (LIE) Presets:
FPE Blush Effect 02 LIE Bashful
FPE Blush Effect 02 LIE Center
FPE Blush Effect 02 LIE Cheek Left
FPE Blush Effect 02 LIE Cheek Right
FPE Blush Effect 02 LIE Chest
FPE Blush Effect 02 LIE Ears
FPE Blush Effect 02 LIE Eyes Corner
FPE Blush Effect 02 LIE Eyes Cry
FPE Blush Effect 02 LIE Face Full
FPE Blush Effect 02 LIE Forehead
FPE Blush Effect 02 LIE Happy
FPE Blush Effect 02 LIE Neck Back
FPE Blush Effect 02 LIE Neck Full
FPE Blush Effect 02 LIE Nose
FPE Blush Effect 02 LIE Shy
FPE Blush Effect 02 LIE Wide Spread
FPE Blush Effect 03 Lines LIE Center
FPE Blush Effect 03 Lines LIE Cheek Left
FPE Blush Effect 03 Lines LIE Cheek Right
FPE Blush Effect 03 Lines LIE Cheeks
FPE Blush Effect 03 Lines LIE Chest
FPE Blush Effect 03 Lines LIE Ears
FPE Blush Effect 03 Lines LIE Eyes Corners
FPE Blush Effect 03 Lines LIE Face Full
FPE Blush Effect 03 Lines LIE Forehead
FPE Blush Effect 03 Lines LIE Neck Back
FPE Blush Effect 03 Lines LIE Neck Front
Material Presets:
FPE Blush Effect 04 Emission Lines ON
FPE Blush Effect 04 Emission ON
FPE Blush Effect 04 Emission OFF
FPE Blush Effect 05 Strength High
FPE Blush Effect 05 Strength Med
FPE Blush Effect 05 Strength Low
FPE Blush Effect 06 Clear LIE
Instructions Scripts:
FPE Blush Effect 00 !Instructions
FPE Blush Effect 02 LIE !Info
FPE Blush Effect 03 LIE !Info
FPE Blush Effect 04 Emission !Info
FPE Blush Effect 05 Strength !Info
FPE Blush Effect 07 Lines Offset !Info
Textures Include:
28 Texture Maps (4096 x 4096)
Daz Studio Iray Material Presets (.DUF)
This product uses the Genesis 9 Base UVs
---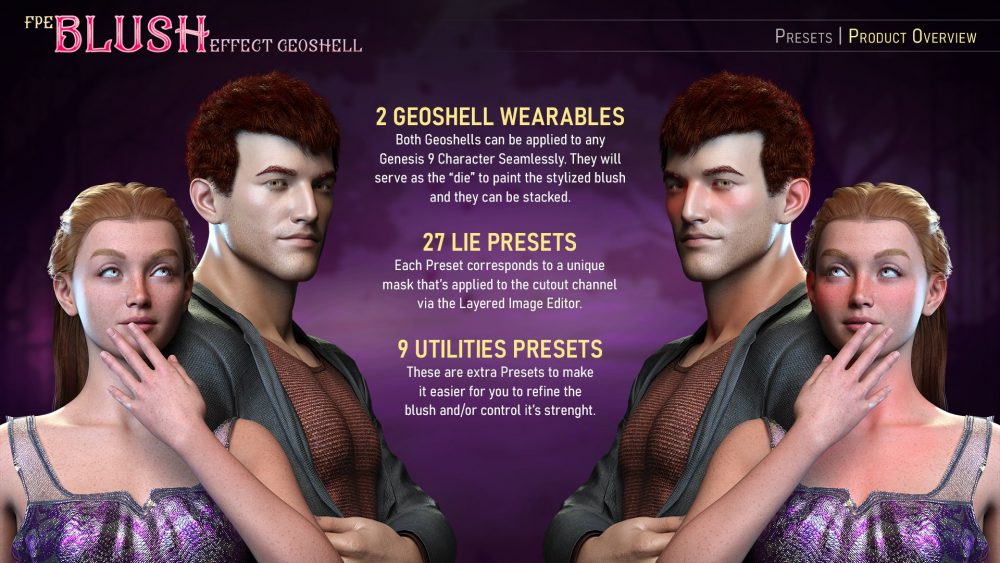 Download from QtyFiles Service
---