FPE Monochrome Tattoos for Genesis 9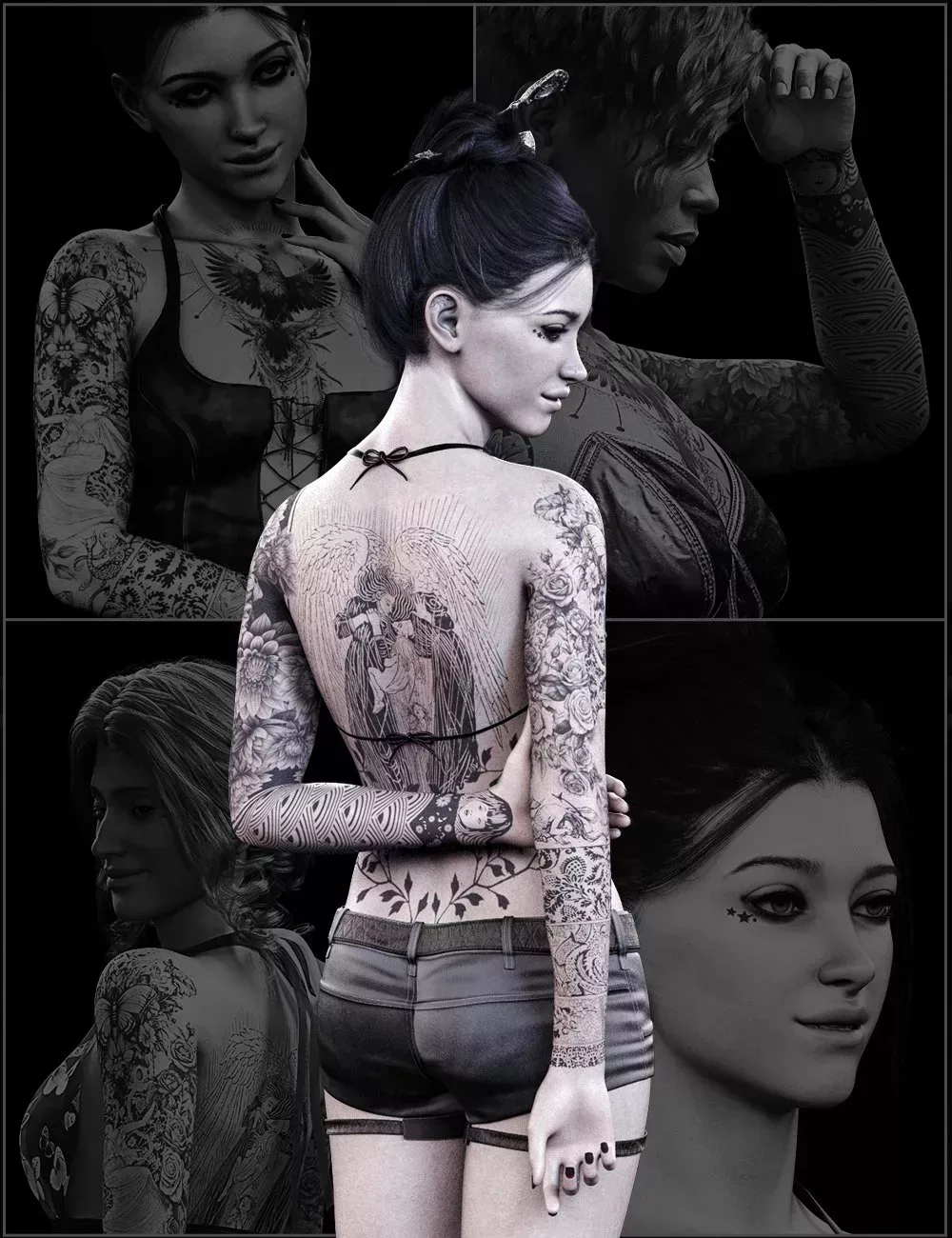 "FPE Monochrome Tattoos" is a set of different Tattoos applied to any Genesis 9 character via a Geoshell Wearable for an efficient, flexible, and highly customizable non-destructive workflow.
For those unfamiliar with Geoshells, think of this wearable as an extra layer of skin for your Genesis 9. The Tattoos are applied to this Wearable, ensuring your character's skin remains untouched. Getting rid of the tattoos is as easy as hiding this Geoshell or deleting it from the scene/
While the tattoos lean towards a feminine aesthetic, you can still apply them to male characters. Three types of "Ink" Material Presets will provide the tattoos with a fresh, old, or older look.
The Old and Older ink materials will turn the ink blue. A utility preset to "darken" the ink is provided for darker skin characters since the blue hue may feel out of place. Of course, you can always manually change the tattoos' color and opacity (intensity) via the surface pane.
This pack includes 16 different Tattoos. Each Arm Sleeve has variations to apply only the Upper or Lower Half portion. In addition, 13 of the tattoos have a mirror option, totaling 30 LIE Mask Presets.
Tattoos have always been a medium of expression. They can be a reminder, a symbol, or a silent statement so important that only etching it into the skin would suffice. So, use this pack to add context to your characters. Whether you want to turn these designs into symbols that echo your character's life or wish to turn their skin into a beautiful piece of art, the choice is yours!
*This is not a merchant resource*
FPE Monochromatic Tattoos Genesis 9: (.DUF)
Wearables
FPE Mono Tattoo 01 Apply Shell
Material Presets
FPE Mono Tattoo 02 Ink MAT Fresh
FPE Mono Tattoo 02 Ink MAT Old
FPE Mono Tattoo 02 Ink MAT Older
FPE Mono Tattoo 02 Ink Utility Darken
FPE Mono Tattoo 03 LIE Reset
Layered Image Editor (LIE) Presets:
FPE Mono Tattoo 03 LIE Ankle Flowers 02 Left/Right
FPE Mono Tattoo 03 LIE Ankle Flowers Left/Right
FPE Mono Tattoo 03 LIE Arm Sleeve 01 Full Left/Right
FPE Mono Tattoo 03 LIE Arm Sleeve 01 Lower Left/Right
FPE Mono Tattoo 03 LIE Arm Sleeve 01 Upper Left/Right
FPE Mono Tattoo 03 LIE Arm Sleeve 02 Full Left/Right
FPE Mono Tattoo 03 LIE Arm Sleeve 02 Lower Left/Right
FPE Mono Tattoo 03 LIE Arm Sleeve 02 Upper Left/Right
FPE Mono Tattoo 03 LIE Back Angels
FPE Mono Tattoo 03 LIE Back Flowers Left/Right
FPE Mono Tattoo 03 LIE Back Flowers
FPE Mono Tattoo 03 LIE Chest Moth
FPE Mono Tattoo 03 LIE Chest Raven
FPE Mono Tattoo 03 LIE Ear Sun Left/Right
FPE Mono Tattoo 03 LIE Face Heart Left/Right
FPE Mono Tattoo 03 LIE Face Stars Left/Right
FPE Mono Tattoo 03 LIE Foot Fish Left/Right
Instructions Scripts (.DSA):
FPE Mono Tattoo 00 Instructions
FPE Mono Tattoo 03 LIE !Info
Textures Include:
26 Texture Maps (PNG, 4096×4096) for Transparency
Daz Studio Layered Image Editor Presets (.DUF)
---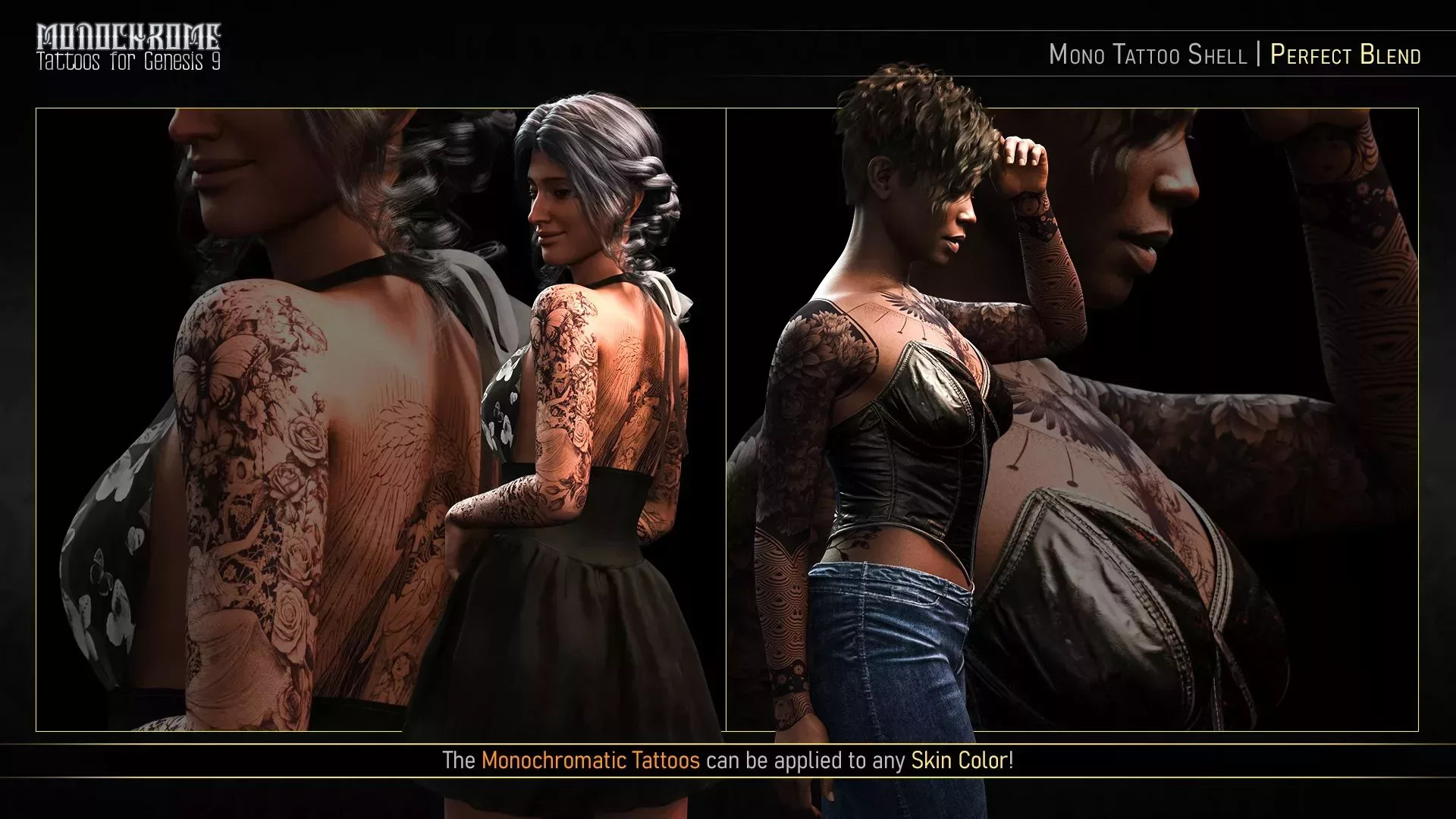 Download from QtyFiles Service
---