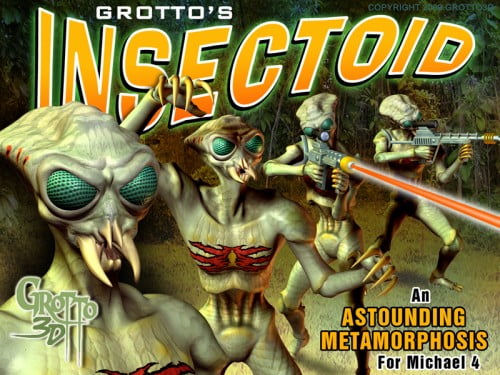 High Definition Character Morph and Texture Set for Michael 4
Certainly one of the most Radical, Shape Altering Transfigurations ever created for Michael 4!!
The GROTTO'S INSECTOID Morph Pack COMPLETELY CHANGES the entire Michael 4 geometry!
Huge compound eyes glare from an elongated cranium. Powerful mandables appear ready to snap and tear. Its segmented Exoskeleton is covered with insect-like scales. Its limbs end in sharp taloned claws!
And if that's not enough- the Freak'n Thing is packing a BLAST RIFLE!!
GROTTO'S INSECTOID is a fully hand sculpted morph & texture pack that will transform Michael 4 into an entirely new character!!!
The pack comes with its own, custom morph set including: FACIAL EXPRESSION MORPHS, EYE SIZE AND SPACING MORPHS, CRANIUM SIZE AND SHAPE MORPHS, OPEN/CLOSE MANDABLE MORPH,
and MORE!!
The custom GROTTO'S INSECTOID Texture set includes full scaly Insectoid head and body texture with bump maps all in high resolution. FIVE DIFFERENT EYE COLOR POSES and….
GROTTO'S INSECTOID comes complete with his custom ALIEN BLAST RIFLE / BEAM WEAPON which is parented to his right hand for easy posing!
All morph and texture files are packaged in INJECTION POSE format for easy "Single Click" instalation!
8 HAND POSES and 20 EXCLUSIVE ACTION POSES are also included!!
INCLUDES::
-Fully hand sculpted GROTTO'S INSECTOID morph in convenient INJ pose format
-Exclusive custom face, head and eye morphs
-Realistic scaly GROTTO'S INSECTOID full head and body texture
-Full head and body bump map
-5 different eye color textures
-20 new GROTTO'S INSECTOID action poses
-8 GROTTO'S INSECTOID hand poses
-Exclusive GROTTO'S INSECTOID Blast Rifle prop
-Installation instructions for both Poser and DAZ Studio
-Installation instructions for both PC and MAC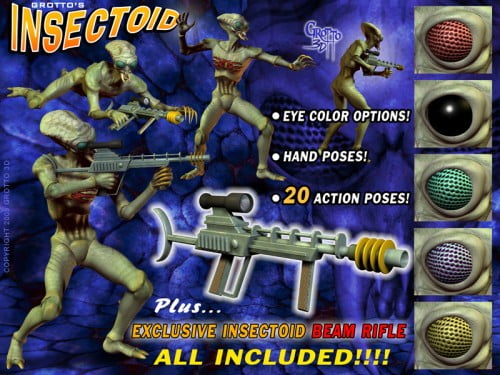 ---