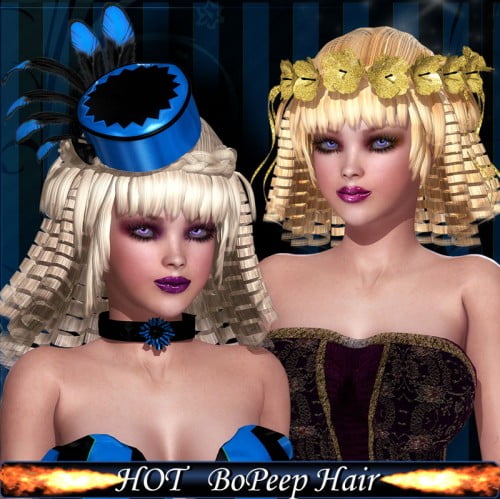 HOT BoPeep Hair is a saucy Victorian Goth hair style set.It loads to fit V4.2 and includes fits for Aiko 4 and TheGirl 4
The HOT BoPeep Hair set also includes 1 Wreath with 7 texture options and 1 pillbox hat with 12 texture options.
To keep thewreath file size down I have included 2 wreath props. 1 wreath contains the just fits the other wreath contains fits and movement morphs.
The hair and and props are all linked to their individual obj files making it easy to add new morphs.
Good value, Top quality, good price.
KNOW ISSUE:
The hat and wreath load to fit onto the HOT BoPeep Hair.
When setting the dials on movement morphs on hair, wreath and hat, setting to 1 will not necesarily give exactly what you want. Set the dials to the number that you feel looks best. Some tweaking may be required to get the combination of looks you want for your artistic vision. Some dials work very well at a negative number It is important to experiment.
Hat.The hat may load with pokethrough on the braids. There are morphs to move it around to avoid pokethrough.
DAZ STUDIO USERS: Although this set has been tested in Daz Studio I do not offer support for Daz Studio.
The mat files use some Poser shader nodes however the actual textures are detailed TEXTURE MAPS not poser shaders so with slight tweaking they should work just fine in Daz Studio.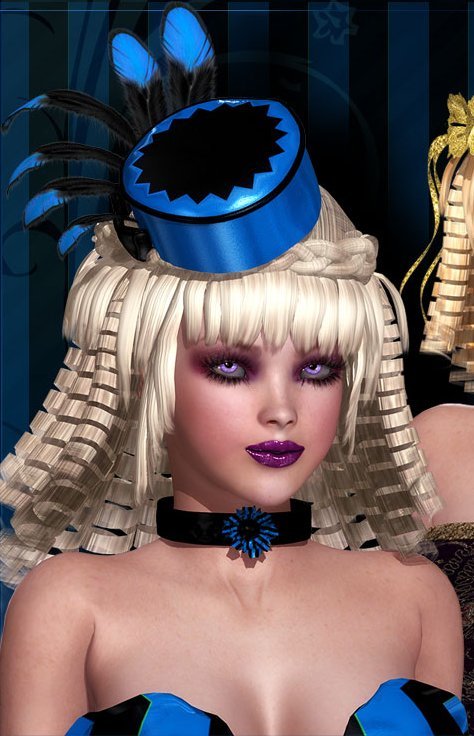 ---