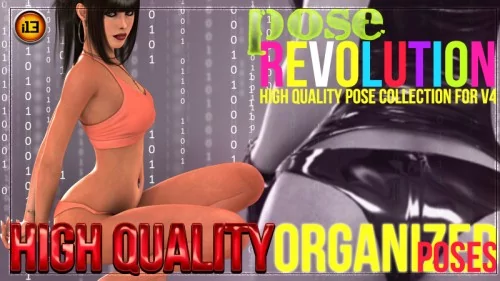 i13 POSE REVOLUTION is an all new fresh and sexy pose collection for V4 with some
major features that make it a valuable additon to your personal collection.
*NEW – BIGGER PREVIEW THUMBNAILS – poses now come with jumbo preview thumbnails
with high resolution renders and labels, so you see exactly what you want faster.
*NEW – EXPANDED VARIETY – now you get more poses for an even wider range of situations
and positions, offering greater versatility and more of what you need.
*HIGH IMPACT QUALITY – get the most appeal for your images with i13 POSE REVOLUTION
Every pose is crafted with care and great attention to detail, so you get the perfect look you need.
Included in your purchase:
812 realistic, organized poses for V4
?50 UNIQUE FULL BODY poses
?50 FULL BODY mirrors
?50 UNIQUE UPPER BODY poses
?50 UPPER BODY mirrors
?50 UNIQUE LOWER BODY poses
?50 LOWER BODY mirrors
?100 RIGHT ARM poses
?100 LEFT ARM poses
?100 RIGHT LEG poses
?100 LEFT LEG poses
?50 EYE poses
?50 HEAD + NECK Poses
?12 FEET Poses
?10 Zero Poses for Body/Eye/Head/Neck/Arms/Feet/Legs
812 POSES, 10000s OF POSSIBILITIES!!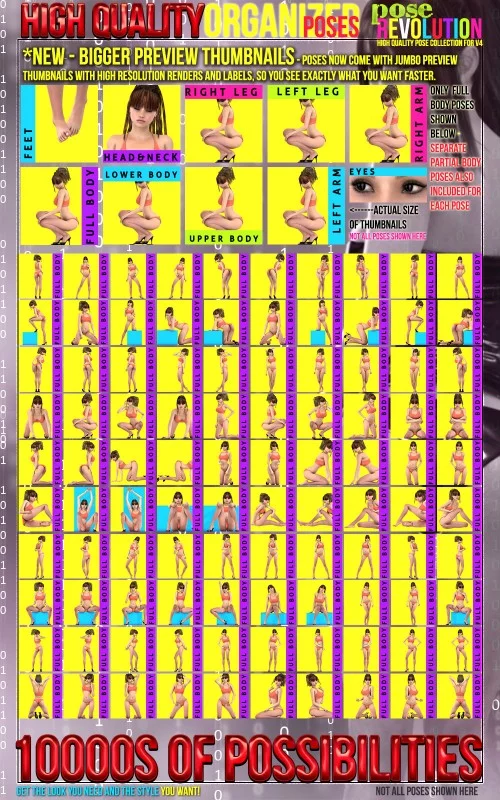 ---