Indie Filmmakers Tutorial: Modeling and Texturing for Daz Studio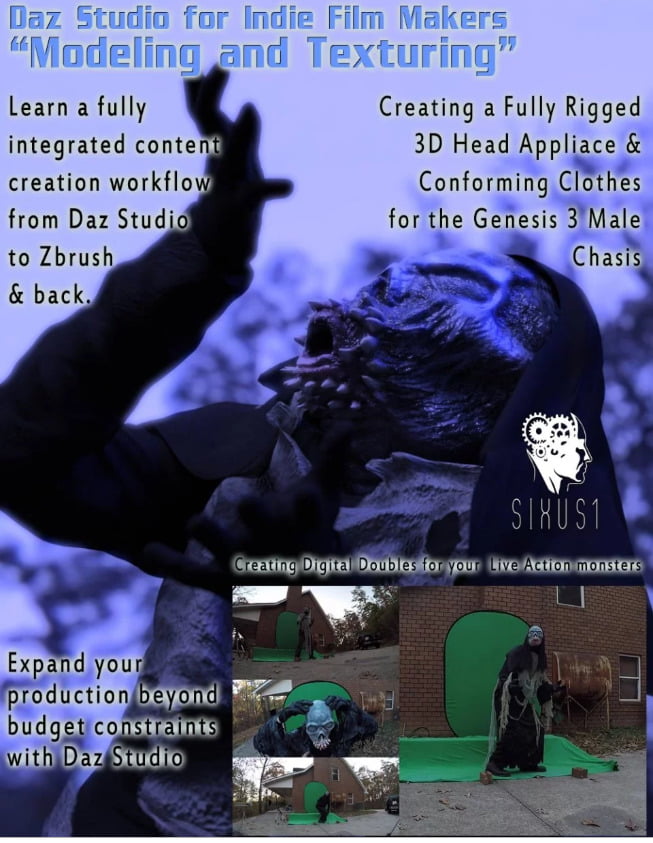 ---
Indie Filmmakers Tutorial: Modeling and Texturing for Daz Studio
Kicking off the Daz Studio for Indie Filmmakers mentoring series, join Les Garner of Sixus1 Media as he delves into a variety of techniques involved in using creating custom content for Daz Studio to be integrated into an indie film project pipeline.
In this first installment, we'll be building a digital replacement for a practical mask/head appliance for the project including:
Concept sculpting from photo references of a practical appliance from on set.
Topology creation from the concept sculpt.
Generating UV's over the topology that will hold our texture properly.
Texturing our digital stand-in using the photo sources from on set.
Finalizing our digital head appliance asset in preparation for the rest of the production pipeline.
2 Hrs and 40 Min Running Time
Part 1 Model and Texture a Digital StandIn 01
Part 1 Model and Texture a Digital StandIn 02
Part 1 Model and Texture a Digital StandIn 03
Part 1 Model and Texture a Digital StandIn 04
Part 1 Model and Texture a Digital StandIn 05
Part 1 Model and Texture a Digital StandIn 06
Part 1 Model and Texture a Digital StandIn 07
Part 2 Rigging Digital Doubles 01
Part 2 Rigging Digital Doubles 02
Part 2 Rigging Digital Doubles 03
Part 3 Clothing ModelandTexture 01
Part 3 Clothing ModelandTexture 02
Part 3 Clothing ModelandTexture 03
Part 3 Clothing ModelandTexture 04
Part 3 Clothing ModelandTexture 05
Part 4 Blinder Animation with DForce 01
Part 4 Blinder Animation with DForce 02
---
---