Japanese Portrait Studio and Props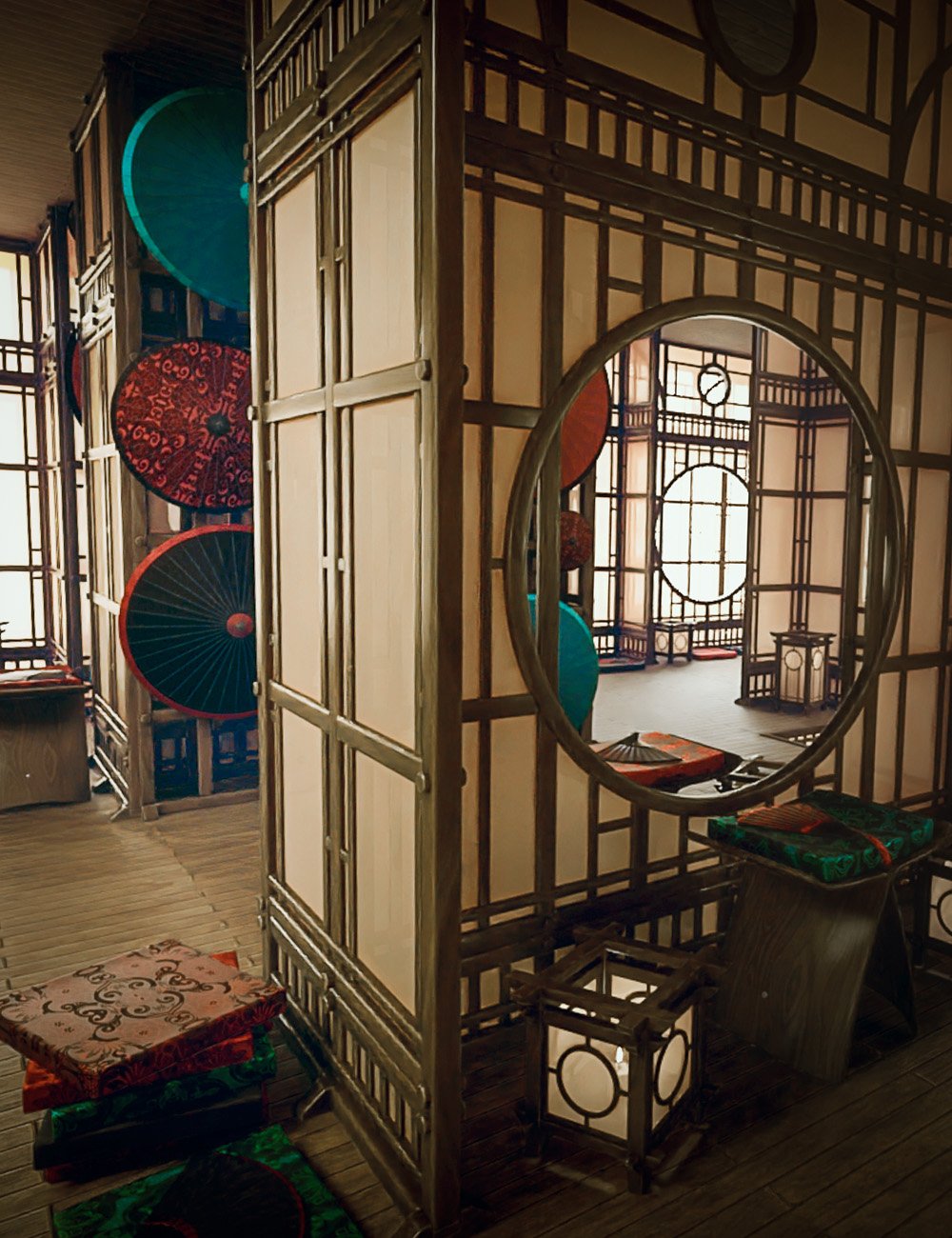 ---
The Japanese Portrait Studio and Props set is overflowing with stylistic atmosphere. Candlelit ambiance fills this preset environment, making it a beautiful set piece for authentic Japanese renders. Ready to go right out of the box, it also includes individual props and a basic backdrop for you to create your own portrait settings with the stand-alone walls, ceilings, and props.
The set is fully instanced with a control area for your renders and includes pre-done cameras and lighting for finding just the right creative angle for your scenes.
The set also includes tons of preset materials for all the props, including fabric and paper options for the umbrellas and hand fans, a choice of paper and wood options for the screens and lanterns, wood, fabric, ceramic, and metallic options for the stools, as well as multiple matching backdrop colors for the perfect setup.
Japanese Portrait Studio and Props: (.DUF)
Scenes
JPSP 00b Japanese Portrait Studio FULL SCENE
Presets
JPSP 17 Umbrella Rack Full
Props
JPSP 01 Butterfly Stool Full
JPSP 02 Butterfly Cushion Only
JPSP 03 Floor Lantern Medium
JPSP 04 Floor Lantern Small
JPSP 05 Garden Stool
JPSP 06 Japanese Hand Fan
Flex
Open Close
Open Close
Tassle Front Back
Tassle Left Right
Tassle Rotate
Tassle Twist
Twist
JPSP 07 Japanese Hand Fan Closed
Tassle Front Back
Tassle Left Right
Tassle Rotate
Tassle Twist
JPSP 08 Japanese Umbrella
JPSP 09 Circle Screen
JPSP 10 Solid Screen Full
JPSP 11 Solid Screen Half
JPSP 12 Corner Screen
JPSP 13 Floor Tile Solid Screen Half
JPSP 14 Floor Tile Corner Screen
JPSP 15 Floor Tile Wood
JPSP 16 Umbrella Wall Rack
JPSP Curved Wall Backdrop
Wearables
JPSP 01 Hand Fan G8 Female Left/Right
JPSP 03 Hand Fan Closed G8 Female Left/Right
JPSP 05 Umbrella G8 Female Left/Right
JPSP 01 Hand Fan G9F Left/Right
JPSP 03 Hand Fan Closed G9F Left/Right
JPSP 05 Umbrella G9F Left/Right
JPSP 01 Hand Fan G8 Male Left/Right
JPSP 03 Hand Fan Closed G8 Male Left/Right
JPSP 05 Umbrella G8 Male Left/Right
JPSP 01 Hand Fan G9M Left/Right
JPSP 03 Hand Fan Closed G9M Left/Right
JPSP 05 Umbrella G9M Left/Right
Hierarchical Hand Poses:
JPSP 01 Hand Fan G8 Female Left/Right
JPSP 03 Hand Fan Closed G8 Female Left/Right
JPSP 05 Umbrella G8 Female Left/Right
JPSP 01 Hand Fan G9F Left/Right
JPSP 03 Hand Fan Closed G9F Left/Right
JPSP 05 Umbrella G9F Left/Right
JPSP 01 Hand Fan G8 Male Left/Right
JPSP 03 Hand Fan Closed G8 Male Left/Right
JPSP 05 Umbrella G8 Male Left/Right
JPSP 01 Hand Fan G9M Left/Right
JPSP 03 Hand Fan Closed G9M Left/Right
JPSP 05 Umbrella G9M Left/Right
Render settings
JPSP 00c Disable Draw Ground
Materials Iray
JPSP 1 Butterfly Stool Black
JPSP 1 Butterfly Stool Brown
JPSP 2a Cushion Red Pattern
JPSP 2b Cushion Black Pattern
JPSP 2c Cushion Blue Pattern
JPSP 2d Cushion Blue Metallic Only Pattern
JPSP 2e Cushion Pink Pattern
JPSP 2f Cushion Light Pink Pattern
JPSP 2g Cushion Green Pattern
JPSP 2h Cushion Green Gold Pattern
JPSP 3a Cushion Plain Red
JPSP 3b Cushion Plain Black
JPSP 3c Cushion Plain Blue
JPSP 3d Cushion Plain Pink
JPSP 3e Cushion Plain Green
JPSP 3f Cushion Plain Neutral
JPSP 4b Metal Flakes Red
JPSP 4c Metal Flakes Black
JPSP 4d Metal Flakes Blue
JPSP 4e Metal Flakes Pink
JPSP 4f Metal Flakes Green
JPSP 4g Metal Flakes Gold
JPSP 4h Metal Flakes Silver
JPSP 5 Metal Flakes OFF
JPSP 5 Metal Flakes ON
JPSP 5 Pattern OFF
JPSP 5 Pattern ON
JPSP 01 Hand Fan Red Pattern
JPSP 02 Hand Fan Black Pattern
JPSP 03 Hand Fan Blue Pattern
JPSP 04 Hand Fan Blue Metallic Only Pattern
JPSP 05 Hand Fan Pink Pattern
JPSP 06 Hand Fan Light Pink Pattern
JPSP 07 Hand Fan Green Pattern
JPSP 08 Hand Fan Green Gold Pattern
JPSP 10 Hand Fan Red Plain
JPSP 11 Hand Fan Black Plain
JPSP 12 Hand Fan Blue Plain
JPSP 13 Hand Fan Pink Plain
JPSP 14 Hand Fan Dark Pink Plain
JPSP 15 Hand Fan Green Plain
JPSP 16 Hand Fan Cream Plain
JPSP 17 Hand Fan Gold Plain
JPSP 18 Hand Fan Silver Plain
JPSP 31 Fan Tassel Metallic Red
JPSP 32 Fan Tassel Metallic Black
JPSP 33 Fan Tassel Metallic Blue
JPSP 34 Fan Tassel Metallic Pink
JPSP 35 Fan Tassel Metallic Green
JPSP 36 Fan Tassel Metallic Gold
JPSP 37 Fan Tassel Metallic Silver
JPSP 01 Paper Fan Red
JPSP 02 Paper Fan Black
JPSP 03 Paper Fan Blue
JPSP 04 Paper Fan Pink
JPSP 05 Paper Fan Green
JPSP 06 Paper Fan Cream
JPSP 07 Paper Fan Gold
JPSP 08 Paper Fan Silver-White
JPSP 22 Fan Tassel Red
JPSP 23 Fan Tassel Black
JPSP 24 Fan Tassel Blue
JPSP 25 Fan Tassel Dark Pink
JPSP 26 Fan Tassel Pink
JPSP 27 Fan Tassel Green
JPSP 28 Fan Tassel Dark Green
JPSP 29 Fan Tassel Cream
JPSP 30 Fan Tassel Gold
JPSP 31 Fan Tassel Silver-White
JPSP 01 Backdrop Dark Red
JPSP 02 Backdrop Red
JPSP 03 Backdrop Black
JPSP 04 Backdrop Blue
JPSP 05 Backdrop Dark Pink
JPSP 06 Backdrop Pink
JPSP 07 Backdrop Green
JPSP 08 Backdrop Dark Green
JPSP 09 Backdrop Cream
JPSP 10 Backdrop Gold
JPSP 11 Backdrop Silver-White
JPSP 13 Floor Tile Black Wood
JPSP 14 Floor Tile Brown Wood
JPSP 01 Garden Stool All Gold
JPSP 02 Garden Stool All Silver
JPSP 03 Garden Stool Black Gold
JPSP 04 Garden Stool Black Silver
JPSP 05 Garden Stool Blue Gold
JPSP 06 Garden Stool Blue Silver
JPSP 07 Garden Stool Green Gold
JPSP 08 Garden Stool Green Silver
JPSP 09 Garden Stool Pink Gold
JPSP 10 Garden Stool Pink Silver
JPSP 11 Garden Stool Red Gold
JPSP 12 Garden Stool Red Silver
JPSP 14 Garden Stool Floral All Gold
JPSP 15 Garden Stool Floral All Silver
JPSP 16 Garden Stool Floral Black Gold
JPSP 17 Garden Stool Floral Black Silver
JPSP 18 Garden Stool Floral Blue Solid
JPSP 19 Garden Stool Floral Blue
JPSP 20 Garden Stool Floral Green Solid
JPSP 21 Garden Stool Floral Green
JPSP 22 Garden Stool Floral Pink Solid
JPSP 23 Garden Stool Floral Pink
JPSP 24 Garden Stool Floral Red Solid
JPSP 25 Garden Stool Floral Red
JPSP 1a Floor Lantern Small Brown
JPSP 1b Floor Lantern Medium Brown
JPSP 2a Floor Lantern Small Black
JPSP 2b Floor Lantern Medium Black
JPSP 3a Floor Lantern Candle ON
JPSP 3b Floor Lantern Candle OFF
JPSP 4a Floor Lantern Small Cream Paper
JPSP 4bFloor Lantern Small White Paper
JPSP 5a Floor Lantern Medium Cream Paper
JPSP 5b Floor Lantern Medium White Paper
JPSP 6 Floor Lantern Candle Intensity Interior
JPSP 01 Circle Screen Black Wood
JPSP 02 Circle Screen Brown Wood
JPSP 03 Solid Screen Black Wood
JPSP 04 Solid Screen Brown Wood
JPSP 05 Solid Screen Half Black Wood
JPSP 06 Solid Screen Half Brown Wood
JPSP 07 Corner Screen Black Wood
JPSP 08 Corner Screen Brown Wood
JPSP 12 Bottom Panels OFF
JPSP 13 Bottom Panels ON
JPSP 14 Large Circle OFF
JPSP 15 Large Circle ON
JPSP 16 Small Circle OFF
JPSP 17 Small Circle ON
JPSP 18 Top Panels OFF
JPSP 19 Top Panels ON
JPSP 20 Dividers OFF
JPSP 21 Dividers ON
JPSP 22 Circle Screen White Paper
JPSP 23 Circle Screen Cream Paper
JPSP 24 Solid Screen White Paper
JPSP 25 Solid Screen Cream Paper
JPSP 26 Solid Screen Half White Paper
JPSP 27 Solid Screen Half Cream Paper
JPSP 28 Corner Screen White Paper
JPSP 29 Corner Screen Cream Paper
JPSP 31 Umbrella Rack Black Wood
JPSP 32 Umbrella Rack Brown Wood
JPSP 34 Umbrella Rack Primary Colors
JPSP 35 Umbrella Rack Pastel Colors
JPSP 01 Red Black Umbrella Full Pattern
JPSP 02 Blue Gold 1 Umbrella Full Pattern
JPSP 03 Blue Gold 2 Umbrella Full Pattern
JPSP 04 Pink Umbrella Full Pattern
JPSP 05 Green Gold Umbrella Full Pattern
JPSP 06 Red Umbrella Solid
JPSP 07 Black Umbrella Solid
JPSP 08 Blue Umbrella Solid
JPSP 09 Dk Pink Umbrella Solid
JPSP 10 Pink Umbrella Solid
JPSP 11 Green Umbrella Solid
JPSP 12 Cream Umbrella Solid
JPSP 13 Gold Umbrella Solid
JPSP 27 Umbrella String Colors
JPSP 01 Paper Umbrella Red
JPSP 02 Paper Umbrella Black
JPSP 03 Paper Umbrella Blue
JPSP 04 Paper Umbrella Pink
JPSP 05 Paper Umbrella Green
JPSP 06 Paper Umbrella Cream
JPSP 07 Paper Umbrella Gold
JPSP 08 Paper Umbrella Silver-White
JPSP 02 Portrait Studio Black
JPSP 03 Portrait Studio Brown
Shader Presets Iray
JPSP 23 Metal Flakes Red
JPSP 24 Metal Flakes Black
JPSP 25 Metal Flakes Blue
JPSP 26 Metal Flakes Pink
JPSP 27 Metal Flakes Green
JPSP 28 Metal Flakes Gold
JPSP 29 Metal Flakes Silver
JPSP 39 Metal Flakes OFF
JPSP 40 Metal Flakes ON
JPSP 41 Pattern OFF
JPSP 42 Pattern ON
JPSP 10 Paper Fan Dark Red
JPSP 11 Paper Fan Red
JPSP 12 Paper Fan Black
JPSP 13 Paper Fan Blue
JPSP 14 Paper Fan Dark Pink
JPSP 15 Paper Fan Pink
JPSP 16 Paper Fan Green
JPSP 17 Paper Fan Dark Green
JPSP 18 Paper Fan Cream
JPSP 19 Paper Fan Gold
JPSP 20 Paper Fan Silver-White
JPSP 15 Metal Flakes Red
JPSP 16 Metal Flakes Black
JPSP 17 Metal Flakes Blue
JPSP 18 Metal Flakes Pink
JPSP 19 Metal Flakes Green
JPSP 20 Metal Flakes Gold
JPSP 21 Metal Flakes Silver
JPSP 23 Pattern OFF
JPSP 24 Pattern On
JPSP 25 Metal Flakes OFF
JPSP 26 Metal Flakes ON
JPSP 28 Strings Red
JPSP 29 Strings Black
JPSP 30 Strings Blue
JPSP 30 Strings Dark Pink
JPSP 31 Strings Dark Green
JPSP 32 Strings Gold
JPSP 33 Strings Silver-White
JPSP 10 Paper Umbrella Dark Red
JPSP 11 Paper Umbrella Red
JPSP 12 Paper Umbrella Black
JPSP 13 Paper Umbrella Blue
JPSP 14 Paper Umbrella Dark Pink
JPSP 15 Paper Umbrella Pink
JPSP 16 Paper Umbrella Green
JPSP 17 Paper Umbrella Dark Green
JPSP 18 Paper Umbrella Cream
JPSP 19 Paper Umbrella Gold
JPSP 20 Paper Umbrella Silver-White
JPSP 22 Strings Red
JPSP 23 Strings Black
JPSP 24 Strings Blue
JPSP 25 Strings Dark Pink
JPSP 26 Strings Dark Green
JPSP 27 Strings Gold
JPSP 28 Strings Silver-White
Textures Include:
26 Albedo, Metalness, Opacity, Normal, Transmitted Color, and Roughness Maps (1024 x 1024 to 4096 x 4096)
Texture Templates available through the Product Library
Daz Studio Iray Material Presets (.DUF)
Daz Studio Iray Shader Presets (.DUF)
---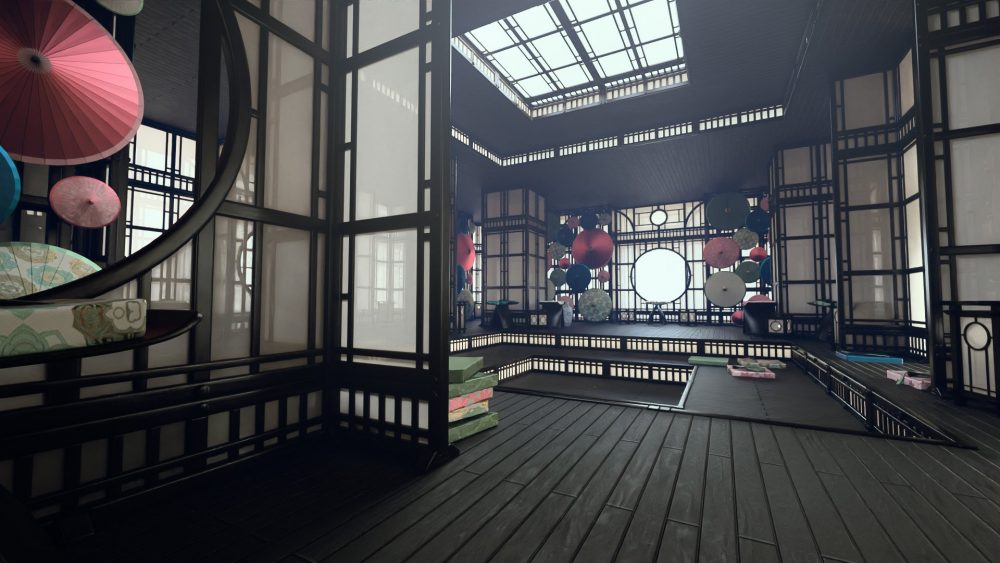 Download from QtyFiles Service
---