Japanese Portrait Studio Poses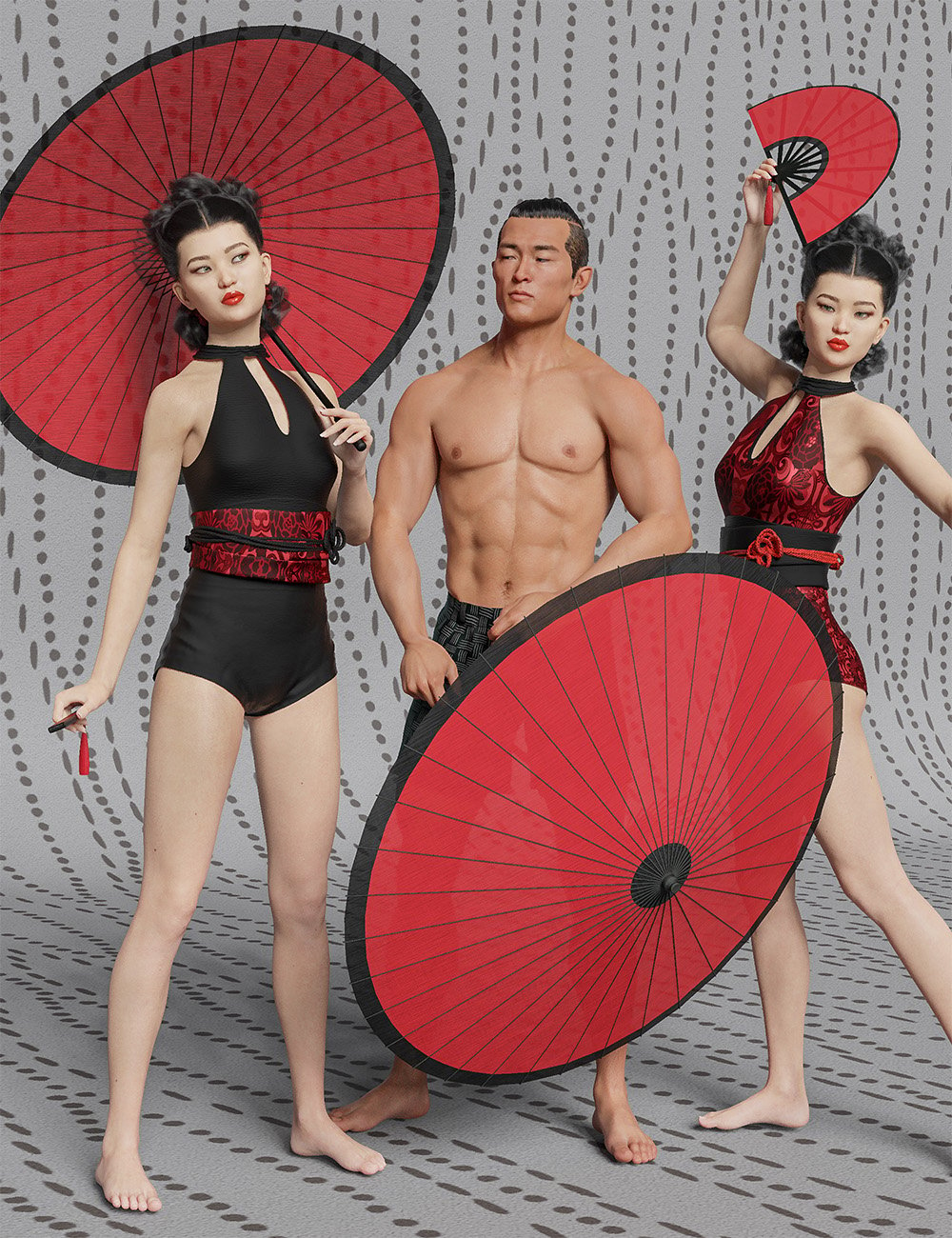 ---
These Japanese Portrait Studio Poses are just right for creating perfect portraits or scenes with our Japanese Portrait Studio & Props set. With poses for both Genesis 8 and Genesis 9 Male and Female, PLUS interactive couples poses that work with all the fans, umbrellas, stools, and pillows in the environment, your exquisite Japanese renders will shine!
Sitting, standing, kneeling, dancing, or holding an elegant fan, it's all here for you, along with several special couples poses that make creating beautiful scenes simple.
When you use these easy-to-use wearable and plain poses with the prop set designed for the Japanese Portrait Studio environment, you can set up your perfect scene in just a few clicks. Just apply a pose and go!
Grab these matching Japanese Portrait Studio Poses for Genesis 8 and Genesis 9 to complete the set today!
Japanese Portrait Studio Poses: (.DUF)
Wearable Presets:
JPSP 01 Umbrella Couple Turned G8 Female
JPSP 01 Umbrella Couple Turned G8 Male
JPSP 02 Umbrella Couple Front G8 Female
JPSP 02 Umbrella Couple Front G8 Male
JPSP 03 Couple Sitting G8 Female
JPSP 04 Couple Standing G8 Female
JPSP 01 Umbrella Couple Turned G9 Female
JPSP 01 Umbrella Couple Turned G9 Male
JPSP 02 Umbrella Couple Front G9 Female
JPSP 02 Umbrella Couple Front G9 Male
JPSP 03 Couple Sitting G9 Female
JPSP 04 Couple Standing G9 Female
JPSP 01 Sitting Screen G8 Female
JPSP 03 Fan Standing G8 Female
JPSP 04 Fan Dancing G8 Female
JPSP 05 Kneeling Fan G8 Female
JPSP 08 Sitting Pillows G8 Female
JPSP 10 Sitting Stool G8 Female
JPSP Hand Fan Closed G8 Female Left
JPSP Hand Fan Closed G8 Female Right
JPSP Hand Fan G8 Female Left
JPSP Hand Fan G8 Female Right
JPSP Umbrella G8 Female Left
JPSP Umbrella G8 Female Right
JPSP 01 Sitting Screen G9 Female
JPSP 03 Fan Standing G9 Female
JPSP 04 Fan Dancing G9 Female
JPSP 05 Kneeling Fan G9 Female
JPSP 08 Sitting Pillows G9 Female
JPSP 10 Sitting Stool G9 Female
JPSP Hand Fan Closed G9 Female Left
JPSP Hand Fan Closed G9 Female Right
JPSP Hand Fan G9 Female Left
JPSP Hand Fan G9 Female Right
JPSP Umbrella G9 Female Left
JPSP Umbrella G9 Female Right
JPSP 01 Standing Umbrella G8 Male
JPSP 05 Standing Stool G8 Male
JPSP 09 Sitting Garden Stool G8 Male
JPSP 10 Sitting Butterfly Stool G8 Male
JPSP Hand Fan Closed G8 Male Left
JPSP Hand Fan Closed G8 Male Right
JPSP Hand Fan G8 Male Left
JPSP Hand Fan G8 Male Right
JPSP Umbrella G8 Male Left
JPSP Umbrella G8 Male Right
JPSP 01 Standing Umbrella G9 Male
JPSP 05 Standing Stool G9 Male
JPSP 09 Sitting Garden Stool G9 Male
JPSP 10 Sitting Butterfly Stool G9 Male
JPSP Hand Fan Closed G9 Male Left
JPSP Hand Fan Closed G9 Male Right
JPSP Hand Fan G9 Male Left
JPSP Hand Fan G9 Male Right
JPSP Umbrella G9 Male Left
JPSP Umbrella G9 Male Right
Poses:
JPSP 03 Couple Sitting G8 Male
JPSP 04 Couple Kneeling G8 Male
JPSP 03 Couple Sitting G9 Male
JPSP 04 Couple Kneeling G9 Male
JPSP 02 Hands Dancing G8 Female
JPSP 06 Kneeling G8 Female
JPSP 07 Floor Sitting G8 Female
JPSP 09 Standing Graceful G8 Female
JPSP 02 Hands Dancing G9 Female
JPSP 06 Kneeling G9 Female
JPSP 07 Floor Sitting G9 Female
JPSP 09 Standing Graceful G9 Female
JPSP 02 Standing Hands G8 Male
JPSP 03 Standing Crossed Hands G8 Male
JPSP 04 Standing Cupped Hands G8 Male
JPSP 06 Sitting Knee Up G8 Male
JPSP 07 Kneeling Hands G8 Male
JPSP 08 Sitting Cupped Hands G8 Male
JPSP 02 Standing Hands G9 Male
JPSP 03 Standing Crossed Hands G9 Male
JPSP 04 Standing Cupped Hands G9 Male
JPSP 06 Sitting Knee Up G9 Male
JPSP 07 Kneeling Hands G9 Male
JPSP 08 Sitting Cupped Hands G9 Male
---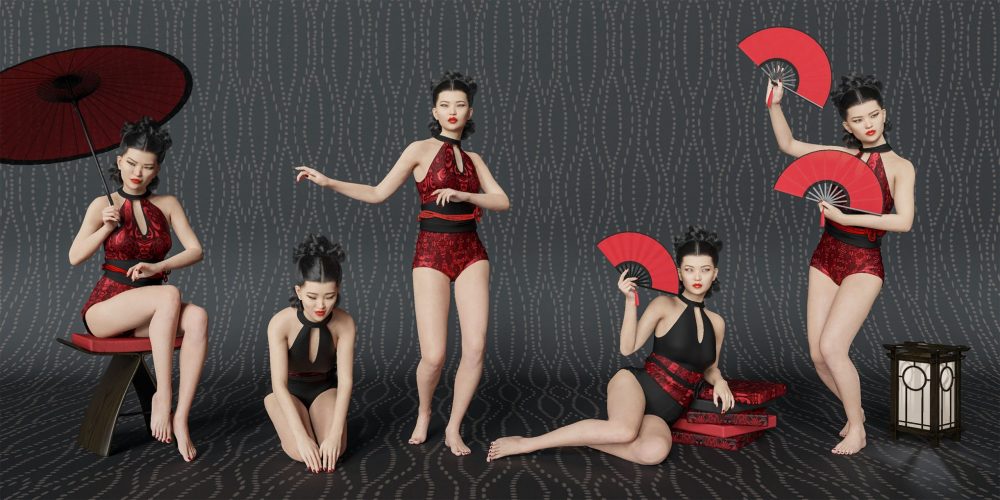 Download from QtyFiles Service
---