oHanna Hair is a Morphing/Conforming (CR2) Hair figure for Victoria 4, Aiko4, and The Girl 4.
Included morphs are:
ADJHead, ADJNeckL,
ADJNeckR,
ADJTemples,
AllFuller,
BackCurlsBack,
BangsBulge,
BangsLOut,
BangsLonger,
BangsMidDown,
BangsOut,
BangsROut,
BangsShort,
CurlsSwingL,
CurlsSwingR,
FitA4,
FitG4,
SideBurnLForward,
SideBurnRForward,
SideBurnsLWind,
SideBurnsLong,
SideBurnsRWind,
SideCurlsBig,
SideCurlsLong,
SideCurlsUp,
TailBig,
TailCurlsLong,
TailForward,
TailLong,
TailShort,
TailSmall,
TailSpread,
TailSwingBack,
TailSwingL,
TailSwingR,
TailTall,
TailWiden,
TopTaller.
With 9 different colors and templates included.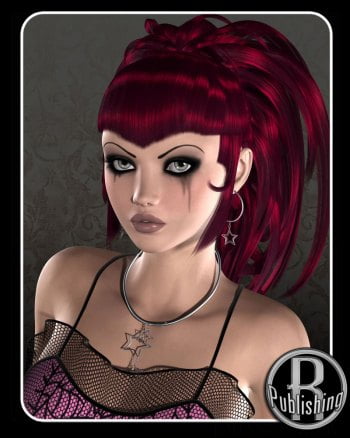 Download from QtyFiles Service
---