JW Pro Pose Reset for Genesis 9
---
JW Pro Pose Reset for Genesis 9
JW Pro Pose Reset provides a complete source of pose presets for Genesis 9 to reset easily the parameters for each part of your character's body.
Each preset was elaborated to be easily used with an intuitive naming to reset a full or specific part of the body, resetting it to its default parameter settings, avoiding unwanted movements, disproportionate scales, or a confusing resetting of specific body parts.
Some base parameters included in Genesis 9 move several parts of the body. Clean them easily using the full body, lower body, or upper body presets included in this pack.
What's Included and Features
Reset for Genesis 9: (.DUF)

Full Body (and Coordinates)
Full Body (No Coordinates)
Full Body Keeping Expression
Reset Just Coordinates
Reset Just Hip

Face

Full Face
Brow
Eyes
Nose
Mouth
Ears
Cheeks
Jaw

Upper Body

Full Upper Body
Reset Full Upper Body(No Expression)
Torso
Full ArmL (Shoulder,Arm,Hand)
ShoulderL
Upper ArmL
ForearmL
HandL
HandL(No Finger)
FingersL
Full ArmR (Shoulder,Arm,Hand)
ShoulderR
Upper ArmR
ForearmR
HandR
HandR(No Finger)
FingersR
Pectoral-BreastL
Pectoral-BreastR
Neck
Head

Lower Body

Reset Full Lower Body
Full LegL (Thigh,Knee,Foot)
Left Thigh
Left Knee
Left Foot
Full LegR (Thigh,Knee.Foot)
Right Thigh
Right Knee
Right Foot
Pelvis
---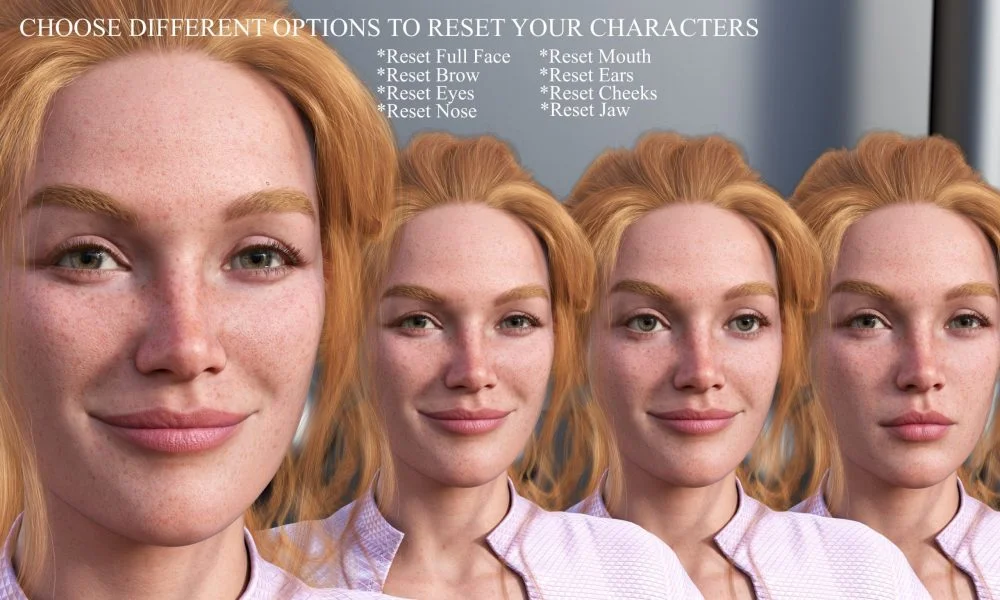 Download from QtyFiles Service
---