Laura Hair is a high quality conforming hair for Victoria 4, Aiko 4 and The Girl 4. Natural, sleek and long hair perfect for your fashion and casual renders. Modify the look with the 41 built-in morphs for Styling, Adjusting and Wind Effects. Put the hair behind hair shoulder or pull the right side behind the ear. Create dynamic looks with the 6 included wind morphs or add volume to the hair.
As a proven feature in our hairs, Laura Hair also includes the Shoulder Control (CTRL) feature that makes posing easier for you! With the Shoulder Control (CTRL) technology the hair now also conforms to the shoulder and collar movement of your figures! No sticking hair in the chest area or back shoulder anymore! When moving the shoulders / collars the hair automatically follows this movement.
Our "Click'n'Mix" system give you the possibility to create thousands of different color styles with just a few clicks. Choose one of the 25 included photorealistic and hi-res texture styles as a base and then apply a "Mix" and/or "Streaks" matpose to get colored strands. Have a look at the picture below to see all included colors and how the "Mix" and "Streaks" matposes work and apply.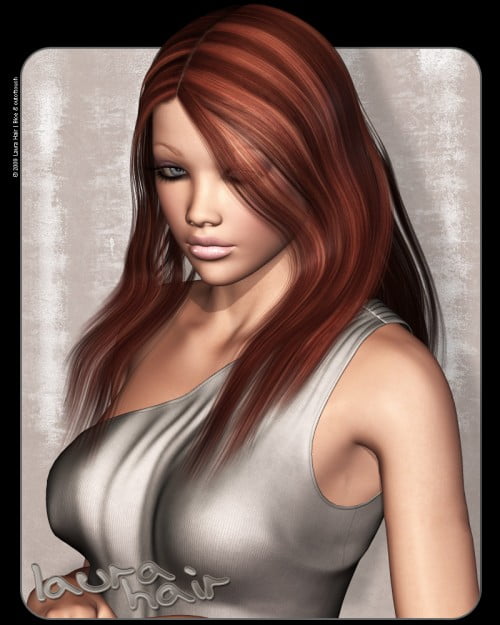 ---