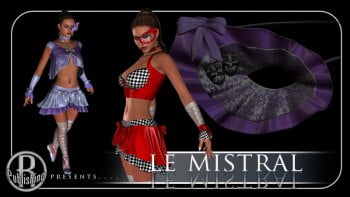 LeMistral is a colorful and fun collection of clothing with lots of detail and style that you will love! Looking for something new and different, with lots of style and just the right details to catch someone's eye? This outfit will do just that. The matching necklace and earrings of theatre masks are just the right finishing touch for this amazing outfit.
LeMistral automaticly follows the morphs of your character for complete ease of use. There are also many adjustment dials for your convenience when a bit of tweaking for a particular pose is needed. This outfit is as much fun to use as it is to look at!
The LeMistral outfit comes with a total of 9 conforming figures! And that's not all…there is also the prop mask and earrings. There is one set of earrings for each of the V4, A4 and G4 figures. No adjusting 1 set to each figure, just click and go! The mask has a fit dial for each of the 3 figures as well for the perfect fit.
The LeMistral's 9 conforming figures consists of 2 types of tops for your girls as well. So you choose the exact look you want for each and every render.The LeMistral outfit conforming pieces are as follows: Boustier, Flounce Top, Ruffled Skirt, Gloves Left and Right, Leggings, Choker, Necklace and Slippers. All pieces fit V4-A4-G4 Figures!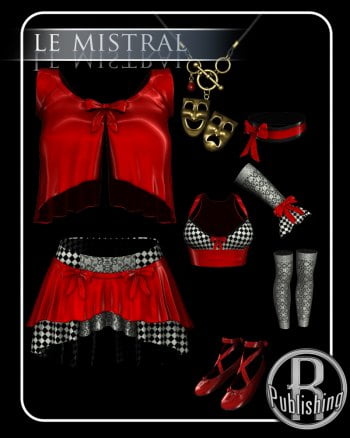 Download from QtyFiles Service
---