MicroBikini/R3 for Victoria4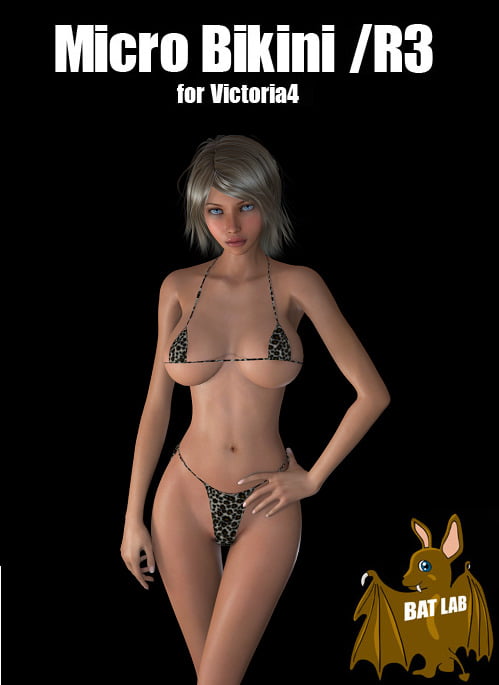 This pack are conform bikini.
Cautions:
– Character,hair,skintextures is not included in this pack.
– By the reasons of structure, There is a limit of conform.
– This pack has a cross talk problem.
– If used by Poser5,6 and Poser7, Please check-off a smooth polygon.
– I am not testing in the DAZ studio.
– In the state of default, FBM(PBM) can be operated with the body dial of the bikini.
– Please fine-tune the Morph dial according to Pose.
– FBM(PBM) synchronizes with the dial of Victoria4 when synchro-pose is applied.
– This clothes do not usually need Magnetize.
Please stop JCM of the bikini when you apply Magnetize.
Included FBM and PBM:
Amazon,AreolaPerk,AreolaSize,BellyThickness,BellyThin,
BodyBuilder,BreastDownL,BreastDownR,BreastInL,BreastInR,
BreastLarge,BreastOutL,BreastOutR,BreastUpL,BreastUpR,
BreastsCleavage,BreastsDiameter,BreastsDroop,BreastsFlatten,
BreastsHangForward,BreastsImplant,BreastsNatural,BreastsPerk,
BreastsSize,Bulk,Definition,Fitness,GluteRaiseL,GluteRaiseR,
GluteSize,GlutesDimpleDepth,Heavy,HipsCrest,HipsSize,
Inhale,LatsSize,LoveHandleL,LoveHandleR,NeckThickness,
NipplesBig,NipplesDepth,NipplesHeight,Nipples,PearFigure,
Pregnant,Thin,TorsoThickness,TrapsSize,Voluptuous,
WaistWidth,Young,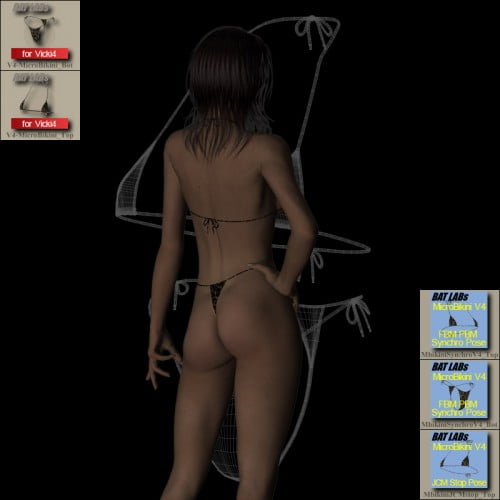 ---