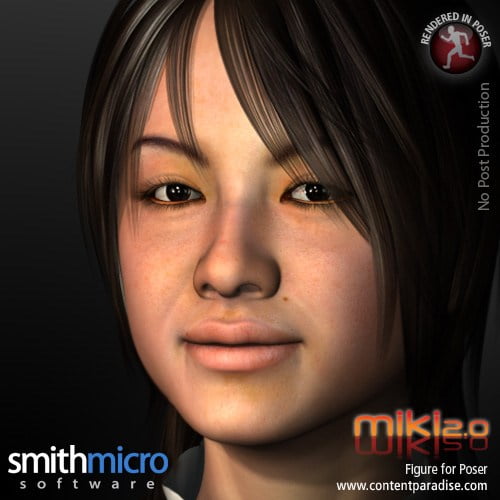 Miki from Smith Micro is designed to be one of the most realistic yet easy to use 3D human characters ever released. In addition to her superior modeling and rigging, Miki includes exclusive features such as Advanced Body Control and Deformation Systems, photorealistic shaders and incredibly life-like facial expression morphs similar to those delivered in Generation 2 (G2) figures.
Includes:
Miki 2.0 Character (102419 polys)
Miki 2.0 Hi Res Texture Maps (Body 3451×4000; Head 4000×3500; Eyes 1000×1000, TransLashes 500×500, Teeth 1000×1000, Hair 1024×1024), with 8 Different Material Sets for the Skin and 4 Different Material Sets to Apply Makeup
Eye Color Maps for 12 Eyes with 12 Material Sets
Hair and 7 Color Maps with 7 Materials Sets
11 Facial Expressions
7 Full Body and 54 Facial Morphs
Over 200 Still and Animated Poses
Talk Designer Support
BONUS – FREE Clothing Pack! Three Complete Conforming Outfits for Miki Including Casual Clothing, Business Clothing and a School Girl Uniform!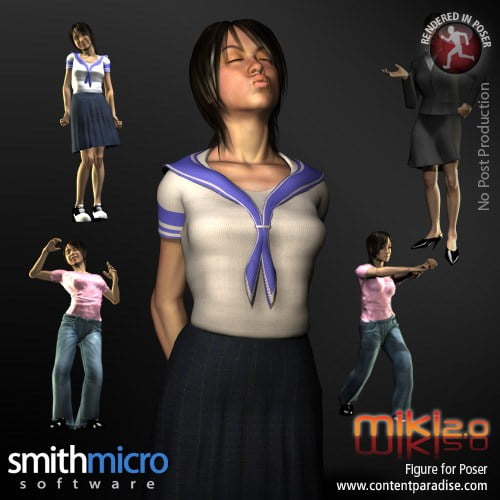 ---