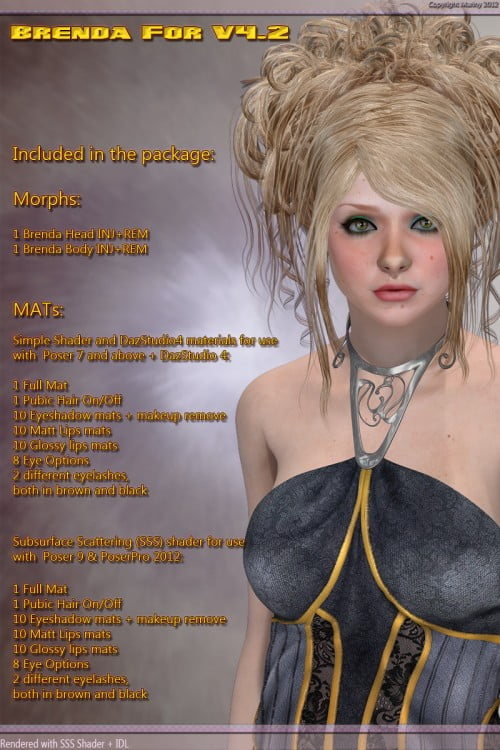 Brenda is a beautiful and detailed character for V4.2. Her eyeshadows and lips are separate, so you have more variations. Choose beetween matte and glossy lip options. She also have pubic hair mat for those who want to use that instead of her shaved option.
I want to credit bagginsbill for all his examples in making good SSS Shaders.
My SSS shaders for the Poser 9/PoserPro 2012 skin is based on his shader examples, THANK YOU VERY MUCH!!
* Brenda has been designed for use in Poser 7 and above and DazStudio4…
(To use the SSS shaders in this product,Poser 9 or PoserPro 2012 is required).
How to use Brenda Morphs:
1. Open V4.2 base from \Runtime\Libraries\character\DAZ People folder
2. Go to \Runtime\Libraries\pose\DAZ's Victoria 4\Morph Injections
and doubleclick "INJ Base V4" and "INJ Morphs++ V4"
3. Then go to \Runtime\Libraries\pose\MN_Brenda_V4\!Brenda_Morphs and click "Brenda_Head_INJ",and Brenda_Body_INJ"…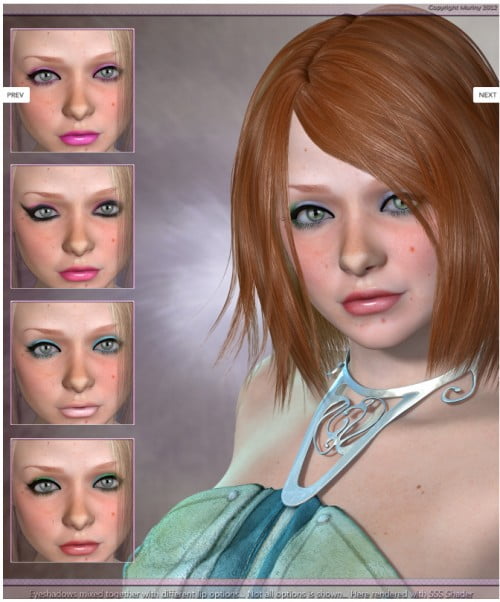 ---