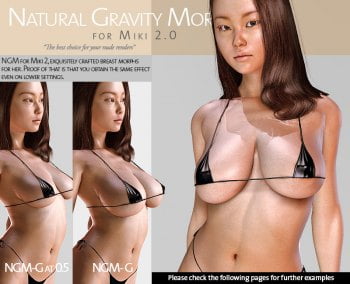 Natural Gravity Morphs for Miki 2.0 is a set of morphs that mimics the force of gravity on large breasts. Big breasts on Poser figures usually tend to grow perpendicular to the chest, which in the real world is impossible even with silicon implants.
Other times their breasts are petite and to extend the possibilities of the character a bigger realistic looking size is required.Breasts are soft and with some weight due to their size tends to move down attracted by the gravity force; they move down conforming the chest as they grow in size.
These morphs do that, and now for Miki 2.0!!!

---