Old Japanese Town Edo Vol. 6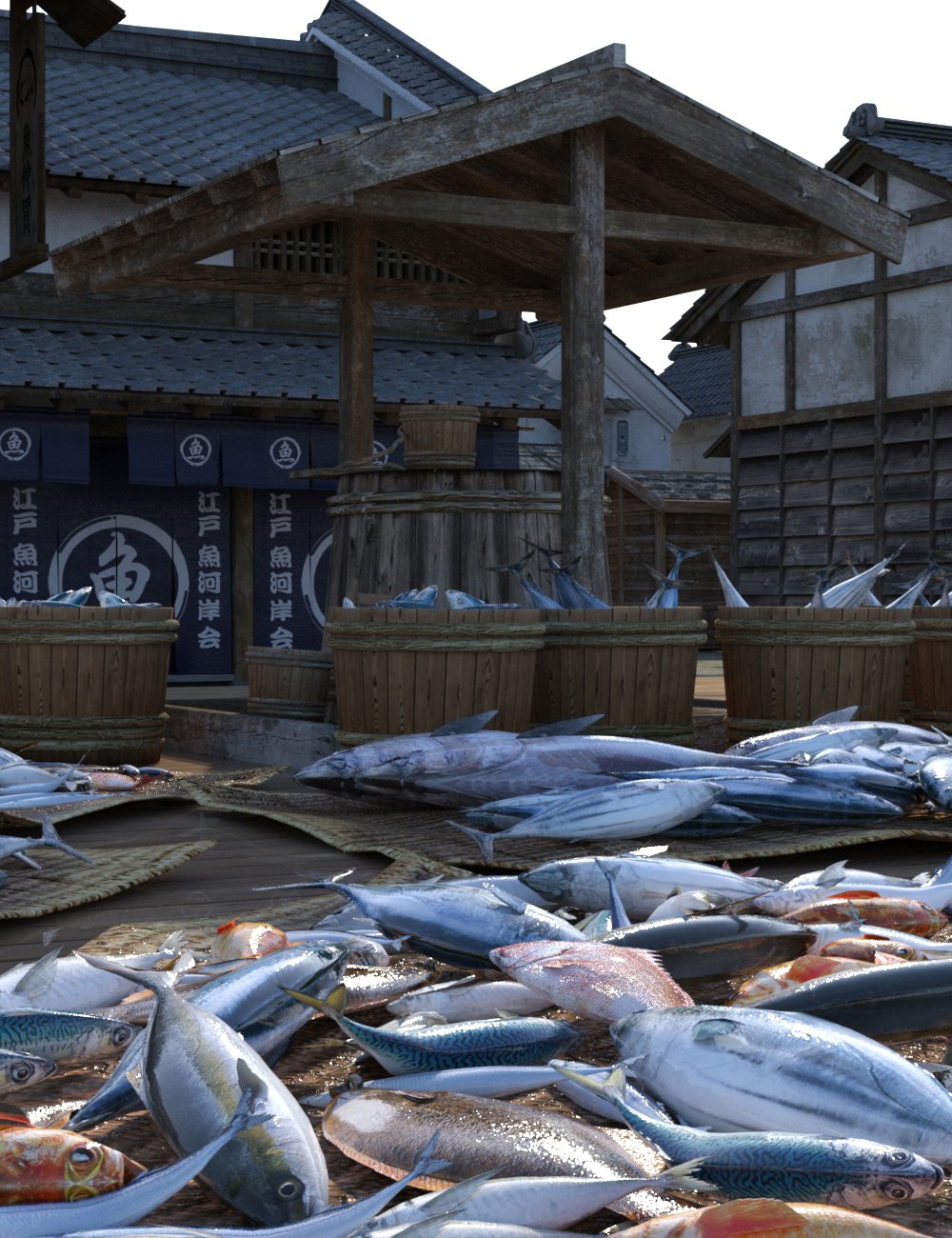 Explore the fish market in the Edo period in Japan. There's also a takeaway food street next to the unloading market.
Old Japanese Town Edo Vol. 6 comes with a full preload set, 3 preload subsets for tailored to the rendering, and 1 Nagaya house (tenement house) including the interior. There are also 119 props and small sets optimized for Iray, 24 cameras for the Edo town set, 4 cameras and lights set for the Nagaya interior set.
Old Japanese Town Edo vol.6 (.DUF):
Old Japanese Town Edo vol.6 Iray Full Preload Set
Old Japanese Town Edo vol.6-A Iray (Terrain and Right half)
Old Japanese Town Edo vol.6-B Iray (Left half only)
Old Japanese Town Edo vol.6 ShipsCargo Iray (for the river)
Old Japanese Town Edo vol.6 Nagaya Iray (Only Nagaya house includes interior)
Props:
Bench
Big Pail
Brokerage Store 01
Brokerage Store 02
Brokerage Store 03
Brokerage Store 04
Dried Fish Seaweed Shop
Hatago Tanukiya
Hatago Usagiya
Kake Jaya
Kidoban
Nagaya
Oxcart Area – Fire Watchtower
Rosokuya
Sangen Dana
Surugaya
TA-Dango Stall
TA-Mizugashi
TA-Omusubi Shop
TA-Shiruko Stall
TA-Soba Stall
TA-Sushi Shop
TA-Tenpura Stall
TA-Unagi Stall
Union Large Office
Union Middle Office
Union Shop
Warehouse
Yanagiya
Zakoba Shop – A1
Zakoba Shop – A2
Zakoba Shop – A3
Zakoba Shop – B1
Zakoba Shop – B2
Zakoba Shop – C1
Zakoba Shop – C2
Zakoba Shop – Closed
Broken Bench
Bucket
Cargo Ship
Cargo Ship – Komo
Choki Bune
Choki Bune – Fish
Choki Bune – Komo
Daihachi Guruma
Daihachi – Kome Dawara
Daihachi – Komo
Daihachi – Saka Daru
Dango Set
Fire Prevention Water
Fire Woods
Fish Straw Mat 01
Fish Straw Mat 02
Fish Straw Mat 03
Aji
Aji Pail
Bonito Pail
Botefuri Bonito
Botefuri Red Snapper
Botefuri Tuna
Clams Colander
Dried Aji
Dried Mackerel
Flatfish
Mackerel
Mackerel Pail
Mebaru
Red Snapper
Red Snapper Pail
Sanma
Sanma Pail
Sardine
Sardine Pail
Tuna
Yellowtail
GoSell Botefuri Bonito
GoSell Botefuri Red Snapper
Kosatsu Ba
Nagaya Outer Wall
Nagaya Roof Parts
Nagaya with Inn
L Room Shoji Door-L-Open
L Room Shoji Door-R-Open
L Room Shoji Window-L-Open
L Room Shoji Window-R-Open
R Room Shoji Door-L-Open
R Room Shoji Door-R-Open
R Room Shoji Window-L-Open
R Room Shoji Window-R-Open
Nagaya-Terrain
Nag Andon
Nag Bamboo Colander
Nag Botefuri
Nag Cooked Rice Container
Nag Dustpan
Nag Futon Set
Nag Hakozen Set
Miso Soup Wan
Rice Wan
Plate
Chopsticks
Nag Japanese Radish
Nag Miso Soup Wan – 2
Mizugame
Ng Rice Wan – 2
Ng Sake Bottle
Ng Teacup
Ng Nitari Bune
Ng Nitari Bune – Komo
Ng Nitari Bune – Large
Ng Nitari Bune – LKomeDawara
Ng Nitari Bune – LKomo
Ng Nitari Bune – LSakaDaru
Ng Nitari Bune – LTuna
Oinarisama
Oxcart – Kome Dawara
Oxcart – Komo
Oxcart – Saka Daru
Pail
Rolled Straw Mat
Rolled Yoshizu
Saka Daru 01
Saka Daru 02
Saka Daru 03
Saka Daru 04
Stacked Komo
Streetlamp
Tall Pail
Terrain Set
Well
Cameras:
24 Cameras Preset
04 Cameras for Nagaya interior Preset
Lights for Nagaya interior Preset
Textures Include:
329 Texture, Normal, and Transparency maps (512 X 512 to 4096 X 4096).
Daz Studio Iray Material Presets (.DUF)
---
Download from QtyFiles Service
---