Picaroon Props and Poses for Genesis 8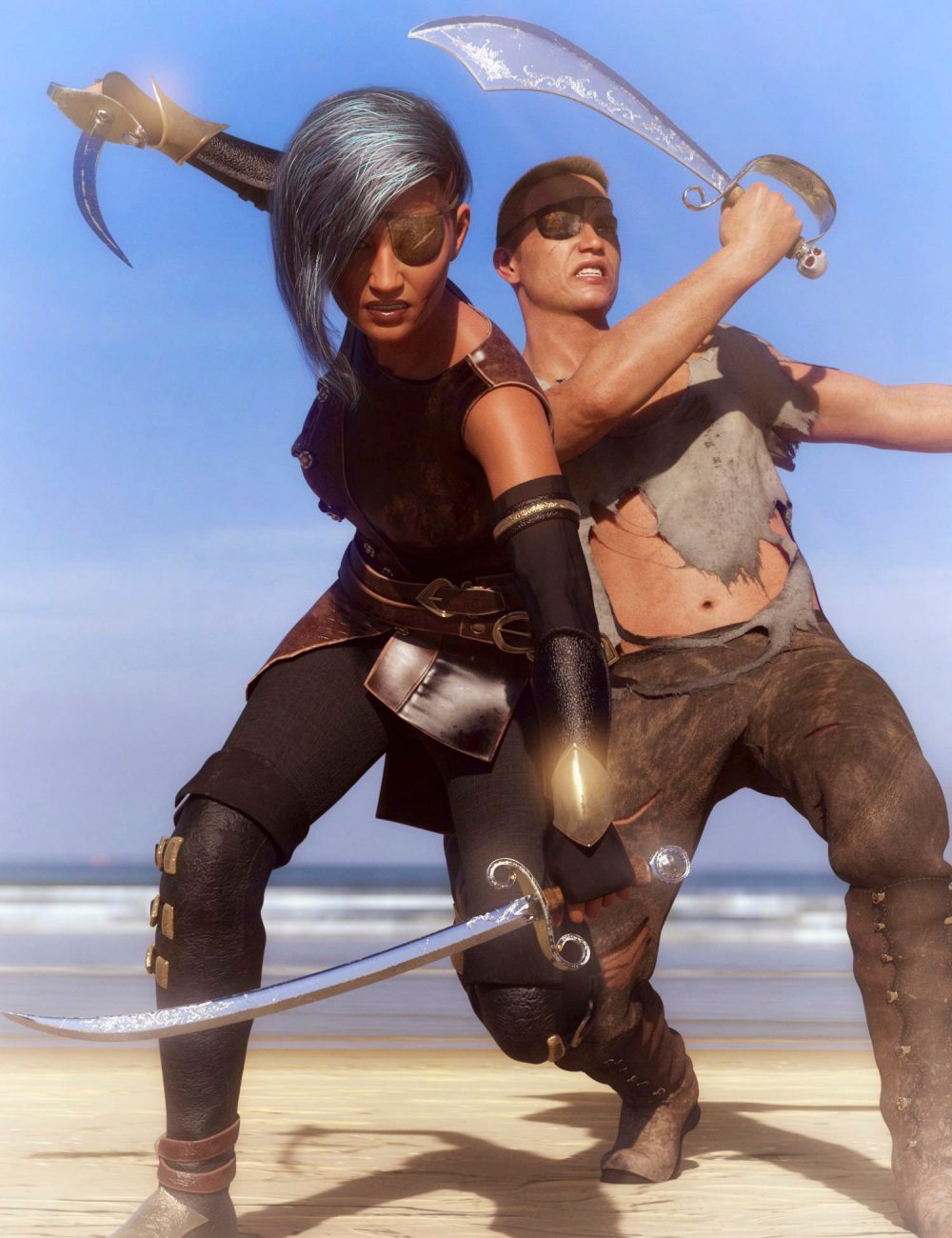 ---
Ahoy, me hearties — there be treasure, and a fight for the bounty! Take the fight from ship to beach to dock, fer Islandgirl and 3D-GHDesign have teamed up to bring you a pirate-y pose and prop pack.
The action-packed and dynamic Picaroon Props and Poses are designed to go after or defend the loot, all carefully crafted to bring life to your renders! Savvy?
The Props include a saber decorated with stones and a scimitar with a decorative skull with gem eyes. Both saber and scimitar morphs included to for a little more customization, and you get new and used textures to go with the pirate who is just starting out or is a little more weathered.
The eye patch has both left and right versions includes morphs, and supports many figures and even expressions. You'll find 8 different textures for your personal preference.
Raise the Jolly Roger and be on the lookout… Picaroon Props and Poses are coming to your crew!
Picaroon Props and Poses for Genesis 8 (.DUF)
Picaroon Sabre Genesis 8 Female LH
Picaroon Sabre Genesis 8 Female RH
Picaroon Sabre Genesis 8 Male LH
Picaroon Sabre Genesis 8 Male RH
Picaroon Scimitar Genesis 8 Female LH
Picaroon Scimitar Genesis 8 Female RH
Picaroon Scimitar Genesis 8 Male LH
Picaroon Scimitar Genesis 8 Male RH
Picaroon Sabre
GripSize
GuardTh
PommelInsideOut
PommelInsideOut2
PommelThin
Rotate Pommel
Picaroon Scimitar
BladeTop Thin
EyesLarger
Eyes Hidden
GripSize
GuardShape
GuardThin
Skull Larger
Skull Rotate
Picaroon EyePatch Genesis 8 Female and Genesis 8 Male Left and Right Versions
Patch Larger
Patch Lift Up
Stitches Thick
Adjust Back Out
Adjust Front
Adjust Left Out
Adjust Left Outer
Adjust Patch Depth
Adjust Patch Deptht Full
Adjust Right Out
Adjust Right Outer
Adjust Temples
Band Left Upper
Band Right Lower
Expand All
Patch Adjust Bottom Front
Patch Adjust Bottom Full Up
Patch Adjust Bottom Up
Patch Adjust Nose Front
Patch Adjust Nose
Patch Adjust Side Out
Patch Adjust SideB Out
Patch Adjust Top Out
26 Poses Each For Genesis 8 Male and Female with their mirrored versions
23 Sword Fighting Poses
2 "hit" poses
1 Lift Eyepatch Pose
Supported Shapes
Charu
Karyssa 8 Head
Mika 8 Head
Sakura 8Head
Acacia
Aiko 8
Alawa 8
Alexandra 8
Amira
Angharad 8
Aubrey 8
AureskaHol
Babina 8
Bridget 8
Charlotte 8
CJ 8
Darcy 8
Edie 8
Ellithia 8
Eva 8
Gabriela 8
Gia 8
Girl 8
Jenni 8
Josephene 8
Kala 8
Kanade 8
Leisa 8
Mabel 8
MeiLin 8
Monique 8
MrsChow 8
Nida 8
Noemi
Olympia 8
Penny 8
Robyn 8
Rynne 8Head
Sahira 8
Stephanie 8
Sydney 8
Tasha 8
Victoria 8
VWZhirongHead
Zelara 8
_Cormac
Ashan 8
Bain
Chance
Christian 8
Dain 8
Darius 8
Dasan 8
Diego 8
Dolb
-E3DWalker
Edward 8
Elios 8
Floyd 8
-FWMarcus
Jonah
Jonathan 8
Landon 8
Lee 8
Leroy 8
Lucas 8
Michael 8
MrWoo 8
Nix 8
OldMan
Ollie 8
Owen 8
RedzStudioAlaric
Ryker
Sanjay 8
Silas 8
Stefon
Steven
_TennesseeHead1
_TennesseeHead2
TheBrute 8
ToonDwayne 8
ToonLarry
Tristan 8
Tyrone
Valentino 8
Vladimir 8
Yuzuru 8
ZackyrHead
Ogre_HD02
PHM-BriarHead-LLF
phm-LLF-BrambleHead
Shapes may be supported by Auto Follow
Supported Expressions
Angry_HD
Concentrate_HD
Confused_HD
Disgust_HD
Fierce_HD
Frown_HD
Incredulous_HD
Rage_HD
Wink_HD_div2
Hand Poses
Picaroon Weapons Genesis 8 Female HandL
Picaroon Weapons Genesis 8 Female HandR
Picaroon Weapons Genesis 8 Male HandL
Picaroon Weapons Genesis 8 Male HandR
Materials Iray
Picaroon Eyepatch Ltr Dark
Picaroon Eyepatch Ltr Irregular
Picaroon Eyepatch Ltr Skull Fire
Picaroon Eyepatch Ltr SkullBr
Picaroon Eyepatch Ltr SkullW
Picaroon Eyepatch LtrBlBr Skull
Picaroon Eyepatch LtrBr Slashed
Picaroon Eyepatch LtrBr Stained
Picaroon Sabre All New
Picaroon Sabre All Used
Picaroon Sabre Pommel displacement OFF
Picaroon Sabre Pommel displacement ON
Picaroon Sabre Stones Aqua
Picaroon Sabre Stones Orange
Picaroon Sabre Stones OrangeU
Picaroon Sabre Stones Red
Picaroon Scimitar All New
Picaroon Scimitar All Used
Picaroon Scimitar Grip 01
Picaroon Scimitar Grip 02
Picaroon Scimitar Grip 03
Picaroon Scimitar Skull 01
Picaroon Scimitar Skull 02
Picaroon Scimitar Skull 03
Picaroon Scimitar SkullEyes Aqua
Picaroon Scimitar SkullEyes Orange
Picaroon Scimitar SkullEyes Red
Textures Include
67 Texture, Displacement, Height, Normal,and Roughness (4096 x 4096)
Daz Studio Iray Material Presets
---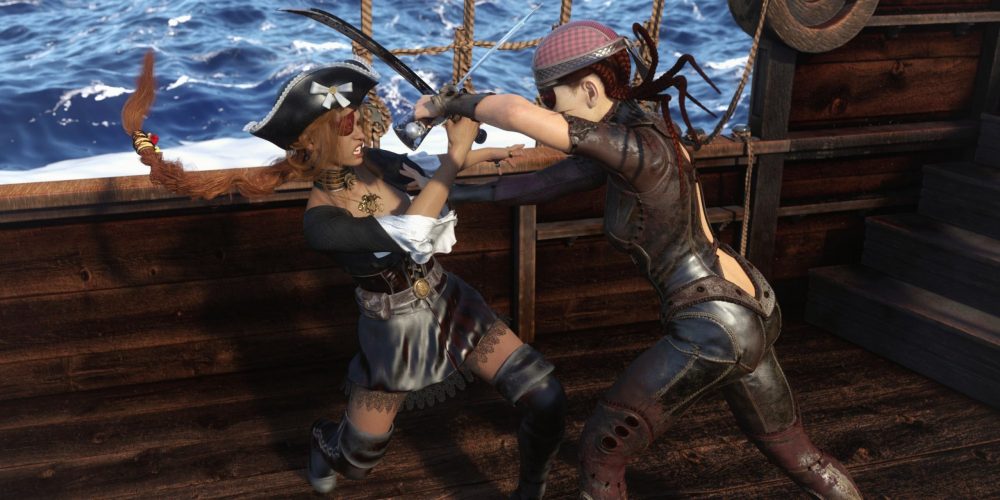 Download from QtyFiles Service
---