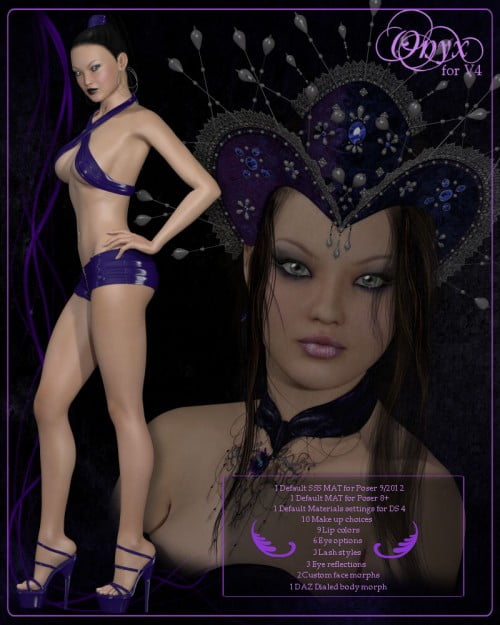 V4.2, Morphs ++ , Elite human surface skin shader by Omnifreak for DS users
Product Compatibility Poser 8/9, Poser Pro 2010, 2012, D|S 4
Meet Onyx, the child of a French father and Chinese mother, and completely gorgeous!. She is feisty, flirty and fun and maybe just a tad bit intimidating until you get to know her.
Onyx is at home in either your P9/2012, Poser8 or DS 4 libraries as she comes with SSS MATs, standard Poser MATs, and DS materials. She has gorgeous eye choices, eye reflections that are completely natural for most scenes. Her make up choices and separate lip colors reflect her personality. Her 3 lash styles are made to be 100% natural in appearance. I hope Onyx will have as much fun in your renders as she does in mine!
* 2 Custom sculpted head morph INJ/REM pose
* 1 DAZ morph++ dialed body MOR inj/rem
* PP2012 and Poser 9 SSS MATS
* Poser 8/2010 MATS
* D|S 4 material files (utilizing Omnifreaks Humans skin shader)
* 6 Eye Colors
* 3 Lash Styles
* 3 Eye Reflection Options
* 10 Face Make Ups
* 10 make up choices
* 1 default natural look
* 9 Lip colors
* 9 colors
* 1 default natural look
Proven quality content at a price you can afford!
PLEASE NOTE!!!
Different types and styles of lighting may cause the files to appear different then may appear in promos.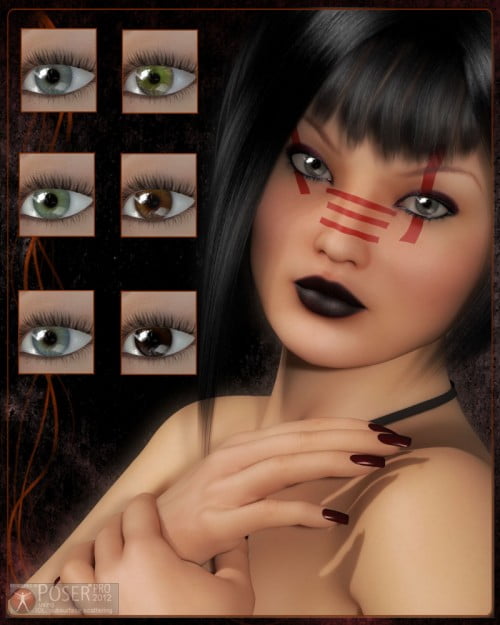 ---