Road Markings and Potholes - Decals for Daz Studio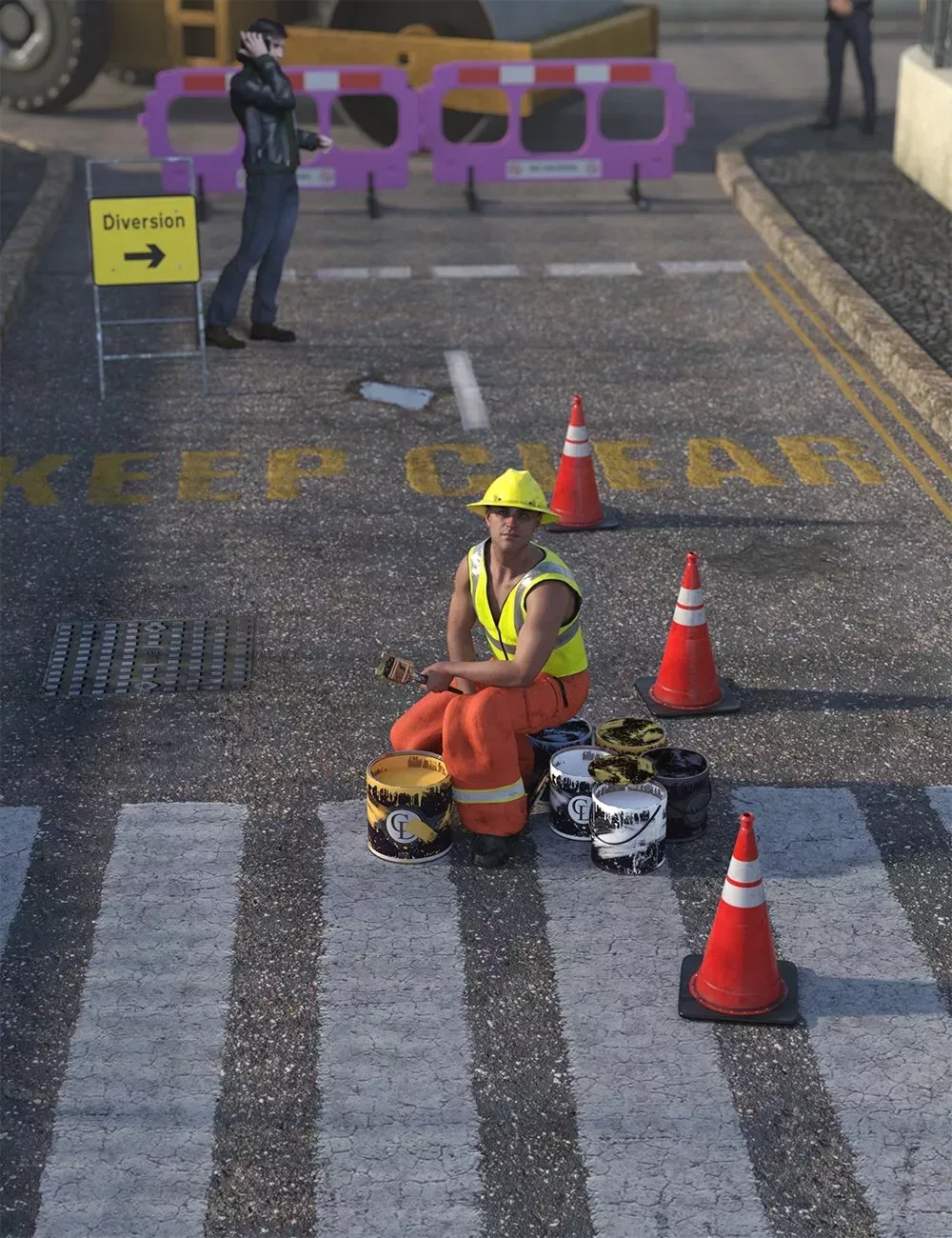 Ever set up the perfect scene with roads, streets, or other hard paved surfaces, and found it needed a little something?
Missing those essential road markings?
Want to make the road a little more bumpy with some potholes and damage?
Look no further. Using Daz Studio's cool and powerful decal abilities, you can add these features parented to the surface you wish to put them on in just a few clicks.
The bundle is perfect for adding variation to road or path surfaces that would otherwise look a bit repetitive or dull, adding foreground interest or background breakup. Initially developed as an add-on for my UltraScenery Road Works – Road and Path Materials for Ultrascenery Terrains, this bundle can actually be used on any flat surface – it works best on tarmac, concrete, or dirt. You can stack the renders up to create all sorts of effects, scale them, and reorient them to your heart's content
Simply add the base node, make sure that it is parented to the surface you wish to add it to, ensure it is touching that object, and then add the material of your choice from the selection contained in this bundle! (By default, it loads with the square manhole cover which makes it easy to place and locate, when your ready choose a material preset and add that and you are done!) Remember that you need to be in your Iray preview to see the decals and manipulate them!
So with a little know-how, you can create all sorts of custom road surfaces. The kit contains dashed, and continuous lines in white and yellow, you stack these to create longer runs of lines, and all sorts of handy road markings!
So add some wear and tear and use your words on your roads, with this great, handly bundle, perfect for creating your own unique and cool road surfaces.
Road Markings and Potholes – Decals for Daz Studio(.DUF)
Scene Subsets
RWRSD Decal Base ADD First
Materials Iray
RWRSD Arrow Double White
RWRSD Arrow Double Yellow
RWRSD Arrow Left White
RWRSD Arrow Left Yellow
RWRSD Arrow Right White
RWRSD Arrow Right Yellow
RWRSD Center Dash Long
RWRSD Cross Hatch White
RWRSD Cross Hatch Yellow
RWRSD Cross Walk White
RWRSD Cross Walk Yellow
RWRSD Cyclist White
RWRSD Cyclist Yellow
RWRSD Damage 01
RWRSD Damage 02
RWRSD Damage 03
RWRSD Dash Short
RWRSD Keep Clear White
RWRSD Keep Clear Yellow
RWRSD Line Double White
RWRSD Line Double Yellow
RWRSD Line Single White
RWRSD Line Single Yellow
RWRSD Manhole Round
RWRSD Manhole Square
RWRSD Patch Round
RWRSD Patch Square
RWRSD Pedestrian White
RWRSD Pedestrian Yellow
RWRSD Pothole 01
RWRSD Pothole 02
RWRSD Pothole 03
RWRSD Pothole 04
RWRSD Pothole 05
RWRSD Pothole 06
RWRSD Pothole 07
RWRSD SLOW
RWRSD Stop
Textures Include
151 Base Color, Bump, Displacement, Height, Glossiness, Normal, Roughness, Specular, Transparency (250 x 250 to 2048 x 2048)
Daz Studio Iray Material Presets (.DUF)
---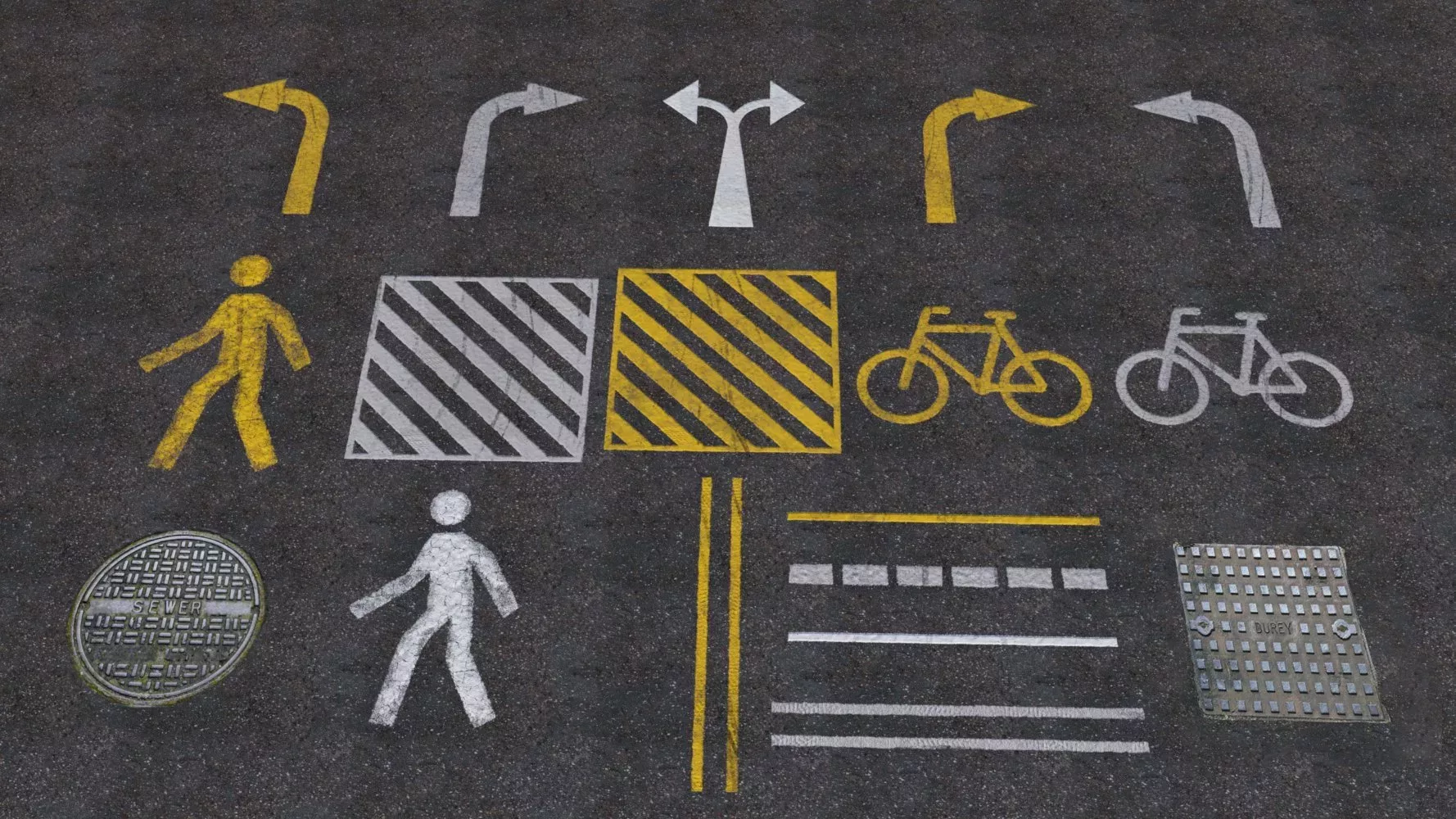 Download from QtyFiles Service
---