RT-Native American Standalone Expansion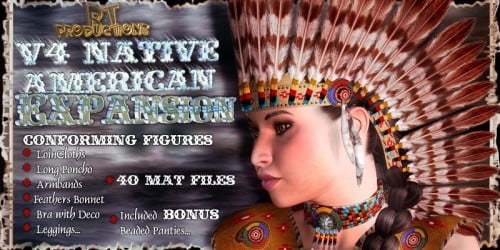 Package details :
* 7 objs in Geometries
* 7 Conforming figures for V4:
* NA Armbands & Wristband (including strings movement morphs)
* NA BraTop with Deco (including movement morphs for the deco tails)
* NA Loincloths (multi-segment for realistic movement plus morphs)
* NA Beaded panties (optional over loincloths figure)
* NA Leggings (with movement morphs for the side flaps and deco tails & strings)
* NA FeathersBonnet (with morphs to alter the length of each side plus tails movement)
* NA Long Poncho (multi segment figure for realistic movement of front and back cloths)
* 42 High-detailed textures & transparencies
* 40 MAT files for 4 complete V4NA sets
* Part of MTs location indicated for your convenience on applicable presets.
* Product uses same directories as the main V4 Native American package so it gives you an easy option to mix & match.
Install as usual allowing zip to overwrite files.
Nothing will be replaced, only the new files will be added to the already existing directories.
All presets are compatible with P5 and Higher Poser Versions (PNG).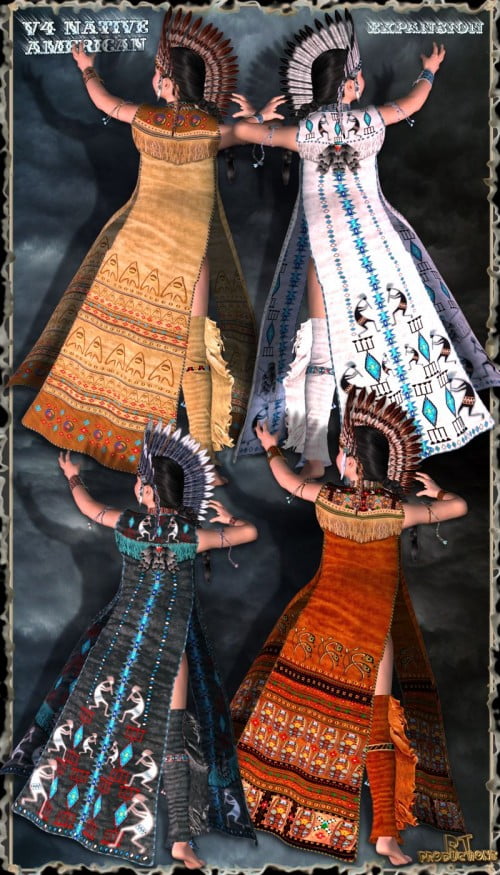 ---