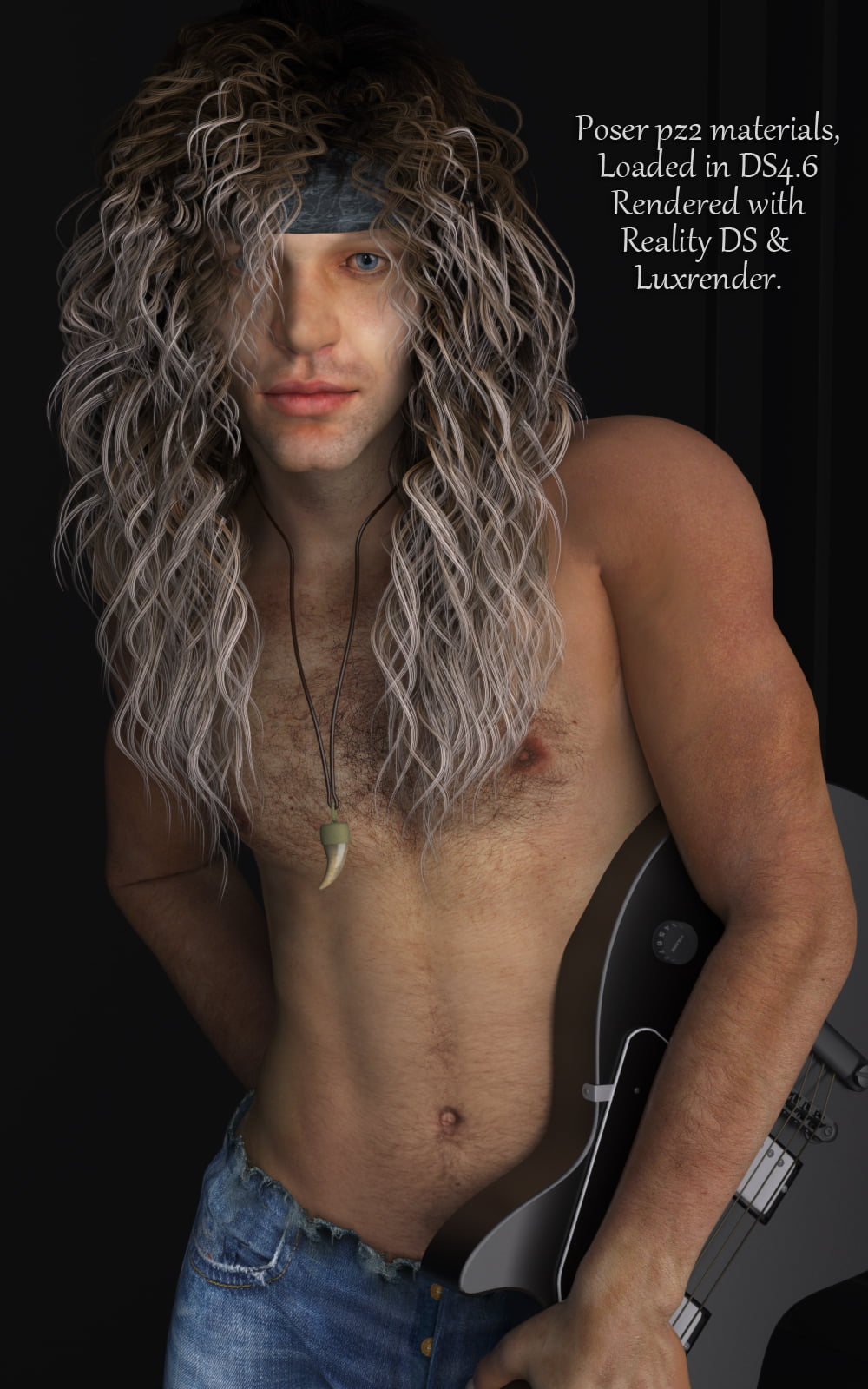 Realistic,loosen Curls hairstyle inspired from the 80's Rock Bands…
1984 Hair ,come in 3 Presets,
2 conforming character presets for M4,V4.
1 universal smart prop ,for M4,V4,Dawn Genesis,Genesis2 female, Anastasia,
it can be scaled translated and with the morphs help,
can fit to any Human character and any pose.
a smart Prop Bandanna included as a bonus to complete the 80s look.
!!!Please Note:
1."cast shadows" are disabled in the hair, Parameters/Properties window tab,
for more realistic and faster renders,
you can also disable "visible in raytracing",in the same window tab,
If you want strong shadows on the hair can can enable "cast shadows"
2.1984 Hair may take longer rendering time,than usual
especially with Strong shadows and high AO render settings!
3.Dont forget to Mix the morphs for endless possibilities and amazing results with any pose.
4.Usage instructions included in the Libraries thumbs, please read them for easier usage.
5.the Morphs provided in INJ format, for size and packaging reasons.
6.Daz Studio Users:
You can use the Pose pz2 material presets as they work perfect in Daz Studio.
Package includes:
1 1984 Hair M4 in cr2, poser character format.
1 1984 Hair V4 in cr2, poser character format.
1 1984 Hair in pp2, poser prop format.
1 Bandanna in pp2, poser prop format
12 basic Colors and their highlights version total 23 in pz2 and Mc6.
6 Color presets for the Bandanna in pz2 and Mc6.
Product Requirements
Software:
Poser 7, Poser 8, Poser 9, Poser Pro 2010, Poser Pro 2012, Daz Studio 4.5, Daz Studio 3, Poser 10, Poser Pro 2014, Daz Studio 4.6
Base Figures:
Victoria 4, Genesis, Michael 4, Dawn, Victoria 5, Victoria 6/Genesis 2
Products:
Poser 7+ and/or Daz Studio 2.2+/ V4 or/and M4, Anastasia,Genesis,Genesis2,Dawn.

---