Sci-Fi Handgun Set (for Poser)
Product Description
The Sci-Fi Handgun Set is a set of four Poser props in PP2 format replicating four different futuristic handgun models. The models are designed to have the look and feel of handguns from a not too distant technology level so they will serve well in futuristic settings and in modern scenes as well. The first two handgun models have a distinct military-issue look to them and the second two feature a more elegant weapon design.
All of the detail is in the mesh and not implemented with bump or displacement maps so the models will work well in any 3D environment as well as in Poser. The UV maps are layed out to easily facilitate customizing the look of the models. Each of the Sci-Fi Handgun models also have between 9 to 13 different material zones to make it easy to cutomize the models without having to change the texture map.
The Sci-Fi Handgun Set also comes with four hand poses to pose the hand/fingers to work with each of the four gun models. The hand poses are for M4 but will work for V4 with some adjustments.
The Sci-Fi Handgun Set comes with the following four Sci-Fi Handgun models in PP2 format:
SF-HG1
SF-HG2
SF-HG3
SF-HG4
The Sci-Fi Handgun Set comes with high resolution textures that look great from a distance or at extreme close up renders.
The Sci-Fi Handgun Set props have been tested to work in Poser V5 and higher. They should work in earlier versions of Poser and/or Daz Studio but they are not supported running in versions of Poser lower than Poser 5.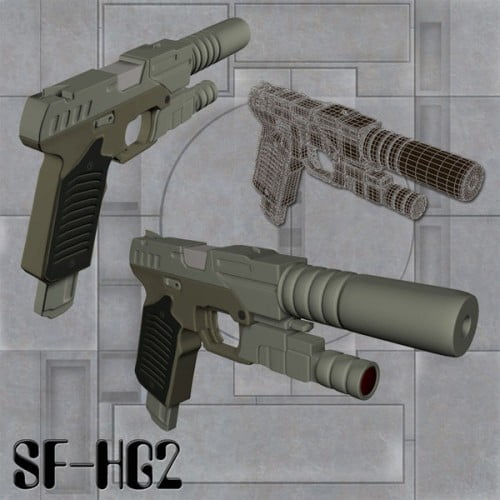 ---