SECRETS: Vantage for V4/A4/G4/Topmodel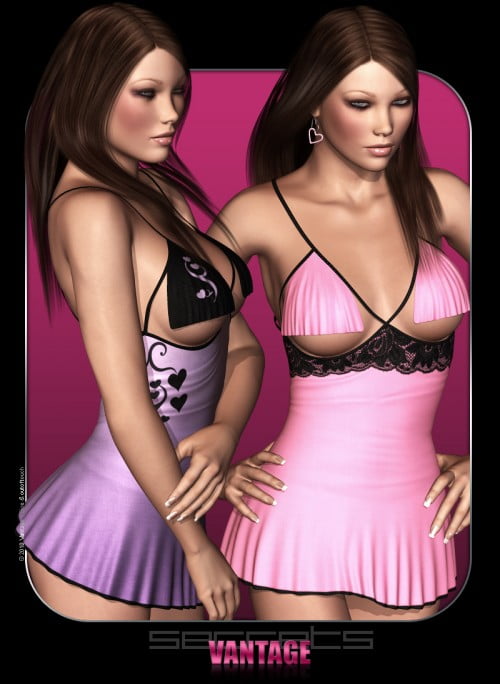 Indulge the body with this sensual and versatile new lingerie wear for Victoria 4, Aiko 4 and The Girl 4. The seventh chapter in our SECRETS series adds a set of high quality conforming lingerie to your Runtime.
This set consists of a versatile lingerie dress with breasts-cloths, a string tanga with lace, a pair of timeless high-heeled platform pumps and a pair of beautiful heart earrings.
Wear the dress as a lingerie top, a mini-dress or a sexy and stylish top to your favourite pants. Or hide the dress-cloth and get a strapped bra. Have a look at the PopUps below for some examples.
The dress, tanga and pumps are super-conforming, automatically following the bodymorphs when dialed in Victoria 4. Included are high quality and highly-detailed models with unfolded mapping to prevent texture stretching and carefully hand-made bodymorphs to give you the best fits possible. This outfit package features most of the V4++ bodymorphs, all Aiko 4 bodymorphs, The Girl 4 bodymorph and our two Topmodel bodyshapes. Beneath the bodymorphs there are a lot of special effects morphs for opening the dress on the back, wind or styles. Have a look at the MORPHS list below for all included morphs.
Built-in JCMs provide you proper fit to most of V4's poses, however in some extreme poses you may need to adjust the clothing. For that we included several adjustment morphs to help you out, as well as 7 bodyhandles on the skirtpart of the dress.
All clothing items come with 5 high resolution and highly-detailed full texture styles and 5 additional lace styles for the dress and tanga.
+ BONUS: TOUCHED for SECRETS Vantage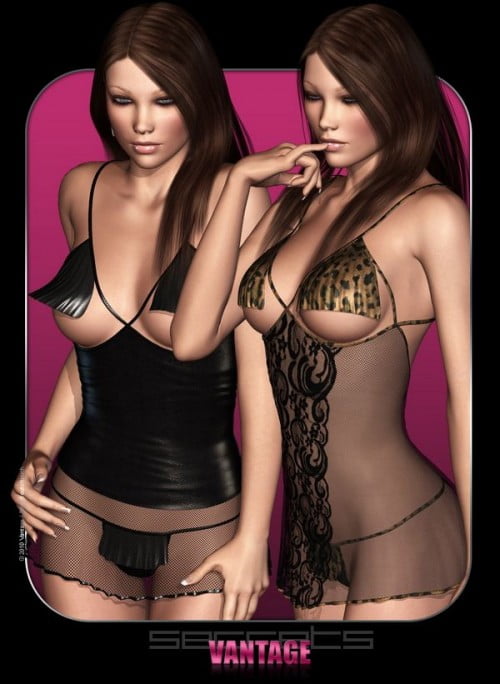 Download from QtyFiles Service
www.renderosity.com/mod/bcs/secrets-vantage-for-v4-a4-g4-topmodel/77582
---