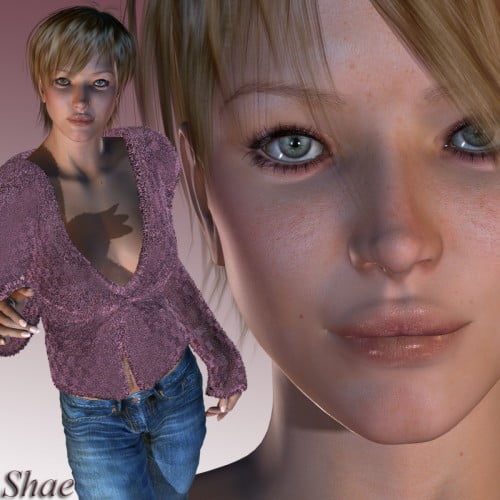 Shae and Kara are two versatile characters for V4.1 The head morphs are part custom, part V4++ morphs from Daz3d. There are 2 bodies, for which you need the V4++ morphs from Daz.
Shae and Kara have 9 different eye makeups, 6 of which also have a no kohl version; and a natural default texture. There are 6 lip colours (interchangeable with the eyeshadows), and 6 eye colours. There are also 3 different eyebrow colours which are easily applied in poser, or which can be used as overlays by DS users.
Product Requirements: You will need to have Poser 5 or higher, V4.1 by Daz Studios, and V4.1 Morphs++. Also works in Daz Studio if you follow the simple steps detailed below, under Other Info.
Contents of this package: 1 natural head texture, (4000×4000) 15 head textures with makeup, (4000×4000) 3 eyebrow transparent overlays & a brow trans map, (4000×4000) 1 torso texture, (4000×4000) 1 limbs texture, (4000×4000) 1 torso bump, (4000×4000) 1 limbs bump, (4000×4000) 6 lip textures, (4000×4000) 6 eye textures, (1000×1000) 1 eye reflection, (1500×1500) Transmaps for lashes, (2048×2048) Texture map for teeth and tongue, (2500×2500) 2 head morphs, each with inject and remove poses (custom & Daz morphs) 2 body morphs, each with inject and remove poses (Daz morphs) Other Info (Also contained in Shae_readme file) Shae & Kara have been developed in Poser6 & 7 for PC, works fine in Poser 5 but you don't get the ambient occlusion on the eyes and tongue. Not tested on Mac.
DAZ USERS In order to use the textures in Daz Studio load V4.1 and make sure she is selected in your scene tab. Go to your surfaces tab and make sure V4.1 is still selected, scroll to the bottom of the surfaces tab and change the lighting mode to matt, load the material for Shae, and the textures will work fine; if you would like glossy lips select the lip surface under the surfaces tab and change the lighting mode to glossy plastic and change the strength slider under the specular settings to 10%. To make the characters more versatile, there are also some alternative eyebrow colours on transparent layers in the Shae Textures folder that Daz users can apply to the head textures in their 2D program. Brow Instructions for POSER USERS You can change the eyebrow colour from the default blond brows to dark brows with a simple value change in Poser's material room. Go to the material room, click on the advanced settings, make sure V4.1 is selected as the Object and select SkinFace from the Material drop down. You will see a node attached to the diffuse colour called Blender, click on the icon that looks like a notepad (next to the eye icon) to expand the blender node, change the value called Blending from 0.000000 to 1.000000 There is also an additional brow texture in the Shae Materials folder that goes with light brown or auburn hair, if you need to use this one go through the same procedure, then expand Image_Map_5 attached to input 2 of the blender node and change the map from darkbrow to brownbrow, which is in the Shae Textures folder. Promo Credits: Breathless for V4 – MindVision-GDS at RDNA; Twelfie hair by SWAM & Zachrael2002 RMP; Radiance Pro Lights by danae RMP. Real Jeans for V4 by billy-t RMP, and Fluffy Fur by tabala RMP (for the cardigan texture). No postwork on promos except for compositing.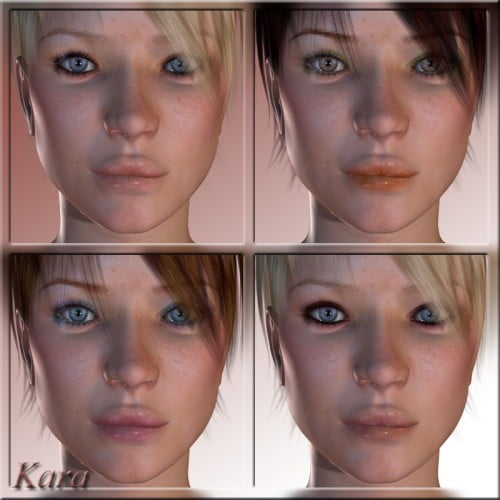 www.renderosity.com/mod/bcs/index.php?ViewProduct=60887
---