Skin Effects: Dirt 2 for Genesis 8, 8.1, and 9 Females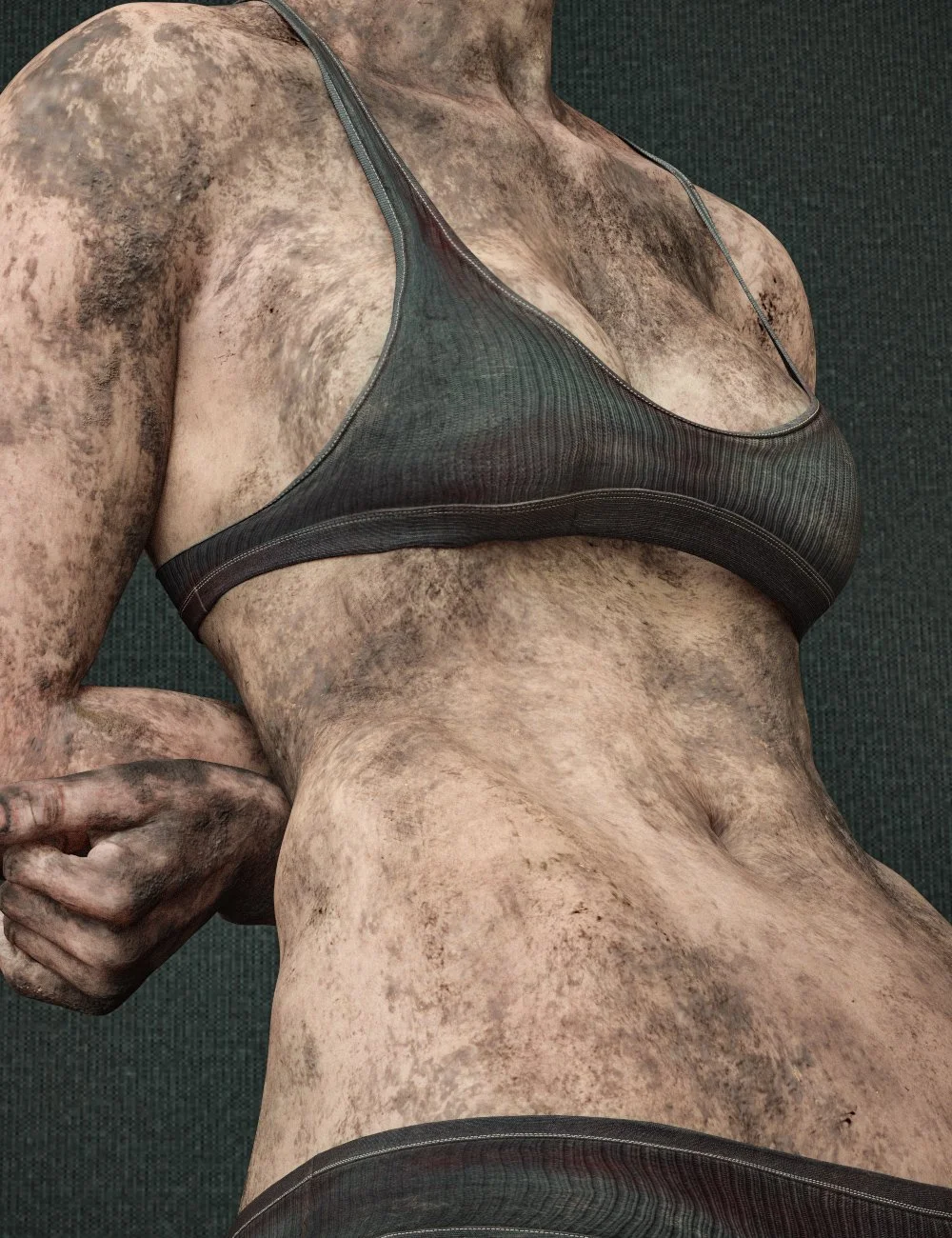 ---
Skin Effects: Dirt 2 for Genesis 8, 8.1, and 9 Females
It includes 3 different dirt types: Light, Medium, and Heavy.
It includes full, complete body options and several partial ones for all the 3 intensities:
Head: Head and Neck, Face only, Lower Face, Upper Face
Arms: Full Arms, Half Arms, Hands only
Torso: Full Torso, Upper Torso, Lower Torso
Legs: Full Legs, Half Legs, Feet only
Skin Effects: Dirt 2 for Genesis 8 and 8.1 Females and Genesis 9 Feminine is a geoshell-based product that uses a PBR workflow to achieve the most realistic results.
It features custom anatomical element UVs for the geoshells to make it compatible with any anatomical element geograft for both Genesis 8 and 8.1 Females and Genesis 9 feminine.
Several geoshells are included to offer the possibility to mix/overlay the dirt and create custom ones.
Note that several of our clothing packages include dirt options or variants you can combine with this one!
What's Included and Features
Skin Effects: Dirt 2 for Genesis 8, 8.1, and 9 Females: (.DUF)
Geoshells:

DRT 01 Full Dirt Shell Layer 01
DRT 02 Head Dirt Shell Layer 01
DRT 03 Torso Dirt Shell Layer 01
DRT 04 Arms Dirt Shell Layer 01
DRT 05 Legs Dirt Shell Layer 01
DRT 06 Full Dirt Shell Layer 02
DRT 07 Head Dirt Shell Layer 02
DRT 08 Torso Dirt Shell Layer 02
DRT 09 Arms Dirt Shell Layer 02
DRT 10 Legs Dirt Shell Layer 02
DRT 11 Full Dirt Shell Layer 03
DRT 12 Head Dirt Shell Layer 03
DRT 13 Torso Dirt Shell Layer 03
DRT 14 Arms Dirt Shell Layer 03
DRT 15 Legs Dirt Shell Layer 03

Materials:

DRT Opacity Level 0.50
DRT Opacity Level 0.65
DRT Opacity Level 0.85
DRT Opacity Level 1.0
DRT All Dirt – Light
DRT Arms Full – Light
DRT Arms Half – Light
DRT Arms Hands only – Light
DRT Face + Neck – Light
DRT Face Bottom – Light
DRT Face Full – Light
DRT Face Top – Light
DRT Legs Feet – Light
DRT Legs Full – Light
DRT Legs Half – Light
DRT Torso Bottom – Light
DRT Torso Full – Light
DRT Torso Top – Light
DRT All Dirt – Medium
DRT Arms Full – Medium
DRT Arms Half – Medium
DRT Arms Hands only – Medium
DRT Face + Neck – Medium
DRT Face Bottom – Medium
DRT Face Full – Medium
DRT Face Top – Medium
DRT Legs Feet – Medium
DRT Legs Full – Medium
DRT Legs Half – Medium
DRT Torso Bottom – Medium
DRT Torso Full – Medium
DRT Torso Top – Medium
DRT All Dirt – Heavy
DRT Arms Full – Heavy
DRT Arms Half – Heavy
DRT Arms Hands only – Heavy
DRT Face + Neck – Heavy
DRT Face Bottom – Heavy
DRT Face Full – Heavy
DRT Face Top – Heavy
DRT Legs Feet – Heavy
DRT Legs Full – Heavy
DRT Legs Half – Heavy
DRT Torso Bottom – Heavy
DRT Torso Full – Heavy
DRT Torso Top – Heavy

Textures Include:

282 Texture, Normal, and Transparency Maps (512 x 512 to 4096 x 4096)

Daz Studio Iray Material Presets (.DUF)
---

Download from QtyFiles Service
---