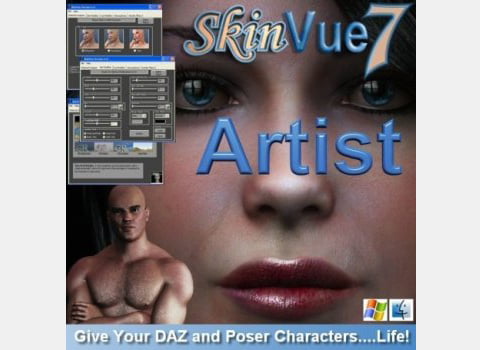 SkinVue7 Artist is a VuePython-Powered, integrated application that performs human skin rendering. It works by adding a custom, fully adjustable, skin shader and eye shader to your imported DAZ, Poser or custom characters. The process of adding the SkinVue7 shader to your characters is fully automated, taking only seconds to inject the SkinVue7 materials.
SkinVue7 plugins currently support the entire range of DAZ and Poser characters (plugins each sold separately). All of the skin shading variables are fully adjustable, providing maximum flexibility to achieve the look you desire. SkinVue7 contains 3 base shading modes: Enhanced – for photo-real rendering using texture maps, Procedural – highly realistic skin rendering using no texture maps, and Toon – a cel shading, cartoon skin renderer.
A new Skin Effects Layers tab has been added which allows a number of Skin Effect layers to be overlayed on the skin such as blood, reptilian skin, and second skin clothing. SkinVue7 also contains specially built scenes and atmospheres optimized to produce vivid human skin renderings.
BONUS:?V4 Victoria Monroe
is a V4 Character set for DAZ's V4 model. It contains a custom morph and a set of photo real textures created from actual photographs.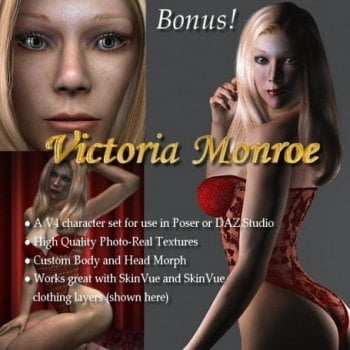 ---