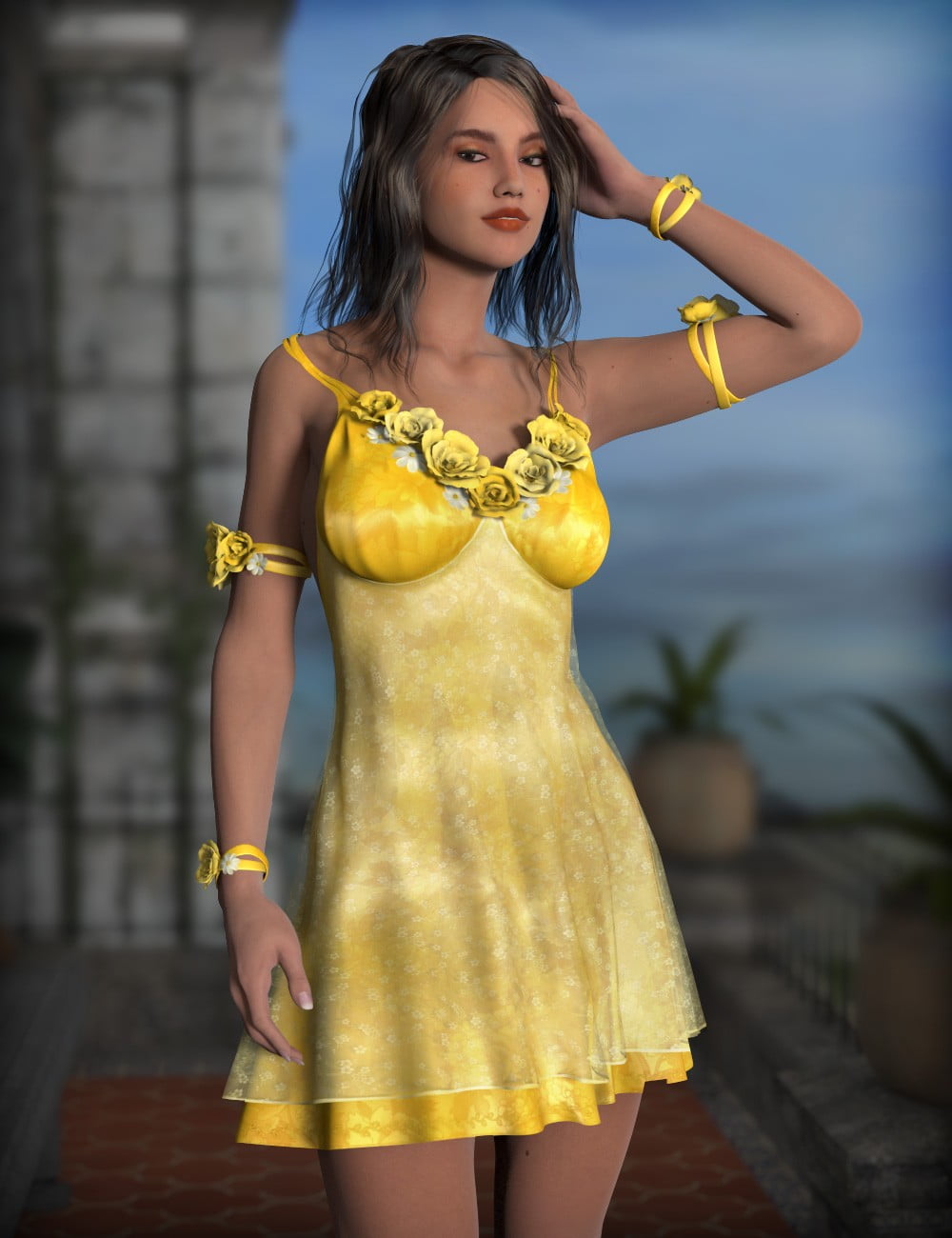 The dress features two HD morphs for different fold styles around the neckline.
Additional bones in the dress and overdress allow you to pose the skirts to your liking.
The rose accessories are separate elements that can be loaded separately.
These clothing items have custom morphs for Aiko 6, Gia 6, Giselle 6, Olympia 6, Stephanie 6, Teen Josie 6, The Girl 6, Victoria 6, and the brand new Lilith 6, as well as many of the Genesis 2 Female Full Body Morphs and Breast Shapes.
The set also includes customized materials for both DAZ Studio and Poser.
Song of Summer: (.DUF and .CR2)
Dress:
HD Folds 1
HD Folds 2
Skirt Flare
Skirt Wide
Widen All
Widen Back
OverDress:
Skirt Flare
Skirt Wide
Widen
Widen All
Widen Back
Dress Roses:
Adjust Folds1
Skirt Flare
Skirt Wide
Widen All
Widen Back
Anklets – Left and Right:
Widen All
Armlets – Left and Right:
Widen All
Wristlets – Left and Right:
Widen all
Supported Genesis 2 Female Shapes:
Aiko 6
Gia 6
Giselle
Lilith 6
Olympia 6
Stephanie 6
Teen Josie 6
The Girl 6
Victoria 6
Bodybuilder Size
Body Size
Body Tone
Emaciated
Fitness Size
Thin
Voluptuous
Breasts Cleavage
Breasts Diameter
Breasts Gone
Breasts Heavy
Breasts Implants
Breasts Natural
Breasts Perk Side
Breasts Shapes 01 – 08
Breasts Size
Breasts Small
Material Options for each Piece:
Pink
Yellow
Textures:
12 Texture, Bump, Specular and Transparency Maps (3000 x 3000)
10 Texture, Bump, Specular and Transparency Maps (1024 x 1024)
Texture Templates available through the Product Library
DAZ Studio Material Presets (.DUF)
Poser Custom Material Presets (.MC6 and .DUF)
---