Starship Mess Hall (Poser & OBJ)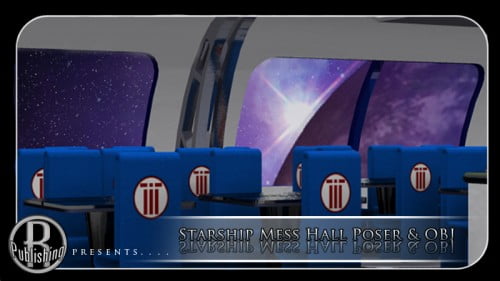 Starship Mess Hall for Poser & OBJ
The mess hall on the starship NST Catalan, where the crew eats or just relaxes.
Along the front wall, the crew can order prepared meals from the on-duty chef. Each day's menu is listed on the menu board, but the chef can usually accommodate custom requests.
Behind the front wall, a door leads to the storage room and kitchen. (Note: in this digital model, there is no actual room, although the door can open and close).
Along the rear wall are huge panoramic windows to see into space. Sit back and watch the stars… or watch the stars streak by as the ship cruises at lightspeed.
The furniture is completely modular: move the chairs, tables, or couches to suit your needs, whether you need seating for a standard crew meal, a formal meeting, or even a reception for a visiting ambassador.
On the right and left walls are food-dispensers: just tell the computer your favorite food and it'll dispense it in a handy box (drinks are dispensed in handy canisters).
As an added bonus, the food-dispenser has been recently upgraded to include the native foods from over 1,200 civilized worlds… and 412 uncivilized worlds!
As a bonus, sample Food Cubes and Food Canisters have been included. Please keep in mind that these are to be used as supplements to the crew's diets- they are not meant to be used a full meal.
.:Product Features :.
All models are figure files, which means they'll easily accept MAT poses. All models are low-polygon, which means you can add plenty to the scene without bogging down your computer.
Models included in this product:
– Chair (1320 polygons)
– Couch (299 polygons)
– Small Dining Table (184 polygons)
– Large Dining Table (288 polygons)
– Small End Table (14 polygons)
– Large End Table (14 polygons)
– Wall-Mounted Food Dispenser (112 polygons)
– Framed picture, two styles (30 polygons and 46 polygons)
– Mess Hall Room (2458 polygons)
The counter is a separate body part which can be hidden, shown, or moved or rotated to suit the needs of your scene.
Right and left doors can open and close (with an ERC dial on the BODY).
Front door can open and close (with an ERC dial on the BODY).-All walls, the doors, the counter, and the ceiling can be hidden or shown so they don't block your camera angles.
Includes exterior walls so you can make scenes where people are walking into the room.
PZ3 scene file contains the following elements in a pre-arranged scene file:
– Mess Hall Room
– 1 Framed Picture A (with menu texture)
– 2 Framed Picture B (sailing vessel and starship "artwork" textures)
– 2 Couches
– 2 Large Table B
– 2 Food Dispensers
– 2 Large Table A
– 4 Small Table A
– 24 Chairs
All of the objects in the room are parented to the Mess Hall Room. This makes it very easy to rotate or position the objects in the scene around your character or light set.
Light set is included. Also includes these non-room models:
– Food Tray (658 polygons)
– Food Cube (266 polygons)
– Resize to suit the needs of your scene, whether you need a small food cube or a large food crate.Food Canister (70 polygons)
Like the Food Cube, resize to suit the needs of your scene.
All objects include textures:
– The chair and couch fabric are colored red and blue (with 2 MAT poses each, to change the color).
– The tables are colored in metallic textures.
– Food Cube: 3 textures are included: Apples, Eggs, Pancakes
– Food Canister: 3 textures are included: Soda, Orange Juice, Water
– Food Dispenser: 2 texture sets are included to match the signage of the Teleporter Room and Starship Bridge
Framed Picture: 3 images are included:
A "watercolor painting" of the NST Catalan.
A "watercolor painting" of the sailing vessel Catalan.
Menu/ hours of service.
Templates are included for all objects.
Food objects are not included. Please see the readme file for a list of sites where you can get food objects for free.
Pose files:
– MAT poses to apply the above listed textures.
– Hide/ Show poses to hide and show the walls, doors, and ceiling.
Camera files:
– Preset camera angles: use these to render your scene or use as a starting point.
– Camera files also hide any walls and doors which may block the scene.
Recommended for use in Poser 5 and above due to the use of reflections, displacement maps, and procedural textures.
From the upcoming graphic novel, Beyond the Farthest Star, the Mess Hall is seen when Jill Brady first discovers that the "Food Cube" breakfast is not at all what she expected as her first meal on the NST Catalan!
Model created for RPublishing by Vanishing Point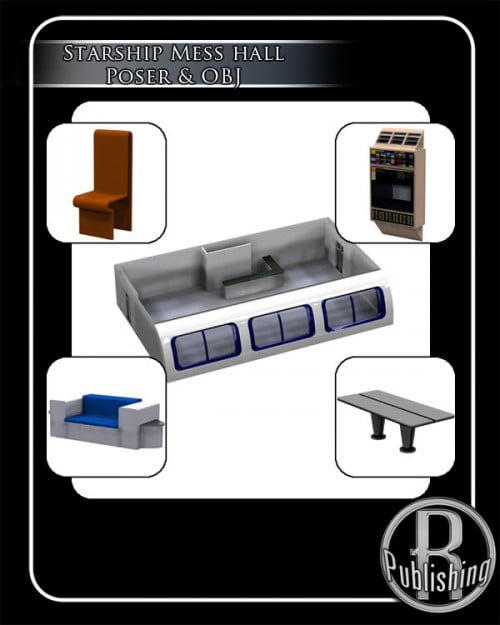 ---