Steampunk Lovelace Clothes V4, A4, G4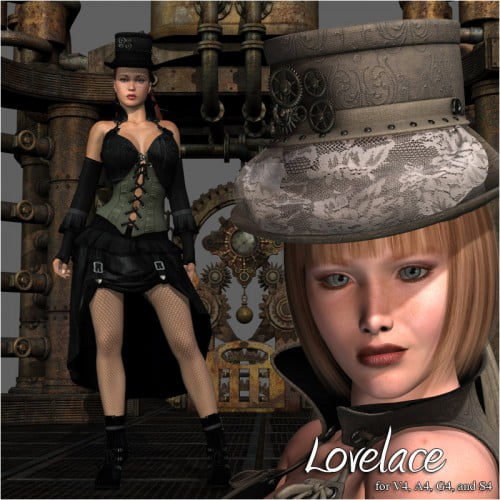 Lovelace is a Steampunk inspired clothing package, with lots of style, class, and sexy appeal. This outfit is perfect for all your Victorian styled fantasies and Jules Verne inspirations. It contains morphs for V4, A4, G4, or S4.
In this package you will find the following pieces
– skirt (.cr2 and .obj)
– corset/waistcincher (.cr2 and .obj)
– vest (.cr2 and .obj)
– stockings (.cr2 and .obj)
– boots (.cr2 and .obj)
– gloves (.cr2 and .obj)
– hat (.ppc2 and .obj)
The package also contains three exquisite sets of textures for the outfit, created by texture artist, Sarsa, exclusively for RPublishing.
For your convenience, you will find more detailed information below.
All of the Lovelace clothing items will automatically follow the morphs of the Victora 4 figure (please see the included morphs list in the readme file). Make certain to have the V4 body chosen prior to loading each of the clothing items.
The skirt contains special bones (actors) that will aid in posing and movement in just about any
situation. It will be necessary to use these bones in order to pose the hip of the dress according to your pose. Simply make sure you have the dress chosen, and under the body parts list you'll find the following bones:
Skirt_Base
Skirt_Front
Skirt_Back
Skirt_Left
Skirt_Right
Skirt_LFront
Skirt_RFront
Skirt_LBack
Skirt_RBack
I recommend posing your character, then begin posing the skirt using the "Skirt_Base" as a beginning, then move to the various other areas to move the skirt in a natural way according to your pose. This will cause the least distortion to any part of the skirt.
There are also morphs to aid you in making adjustments, all of the morphs included in the skirt and the other pieces are listed in the readme file.
It is necessary to magnetize the stockings in order to avoid pokethru when legs are bent and recommended to magnetize the vest as well.
There is a foot pose included that is necessary to use when using the Lovelace Boots on your character … it will apply the "feet for shoes" morph and bend the foot and toes properly for the boots.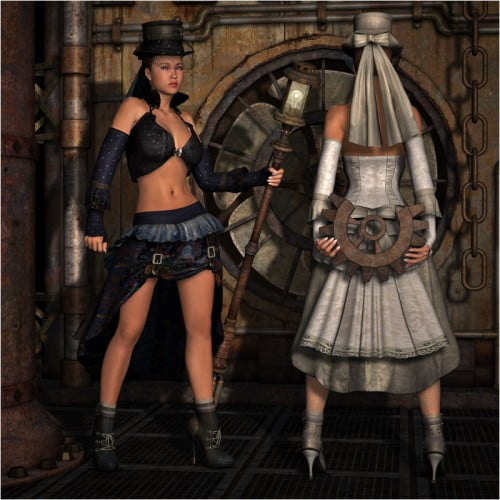 ---