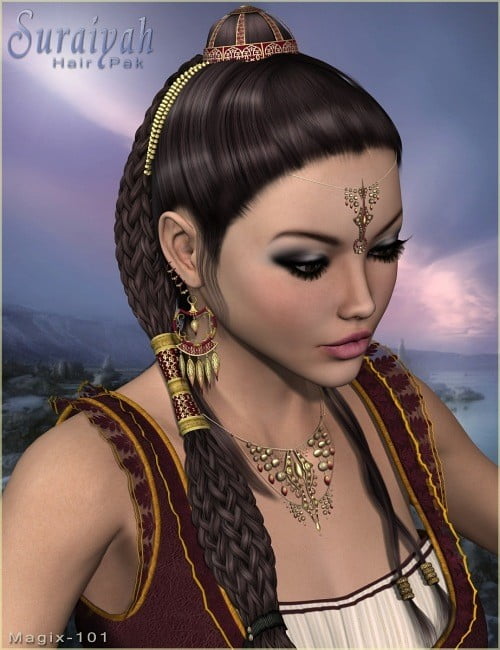 Suraiyah Hair is a conforming fantasy style hair complete with ornaments for Victoria 4, Aiko 4 and the Girl 4.
Detail: Suraiyah Hair has nearly three times the level of mesh detail that most DAZ 3D and Poser figures have. Magix 101 takes this uncompromising attention to detail to another level of refinement with Suraiyah Hair.
Versatility: Suraiyah Hair is created with a highly realistic group of tied braids that can be positioned over the shoulder or at the rear. It can also do smooth swept back styles, or parted styles with hanging top flys that can also be set at various levels of density. The top decorative ornament with hanging beads can be hidden for a more conventional look if the user wishes. All of this versatility is easily achieved because it uses a unique custom MAT MORPH and MAT file system within Poser and DAZ Studio. It has over 70 morph dials on it that do everything from the finest adjustments to complete stylistic changes.
Realism: No level of detail has been spared in the creation of both the model and the textures for this hair.
Style: Suraiyah Hair represents months of careful research and design to achieve its original and magical look.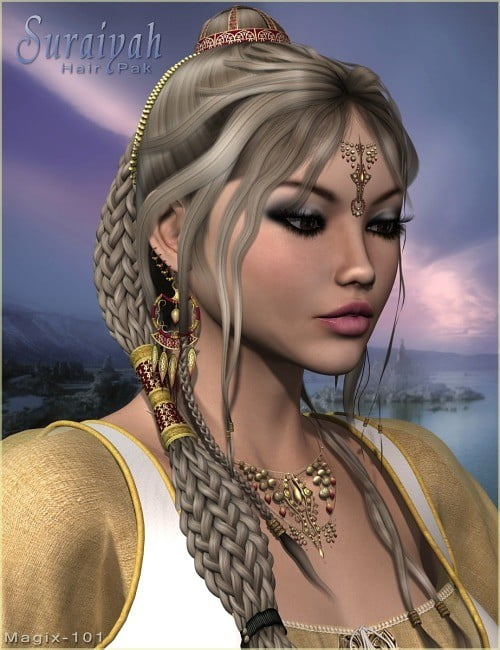 ---