SV Light Helper Tutorial and IBL Lights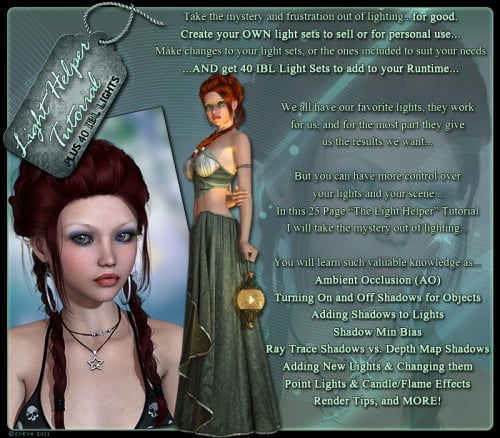 The Third Official Tutorial by Sveva…
Due to popular demand, the I've written another tutorial, this time centered around one of the trickiest things to learn, Lighting!
In "The Light Helper" tutorial I cover everything from Ray Trace Shadows vs Depth Map Shadows, how to create a new light and configure it to suit your needs as far as color/shadows/specular/type etc. I discuss Ambient Occlusion and give render hints/tips…
In this lighting tutorial the mystery is taken out right along with the frustration of using light sets! You will be able to alter your lights to suit your renders and even create new light sets for sale or personal use!
You will also get a set of 40 IBL Lights!
Here is what you get:
25 Page Tutorial in both .PDF & .DOC Formats
40 IBL Light Sets
This tutorial is best viewed NOT in full screen mode, as images may appear blurry,
and not at 100% it is set by default to open in your PDF viewer at 86%
My tutorials are written in an easy to use format, you can jump around to chapters and scroll through at your own pace. There are images complete with instructions so you don't get lost!
If you liked my other tutorials for Blending and my Painterly effect tutorial and you use Poser 5+ you will absolutely benefit from reading through and practicing with my lighting tutorial!
I have been in the digital arts field for almost 10 years, with 2 years of formal traditional art training. During my years of digital art I have struggled with learning 3D lighting, but I have sat down, hashed it out, taken the time to learn the basics and then some, and I would like to pass the knowledge on to other artists/vendors.
Poser 5+ and a PDF Viewer or Doc/Word Viewer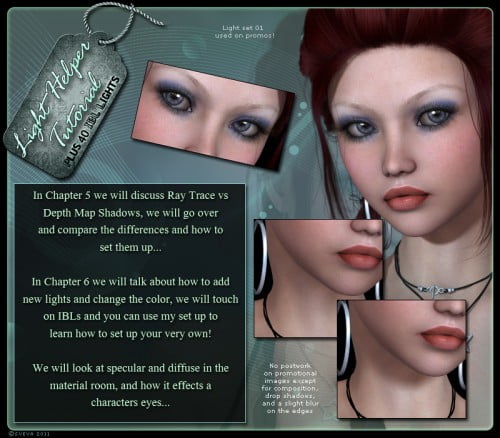 ---