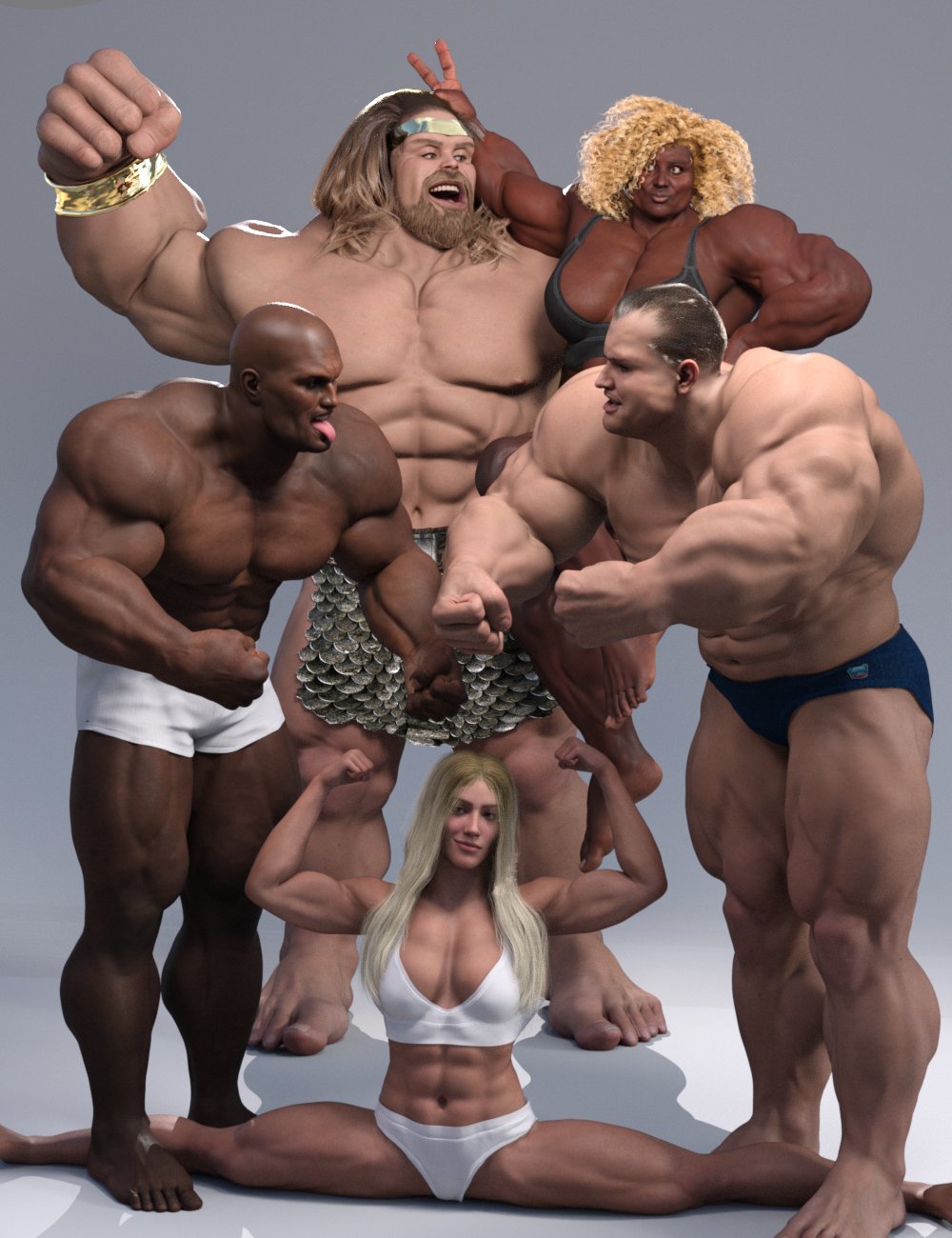 From the start of civilization, humanity has created heroes. They were sometimes gods and sometimes men. They've been depicted and immortalized in statues and temples and celebrated since the first Olympics with impossibly perfect and exaggerated physiques that as of today we aspire to imitate. Fast forward to the present, and we have sports like bodybuilding and wrestling with the same archetype. The hyper-muscular swole bodies created in the gym echo to our superheroes from our modern mythology that have invaded cinema and exploded in Hollywood in the last decade.
SWOLE for Genesis 9 gives you 5 muscular super-heroic visual archetypes to turn Genesis 9 into a hero, a god, or a monster — you decide.
With a muscle-bound base to create superhero and fantasy characters, use these 5 full-body morphs at 100% or at lower percent to increase the muscularity level of your character or mix and match. The singularity of Genesis 9 being a unisex base increases the versatility of the SWOLE system even more than any previous offering.
This product contains no textures
SWOLE for Genesis 9
Morph Dials:
Fibo 9 Nipples
Hercules 9 Nipples
Fibo 9 Navel
Goliath 9 Navel
Hercules 9 Navel
MS Swole 9 Navel
Character Presets:
SWM Fibo 9 HD
SWM Fibo 9
SWM Goliath 9 HD
SWM Goliath 9
SWM Hercules 9 HD
SWM Hercules 9
SWM Ms Swole 9 HD
SWM Ms Swole 9
SWM She Swole 9 HD
SWM She Swole 9
Shaping Presets:
SWM Goliath 9 Stomach Out 2
SWM Goliath 9 Stomach Out
SWM SWOLE 9 Abs Flexed
SWM SWOLE 9 Stomach Default
SWM SWOLE 9 Stomach In
SWM SWOLE 9 Vacuum after Flex
---
Download from QtyFiles Service
---