Texture Bank Vol 13 Hair and Jewels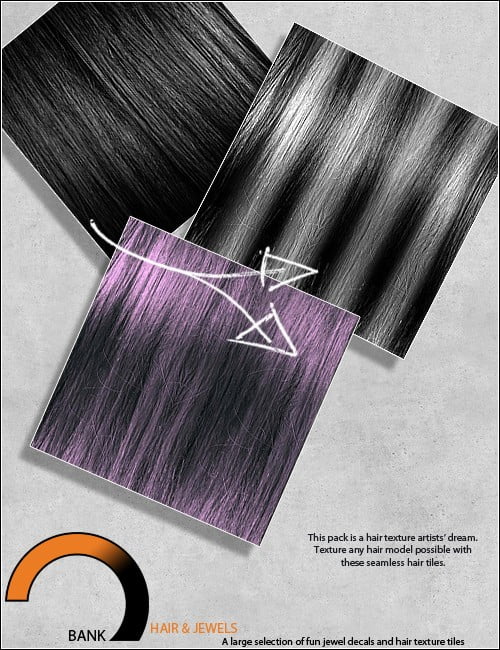 Presenting 'Texture Bank', a catalog of texture resources for the avid texture artist. The texture bank collection strives to bring high quality and hi-resolution textures for commercial and free rendering projects or products.
All textures created for the texture bank range have been shot using a 'Nikon D5000' digital camera to ensure the crispest detail possible.
In this pack, we put the emphasis on fun jewel decals & hair textures. Nothing makes hair textures pop more than some fun high detailed textures. Add that special touch to your hair models with these fun, and tasteful touches.
Even though the hair tiles included aren't completely seamless, they do tile nicely to achieve a natural, even hair coverage.
08 Gemstone Decals (PNG. format)
02 Flower Gemstone Decals (99 x 96 & 127 x 143)
02 Loveheart Gemstone Decals (56 x 47 & 66 x 82)
01 Red Oval Gemstone Decal (117 x 116)
01 Diamond Gemstone Decal (123 x 129)
02 Circle Gemstone Decals (65 x 54 & 126 x 132)
21 Non-Seamless Texture Tiles (JPG.)
03 Dark & Light Hair Tiles (2500 x 2500)
07 Dark Hair Tiles (2500 x 2500)
02 Bright Dyed Hair Tiles (2500 x 2500)
04 Light Hair Tiles (2500 x 2500)
04 Metallic Hair Tiles (2500 x 2500)
03 Streaked Hair Tiles (2500 x 2500)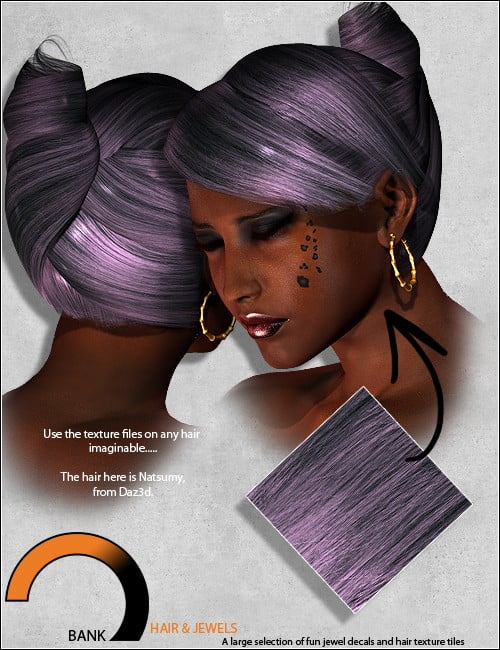 Download from QtyFiles Service
---