The Complete Guide to Animating Dynamic Characters in DAZ Studio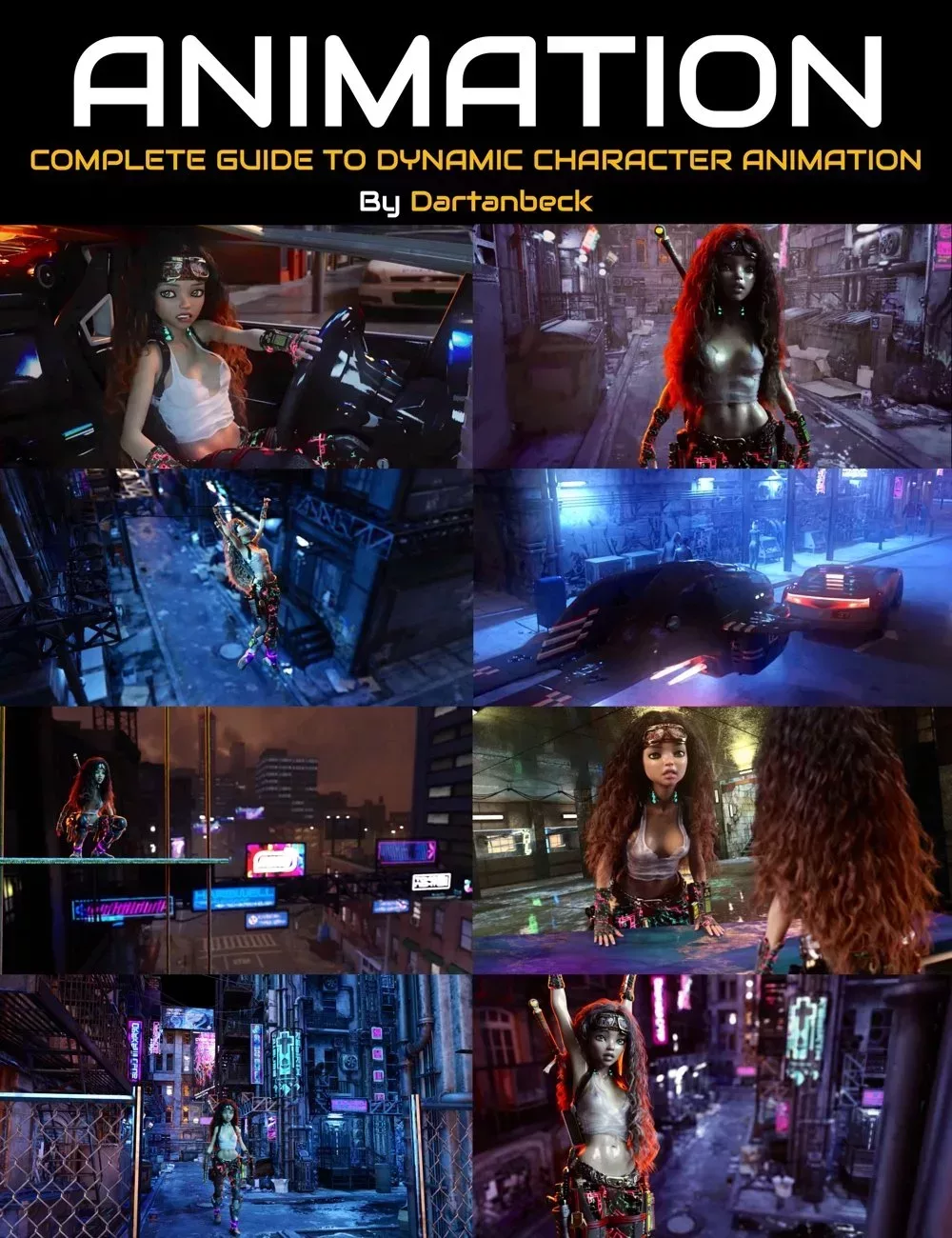 ---
For the first time he shares in detail his complete animation workflow in this tutorial set.
Dartanbeck has created a proven roadmap to get the very best out of aniMate2. He's produced a series of cool techniques and tricks including custom animation helper controls. He's curated the best aniBlocks and animation scripts to make the workflow easier.
Once you've learned Dartanbeck's system you will be able to leverage the wonderful array of native DAZ Studio figures and content in your own animations.
In Part One Daniel provides the complete process of dynamic character animation. Part Two is made up of step by step courses for each topic covered in Part One. In short, it contains finer detailed lessons for everything shown in Part One.
"It is my hope that this will provide the highest quality learning experience I can give you. Each subject of the entire course will be right at your fingertips along with the run-through to vividly illustrate the flow of animating characters in DAZ Studio."
This tutorial set includes 11 MP4 videos at 1920 x 1080 full HD resolution.
Required for this Course
aniMate2 is a key part of the workflow demonstrated in this course and is required.
Total Tutorial Set Duration
4 hours and 30 minutes
Tutorial Content Overview
Introduction
– Course introduction and notes
– Demo animation of Rosie 8 : an example of what you could create!
Part 1 : Complete Workflow
– Start by understanding the basics and determining what the character is doing.
– Use aniBlocks to select and apply animations, introducing the 30 Frame Buffer Zone.
– Ensure fluidity in the workspace by adjusting mesh resolution.
– Set the perspective view to see the entire animation.
– Add a Sub Track in aniMate and set proper Sub Track settings.
– Go back and forth between aniMate and the Timeline for effective editing.
– Apply changes to the animation where necessary.
– Create a custom aniBlock collection for convenience.
– Work with partial aniBlock sub-frames and decide whether blending is required.
– Time out the changes for Sub Tracks.
– Incorporate facial aniBlocks and understand face control for FACS movements.
– Use custom partial pose dials and aniBlocks for Genesis 3 and 8 Face Controls .
– Check and review the animation within aniMate before proceeding.
– Save the progress at appropriate intervals.
– Transition to the DS Timeline by baking the animation.
– Utilize advanced view in the Timeline and understand the 30 Frame Buffer Zone.
– Adjust keyframe interpolation types to refine the animation.
– Develop muscle memory habits for working with the Buffer Zone.
– Master the selection of keys in the DS Timeline for easier editing.
– Use the Hierarchy in the Timeline as a guide for adjustments.
– Fix any issues and fine-tune custom pose changes in the Sub Track.
– Pay attention to dForce problem areas and experiment with tweaks to enhance the animation.
– Continues through the processes of dForce cloth and hair simulations, rendering, and working with the final render in post.
Part 2
– About Dartanbeck's Custom Pose Dials and how they help the animation workflow
– How to create Custom Pose Dials quickly and efficiently
– An Animator's Base Scene and how this saves time in the workflow
– Creating Custom Wearable Presets
– Creating Partial aniBlocks
– Converting Animations from Other Generations of DAZ 3D Figures
– Bonus – Animated Backplate Rendering
– Bonus – Car Chase Piranha vs Nemesis – Behind the Scenes
---
Download from QtyFiles Service
---