This desert flower,
no sweet perfume ever tortured me more than this.Sweet desert rose,
this memory of Eden haunts us all.
This desert flower,
this rare perfume is the sweet intoxication of the fall…Sting, Desert Rose
The Desert Rose Collection – Exotic, sensual, and luxurious are just a few words that come to mind when feasting upon the sheer beauty of this collection.
The Desert Rose Bundle
The dance of a thousand veils comes to mind when feasting upon this breathtaking outfit. Precious metals, gemstones, exotic silks, and the finest embroidered fabrics bring you back to a time long ago, enticing you with the dances of wondrous and enchanted tales of days gone by…
Included in this bundle you will get:
Two complete characters with oodles of beautiful mix-and-match
enhancements of make-ups and henna tattoos for both the face and body.
Bra | Skirt | Sleeves | Choker | Coinbelt
Faceveil | Earrings | Headjewels | Handjewels | Footjewels
Features:
The outfit
conforming bra figure
conforming skirt figure
conforming choker figure
conforming sleeves figure
conforming coinbelt figure
eight full MATs all figures
separate partial MATs for selected material zones
pushup bra INJ and REM vor V4 (with variations for the characters Laksha and Azhar from our DesertRose character package)
The accessories
conforming headjewel figure
conforming handjewel figure
conforming footjewel figure
conforming earrings figure
conforming faceveil figure
eight full MATs for all parts
The characters
two INJ and REM for dialed headshapes
two INJ and REM for dialed bodyshapes
one eye fix pose
two full MATs for the characters
three body MATs with and without henna paint
one natural face MAT
28 MATs for make up styles
18 eye colors
one natural lip MAT
4 lip colors
For all included parts
Poser MATs for all options
DS materials for all options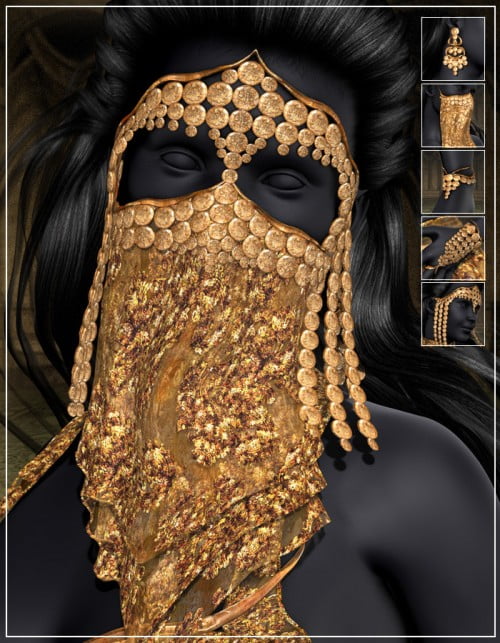 ---