The Freak Wrestling Animation Bundle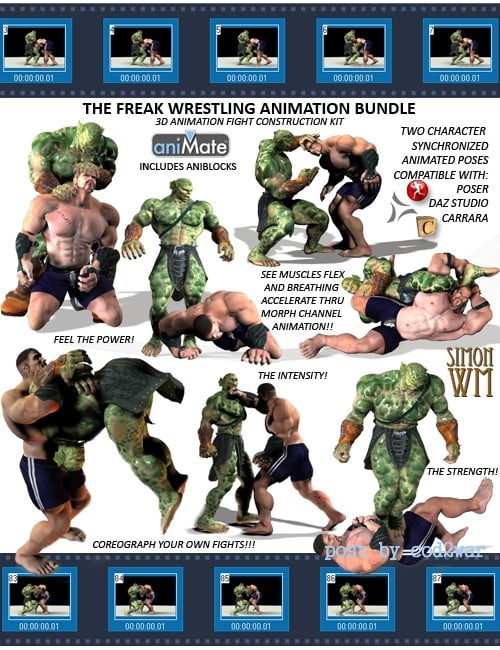 Face it, with a body like the Freak you are not made to spend all day posing with a sword at a temple. The Freak is made to get down to business, going down and dirty. What's the fun of having all the muscles if you are not using them. Immerse yourself in the Freak character and let your inner energy hulk out. Get your Freak out with these animations, mix and match the actions, create different matches using the Freak's limitless morphing possibilities. Man vs. monster, reptile vs. alien, troll vs. ogre, superhero vs. villain, it's up to you. Scroll through the action and use the hundreds of frames included in these fighting animations as poses or become a director and create your own Ultimate Fighting Championship or Wrestling Match scenes, move the camera around the fighters to render multiple shots. These motions have been painstakingly synchronized to work with two Freak figures but advanced users can adapt the motions to other figures using Poser and Carrara's animation graphs.
Includes 14 PZ2 files with body transformations so characters come in perfectly positioned in Poser, DAZ Studio and Carrara. Some of these motions include morph channel animation, see muscles flex, or breathing accelerate as these fighters try to knock each other out. Plus aniBlock files for use with DAZ Studio aniMate Plugin. Two pairs of aniBlocks per move (28 aniblocks total – 14 synched, 14 unsynched). Synched for accurate positioning in 3D space between attacker figure and receiver figure. Unsynched to allow for blending with other aniBlocks in aniMate's Timeline.
---