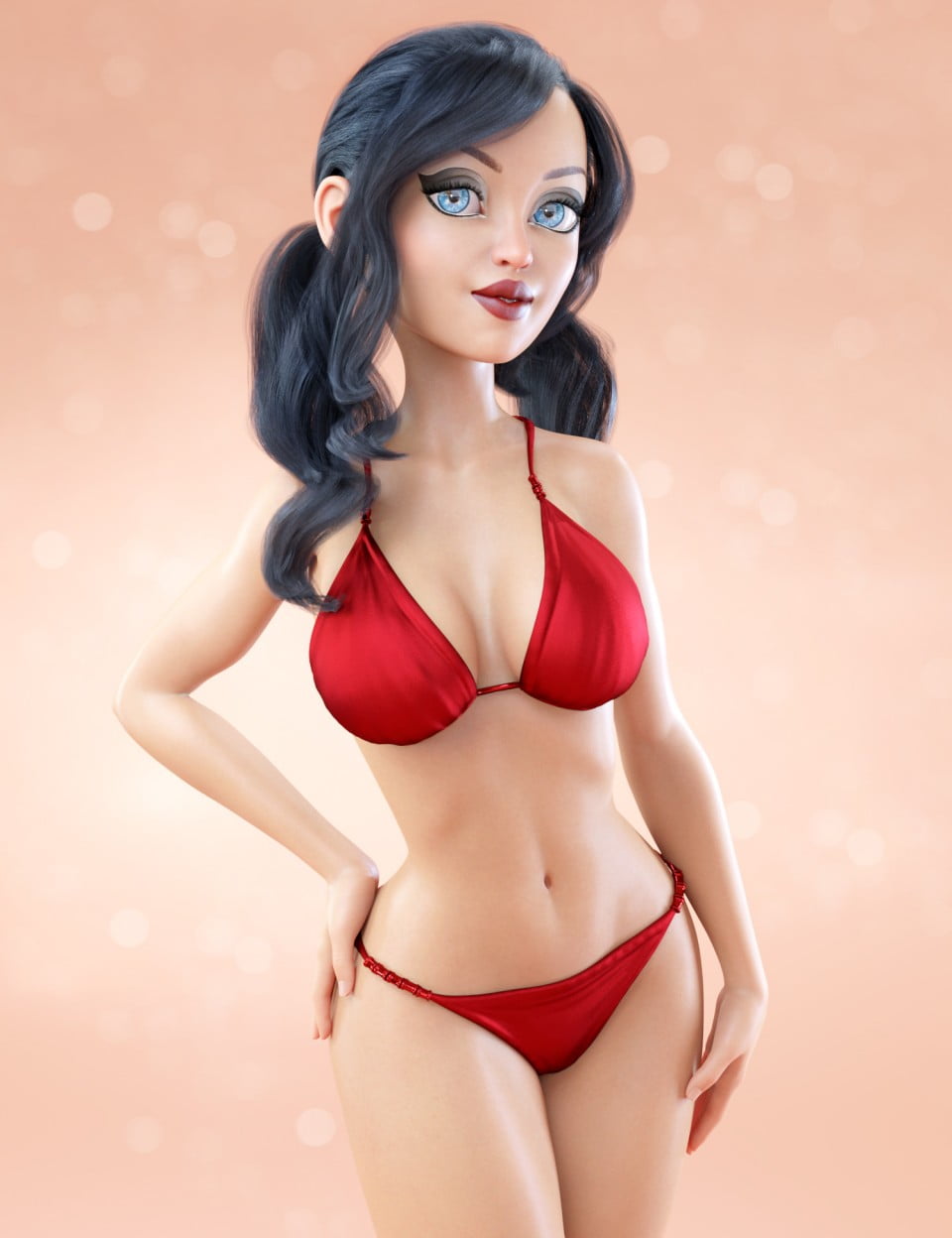 The Girl 8 once again takes center stage! She returns as the ultimate Pin-up Girl. The Girl 8 is a fun, and flirty gal with a to die for iconic hourglass shape. She is the definition of bombshell babe. Being toon never looked so good!
Key advancements with the Genesis 8-based The Girl 8 include:
Backward Compatibility (Read More)
Ultimate Content Compatibility (Read More)
Includes clones for Genesis, Genesis 2, and Genesis 3 content even between male and female figures.
Improved Expression Capabilities (Read More)
Updated Eye Technology (Read More)
Enhanced Finger/Toenails (Read More)
Muscle contraction added (Read More)
Default Pose Change: (Read More)
More Realistic Bending: (Read More)
Better Shoe Fit: (Read More)
Easy Shape Migration: (Read More)
Skin Material Advancements: (Read More)
For additional savings, check out The Girl 8 Starter Bundle and The Girl 8 Pro Bundle.
What is Genesis 8? Click here to find out more.
Measurements courtesy of Measure Metrics for Daz Studio:
Height – 5'8″ (173 cm)
Bust Circumference – 35″ (88 cm)
Waist Circumference – 20″ (51 cm)
Low Hip Circumference – 36″ (91 cm)
This product requires installation of either Genesis 8 Starter Essentials through Daz Connect or both Genesis 8 Female Starter Essentials and Genesis 8 Female PowerPose Templates through Daz Install Manager. Product Library, DIM or Daz Connect.
What's Included and Features
The Girl 8 (.DUF)
The Girl 8 Character Preset
The Girl 8 Full Body Shape
The Girl 8 Head Shape
The Girl 8 Materials:
Utilizing the Improved Iray Uber Shader
The Girl 8 All
04 Eye Color Options
01 Eyelash Material Preset
07 Make-up Options
Brow/No Brow Options
Anatomical Elements Material
Mouth SSS On/Off Presets (3Delight)
3 Subsurface Level Presets (3Delight)
3 Translucency Level Presets (Iray)
Textures Include:
33 Texture, Bump, Normal, Subsurface, Transparency and Specular Maps (4096 x 4096)
12 Texture, Bump, Normal, Subsurface, Transparency and Specular Maps (up to 2048 x 2048)
Daz Studio 3Delight Material Presets (.DUF)
Daz Studio Iray Material Presets (.DUF)
Notes
This product includes:
1 DSON Core Installer
GRATEFUL MEMBERS



---