THE LEDERHOSEN for V4 A4 G4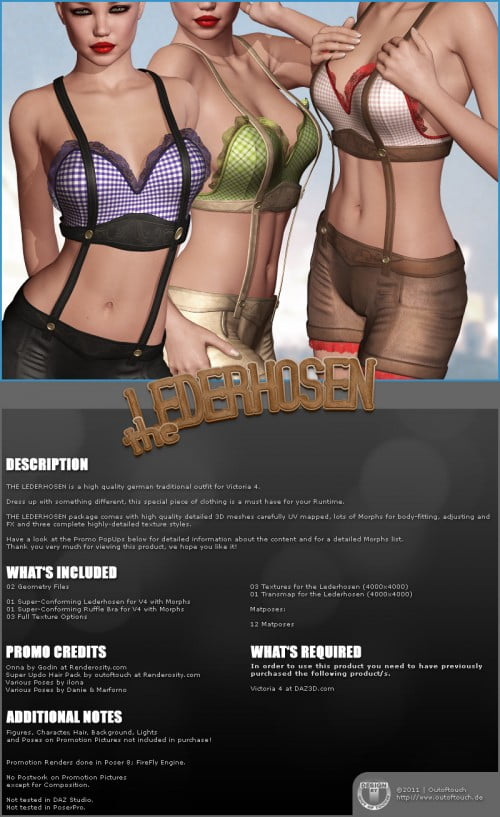 THE LEDERHOSEN is a high quality german traditional outfit for Victoria 4.
Dress up with something different, this special piece of clothing is a must have for your Runtime.
THE LEDERHOSEN package comes with high quality detailed 3D meshes carefully UV mapped, lots of Morphs for body-fitting, adjusting and FX and three complete highly-detailed texture styles.
Have a look at the Promo PopUps below for detailed information about the content and for a detailed Morphs list.
Thank you very much for viewing this product, we hope you like it!
What you get with this package:
02 Geometry Files
01 Super-Conforming Lederhosen for V4 with Morphs
01 Super-Conforming Ruffle Bra for V4 with Morphs
03 Full Texture Options
03 Textures for the Lederhosen (4000×4000)
01 Transmap for the Lederhosen (4000×4000)
Matposes:
12 Matposes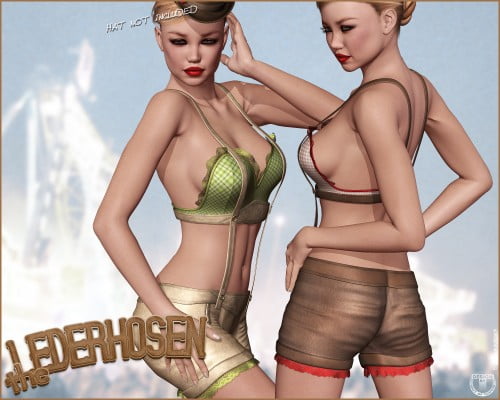 ---