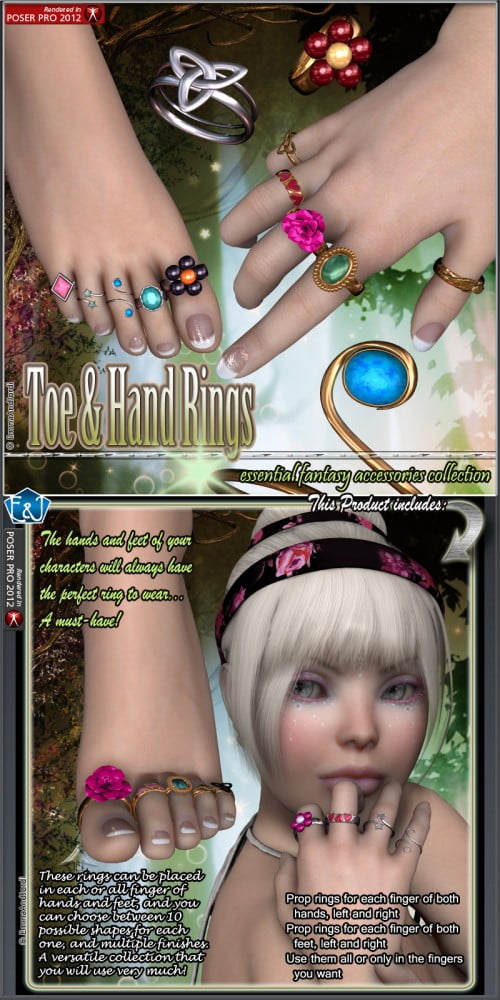 These rings can be placed in each or all finger of hands and feet, and you can choose between 10 possible shapes for each one, and multiple finishes. A versatile collection that you will use very much!
This Pack includes:
– Prop rings for each finger of both hands, left and right
– Prop rings for each finger of both feet, left and right
– Use them all or only in the fingers you want
– Just select a ring and apply a mat pose to get the shape and look you like
– 10 possible shapes and multiple finishes:
– Celtic: a classic of magic fantasy, double ring with ancient Celtic sign, in silver, gold, and mat pose to turn the sign black
– Flower: beautiful design of a flower made of round gems, with ring in gold or silver, and 5 beautiful color combinations of different precious stones: fucsia-lavender, green-pearl. purple-orange, red-yellow, and turquoise-blue
– Galatea: A sumptuous classic that makes your characters stand out, the perfect accessory for the high and mighty, in gold or silver, and the most beautiful 5 precious stones mounted over rich metals: aquamarine, green, jasper, pink, and turquoise
– Hearts: Three carefully crafted hearts mounted over the ring, to give fun, sweet or sassy look to your hands or feet, in gold or silver, and five colors for the hearts: silver, gold, black, pink, and red
– Oval Jewel: an all-purpose ring of a precious stone mounted in an embracing thread of gold or silver. Perfect for all kinds of characters and situations. Jewel in green, turquoise, coral, or pink
– Rhomboid: A timeless design that gives protagonism to the jewel that is perfect both for casual or fantasy characters. Jewels in 6 beautiful stones (black, blue, green, pink, purple, and red) and ring in silver or gold
– Rose: A silver or gold ring with a carefully crafted sculpted rose mounted on top. Choose gold, silver, black, blue, pink or red for the rose. The romantic and gorgeous accessory for hands and feet that you need
– Uroboros: The snake that bites her own tail, is the sign of the eternal return, magic and renovation of nature, fits perfectly any fantasy character. Get it in silver or gold, with black or red eyes
– Spirals: Delicate and mystical design of double twist with gems in gold or silver, choose with or without gems, and between 5 possible precious stones: black, blue, pink, red, and turquoise
– Stars: Two stars cross over the finger like in the night sky, leaving a comet tail behind that is the silver or gold ring. Choose their shine between gold, silver, or blue or turquoise stars
– Render settings and instructions in JPG to enter them for Poser and Daz Studio
Poser 6 and up, or DS3 and up.
These props are for DAZ's Victoria 4.
PC Compatible. Not tested in Mac.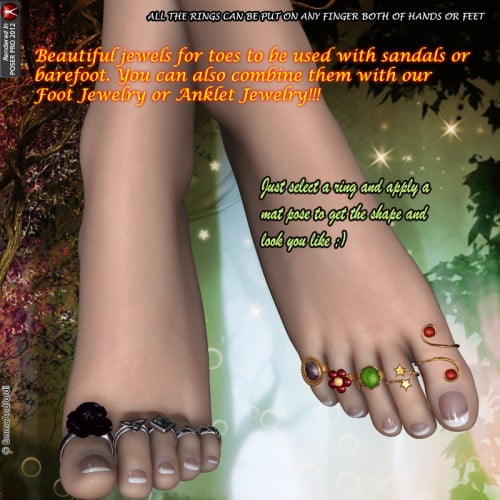 ---