Tracks and Footprint Decals for Daz Studio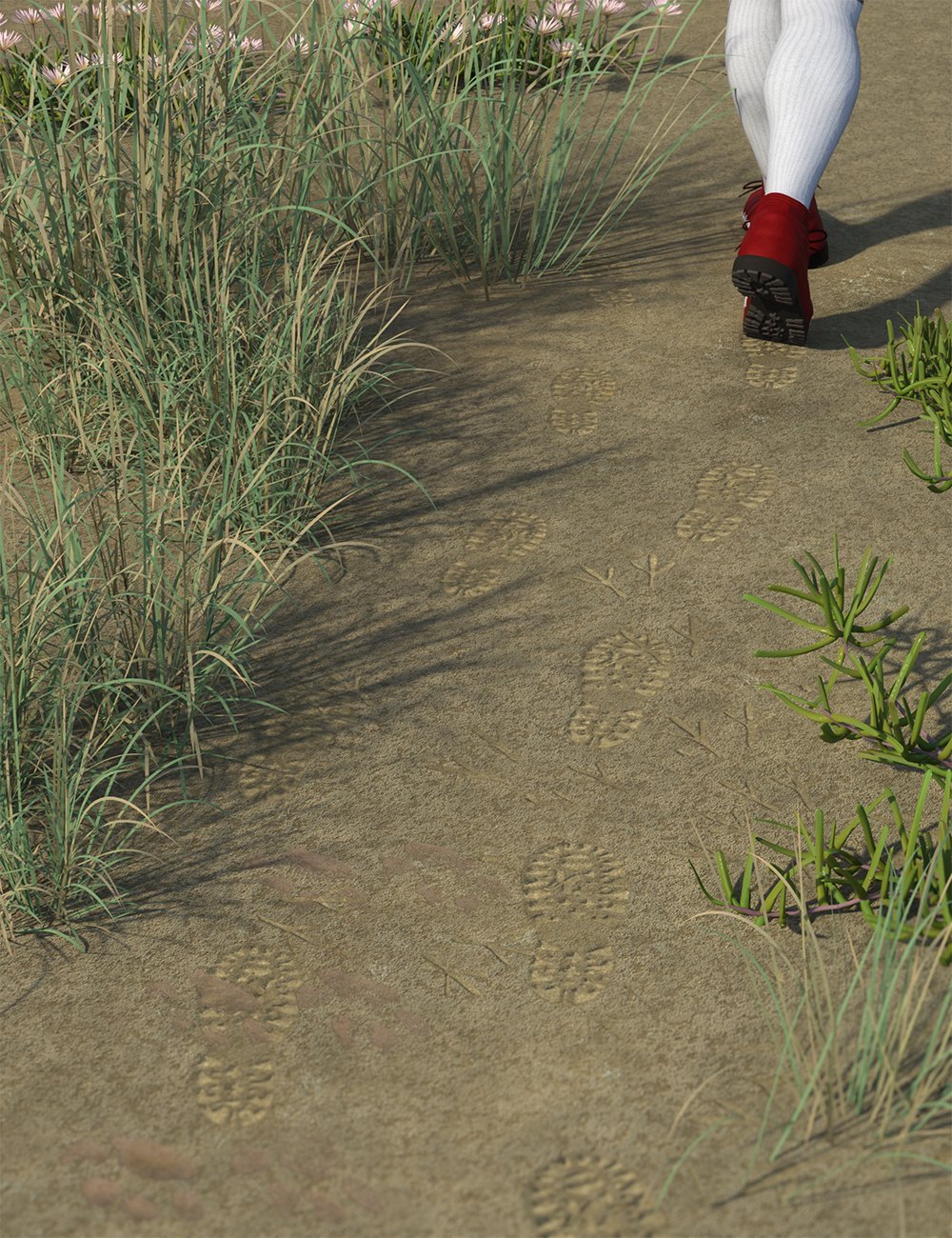 ---
Tracks and Footprint Decals for Daz Studio
You have that perfect scene, and your character is posed perfectly, but there is something missing… those ever-present footprints in the sand or mud or tracked in on a pair of boots.
Now you can muddy up any floor, have footprints in the sand, or just be a mess of animal tracks on a trail.
This great set of decals and a horizontal decal prop to put them on will enable you to put in those tiny details, easily missed, that make your scene just that bit more complete.
Just load the decal prop, make sure that it is parented to the surface you wish to put your mark on, and then choose the set of prints from the huge selection in this bundle.
You can re-scale the prints and orient them on the Z and X axis as you need to, just make sure that the decal object is set at least 25% in the object upon which you wish to leave the tracks!
You will need to do this in the Iray preview mode as that is the only place that the decal will show up to allow adjustment, so make sure that anything not needed for this process is turned off in your scene tab.
With 40 different options to choose from, from animal and bird tracks to human footprints, both bare and booted, both single and in trails, you should have all you need for that perfect finishing touch with Tracks and Footprint Decals for Daz Studio.
Tracks and Footprint Decals for Daz Studio: (.DUF)
Zero Props:
UTCFPT Iray Ground Decal Node
Materials:
Utility Mud Fade
Bird Feet Mud Brown
Bird Feet Mud Red
Bird Feet Mud Sand
Bird Feet Mud Yellow
Bootprint Left Mud Brown
Bootprint Left Mud Red
Bootprint Left Mud Yellow
Bootprint Left Sand
Bootprint Right Mud Brown
Bootprint right Mud Red
Bootprint Right Mud Yellow
Bootprint Right Sand
Bootprint Trail HR Mud Brown
Bootprint Trail HR Mud Red
Bootprint Trail HR Mud Yellow
Bootprint Trail HR Sand
Bootprint Trail Mud Brown
Bootprint Trail Mud Ocher
Bootprint Trail Mud Red
Bootprint Trail Sandy
Footprint Left Mud Brown
Footprint Left Mud Red
Footprint Left Mud Yellow
Footprint Left Sand
Footprint Right Mud Brown
Footprint Right Mud Red
Footprint Right Mud Yellow
Footprint Right Sand
Footprint Trail HR Mud Brown
Footprint Trail HR Mud Red
Footprint Trail HR Mud Yellow
Footprint Trail HR Sandy
Footprint Trail Mud Brown
Footprint Trail Mud Red
Footprint Trail Mud Yellow
Footprint Trail Sandy
Pawprint Trail Mud Brown
Pawprint Trail Mud Red
Pawprint Trail Mud Yellow
Pawprint Trail Sandy
Tint Sand Green
Tint Sand Pink
Tint Sand Red
Tint Sand Yellow
Utiity Sand Fade Full
Utility Med Fade
Utility Sand Fade
Utility Ultrafade
Textures Include:
46 Textures for Base Color, Bump, Displacement, Height, Glossiness, Normal, Roughness, Specular, Transparency Maps (860 x 1496 to 2600 x 2600)
Daz Studio Iray Material Presets (.DUF)
---
Download from QtyFiles Service
---