Ultra Shaders: Japanese Fabrics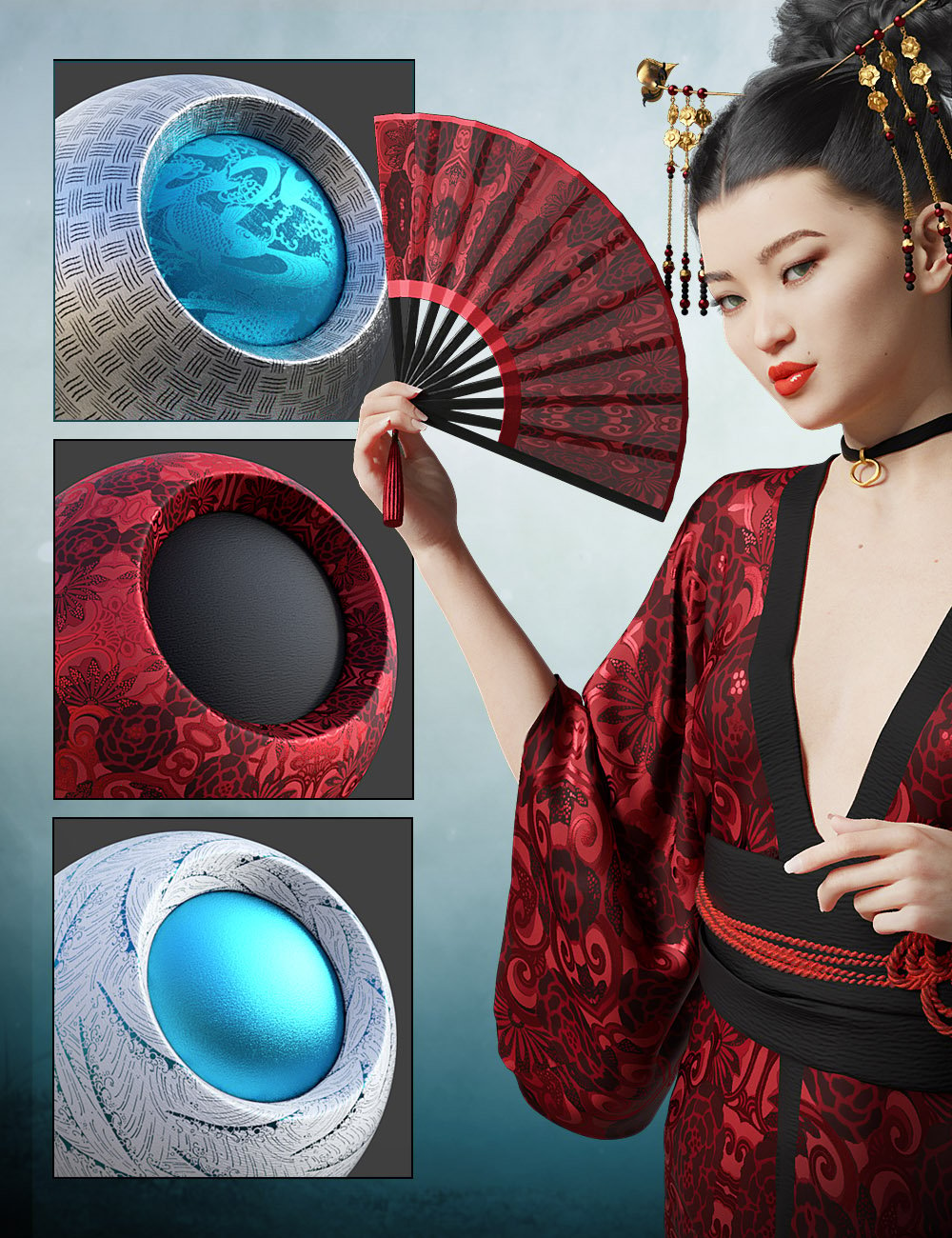 ---
Ultra Shaders: Japanese Fabrics will transform your Daz Studio renders with traditional Japanese designs made using historically researched patterns and colors! It's the perfect option for Japanese-style scenes, outfits, and more. Use on any type of fabric, including clothing, upholstery, as well as wall hangings, or anywhere you need an authentic Japanese look. They also look great on modern clothing and fabrics as well!
Ultra Shaders: Japanese Fabrics was made with our custom high-resolution lighting system on real-world Japanese silks imported directly from Japan to capture fine details and natural surface variations. Included are both plain and wavy silk with 26 color choices for each base material, alongside light, medium, and dark base fabric levels to supply up to 78 base colors per fabric in seconds. All this is before you apply patterns! Additional special shader settings for both a full rich black and the brightest white for each base fabric are also included.
To get you started quickly, there are 24 hand-made, colorful fabric presets – 12 each for both fabrics so you can easily apply a Japanese theme to your outfits with minimal effort.
Or, if you're a more creative sort, you can customize your own fabrics! This set also comes with 34 individual historical Japanese patterns, including 20 tone-on-tone overlay designs, plus 14 full-color overlays. By using the overlay colors on both types of fabric, in addition to mixing in the included metallic accent settings, you can create a huge variety of unique looks.
A ton of useful utilities are waiting for you as well. You can control the size of the fabric grain separately from the pattern overlay scaling for great distance shots or closeups so your fabric grain "reads" correctly for your render. Opacity utilities let you be precise over how opaque a pattern looks, from subdued and subtle to vibrant and strong. Pattern offset utilities, a pattern inverter, pattern removal, plus metallic accent control also come with everything else in this toolkit.
Scalable, customized, and highly-detailed fabrics are only a few clicks away when you get Ultra Shaders: Japanese Fabrics today!
Ultra Shaders: Japanese Fabrics (.DUF)
12 Kyoto Silk Presets
12 Yoko Silk Presets
02 Plain Fabric Bases
01 Light, Medium and Dark Settings
01 Plus Full White
01 Full Black
20 Tone-on-Tone Plain Pattern Overlays
14 Full Color Pattern Overlays
28 Colors for Pattern Overlays
26 Base Colors for Both Fabrics
28 Metallic Colors for Pattern Overlays
01 Fabric Grain Tiling
01 Opacity Levels
01 Invert/Revert Pattern
01 Independent Pattern Tiling
01 Pattern Offsets
01 Pattern Remove
01 Diffuse Overlay and Top Coat Weights
01 Vertical and Horizontal Shift Adjustments
01 Gold and Silver Accent ON
01 Metal Accent OFF
Textures Include:
73 Texture, Normal, Roughness, Metallic, and Transparency maps (1024 x 1024 to 2048 x 2048).
Daz Studio Iray Shader Presets (.DUF)
---
Download from QtyFiles Service
---