V Earring Collection for Genesis 9 and 8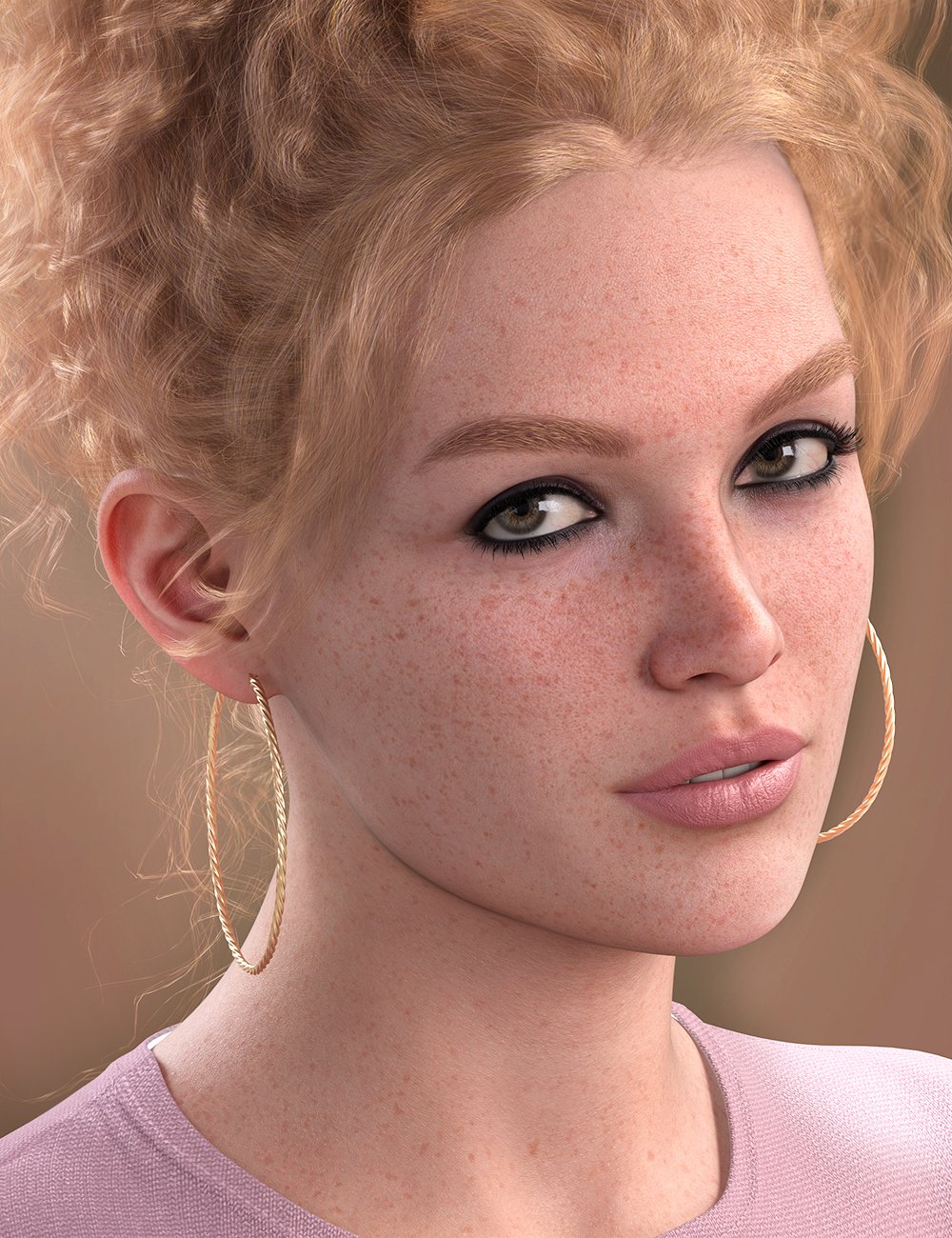 This delicate earring collection is suitable for Genesis 9, Genesis 8.1 Female, and Genesis 8 Female and includes 10 sets of earrings. Each of them are conforming and fully rigged.
The 6 beautiful studs for both left and right ears are specially designed to accompany the 10 earrings, but of course they can be used as standalone earrings too. The studs are rigid follow node based smart props.
These earrings are carefully crafted and have their own bone movement such as twist, side-side, front-back, and translate XYZ. Size and move up-down morphs are included.
Each set has their own collection of materials with a variety of colors, making it possible to create different looks.
With V Earring Collection for Genesis 9 and 8, you can give your characters the sparkle they need!
V Earring Collection for Genesis 9: (.DUF)
VEC Earring Set 01 Genesis 9:
Size
Move Up – Down
VEC Earring Set 02 Genesis 9:
Size
Move Up – Down
VEC Earring Set 03 Genesis 9:
Size
Move Up – Down
VEC Earring Set 04 Genesis 9:
Size
Move Up – Down
VEC Earring Set 05 Genesis 9:
Size
Move Up – Down
VEC Earring Set 06 Genesis 9:
Size
Move Up – Down
VEC Earring Set 07 Genesis 9:
Size
Move Up – Down
VEC Earring Set 08 Genesis 9:
Size
Move Up – Down
VEC Earring Set 09 Genesis 9:
Size
Move Up – Down
VEC Earring Set 10 Genesis 9:
Size
Move Up – Down
VEC Stud Diamond 1 L Genesis 9
VEC Stud Diamond 1 R Genesis 9
VEC Stud Diamond 2 L Genesis 9
VEC Stud Diamond 2 R Genesis 9
VEC Stud Diamond 3 L Genesis 9
VEC Stud Diamond 3 R Genesis 9
VEC Stud Diamond 4 L Genesis 9
VEC Stud Diamond 4 R Genesis 9
VEC Stud Flower L Genesis 9
VEC Stud Flower R Genesis 9
VEC Stud Heart L Genesis 9
VEC Stud Heart R Genesis 9
V Earring Collection for Genesis 8 Female: (.DUF)
VEC Earring Set 01 Genesis 8 Female:
Size
Move Up – Down
VEC Earring Set 02 Genesis 8 Female:
Size
Move Up – Down
VEC Earring Set 03 Genesis 8 Female:
Size
Move Up – Down
VEC Earring Set 04 Genesis 8 Female:
Size
Move Up – Down
VEC Earring Set 05 Genesis 8 Female:
Size
Move Up – Down
VEC Earring Set 06 Genesis 8 Female:
Size
Move Up – Down
VEC Earring Set 07 Genesis 8 Female:
Size
Move Up – Down
VEC Earring Set 08 Genesis 8 Female:
Size
Move Up – Down
VEC Earring Set 09 Genesis 8 Female:
Size
Move Up – Down
VEC Earring Set 10 Genesis 8 Female:
Size
Move Up – Down
VEC Stud Diamond 1 L Genesis 8 Female
VEC Stud Diamond 1 R Genesis 8 Female
VEC Stud Diamond 2 L Genesis 8 Female
VEC Stud Diamond 2 R Genesis 8 Female
VEC Stud Diamond 3 L Genesis 8 Female
VEC Stud Diamond 3 R Genesis 8 Female
VEC Stud Diamond 4 L Genesis 8 Female
VEC Stud Diamond 4 R Genesis 8 Female
VEC Stud Flower L Genesis 8 Female
VEC Stud Flower R Genesis 8 Female
VEC Stud Heart L Genesis 8 Female
VEC Stud Heart R Genesis 8 Female
Materials:
25 Materials for Earring Set 01
17 Materials for Earring Set 02
08 Materials for Earring Set 03
06 Materials for Earring Set 04
11 Materials for Earring Set 05
21 Materials for Earring Set 06
07 Materials for Earring Set 07
32 Materials for Earring Set 08
08 Materials for Earring Set 09
42 Materials for Earring Set 10
25 Materials for Diamond Studs
16 Materials for Flower Studs
16 Materials for Heart Studs
Textures included:
05 Texture, Albedo, Metallicity, Normal, and Specular Maps (1024 x 1024 to 4096 x 4096)
Daz Studio Iray Material Presets (.DUF)
---
Download from QtyFiles Service
---