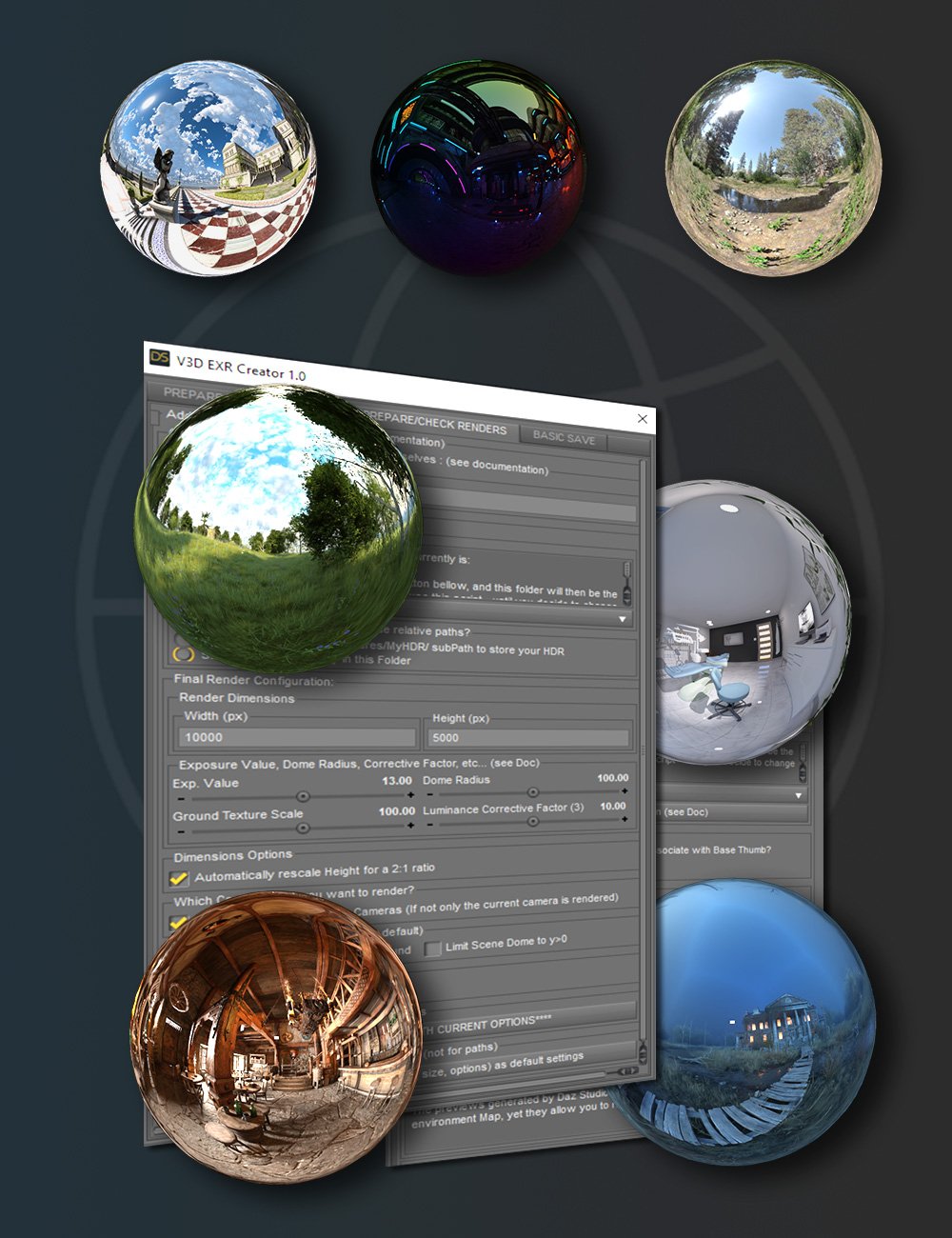 ---
Updated 2023-04-04 – The "exr" script was updated for clarity. The "png xEV" script resolved an issue when the "Render All Compatible Cameras" option was checked. Please see the included .pdf for a full explanation of updates.
Have you ever struggled to set up your figures in a complex scene? Have you ever been despaired when your scene takes hours to render because it is too heavy for your computer? Or do you want to feel super comfortable and not worry about the weight of your 3D surrounding environment when you play with your main characters in the scene? Or maybe you just want to speed up your renders? Don't worry anymore: V3D HDR Creator is made for you!
Simply create HDR images of your 3D environments and apply them in any scene in the blink of an eye! V3D HDR Creator will optimize this workflow for you, allowing you to reach your ultimate goal: make a great render super easily!
V3D HDR Creator is a set of scripts that will allow you to add 360-degree cameras in a single click either at the horizontal center of your scene or at the perspective view location. Two scripts are then available to process your renders using a single camera or all the cameras created:
EXR Creator processes the renders of HDR images that can be used directly as environment maps. Any image rendered with this script can be at any time saved from within the script in a new basic render settings preset, which can be called directly from your Content Library. Loading this basic render-settings preset from your content will load this HDR exr image as the new environment map for your scene.
Png xEV Creator proposes an alternative way to create your HDRI Environment Maps. It allows you to enter a set of exposure values and to batch render a set of 360-degree png images for all these exposure values. Those images can then be recombined in an external software, such as Photoshop, in order to create an HDR image that you can load as your new environment map. Png xEV Creator can be used in any scene and is especially recommended for scenes where light effects (fog, haze, bloom, etc.) are an important part of your scene mood or scene lightning.
Both those scripts keep track of your renders, allowing you to pick up in your history list the one you want, either in order to preview the image, or to instantaneously create a render settings preset out of your image, or even to open their folder in your explorer to directly access the images. This way, you will not make a render twice only because you forgot where you stored it! To be more efficient, a script can clean your history lists by removing orphans and reducing the number of elements in the list to the value you want.
In those two main scripts, tons of options are available to speed up your workflow, and even better, all these options can be defined as your preferences for your next sessions so you never waste your time. Even if extremely easy to use, everything is perfectly documented and in order to go even faster, a dedicated menu can be installed whenever you want, complemented if you want to via an easily removable/re-installable toolbar.
So stop being afraid of using some of your great content just because it might be too heavy! Stop being worried because a complex scene prevents you from working easily with your main figures! Use V3D HDR Creator and turn millions of polys and hundreds of texture maps into a single environment map!
V3D HDR Creator: (.DSE)
V3DHDRC 01 Install
V3DHDRC 02 Open Documentation
V3DHDRC 03 Create or Add Cameras
V3DHDRC 04 exr Creator
V3DHDRC 05 png xEV Creator
V3DHDRC 06 Clean Data Files
---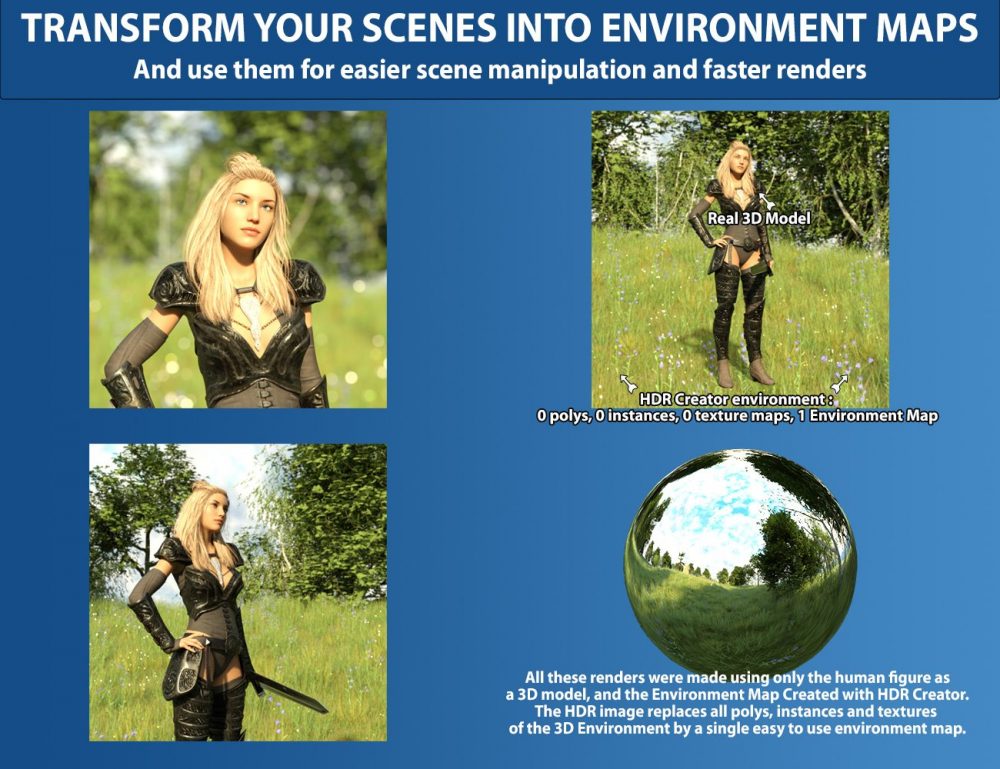 Download from QtyFiles Service
---