Xavier for V.2 Male Morphs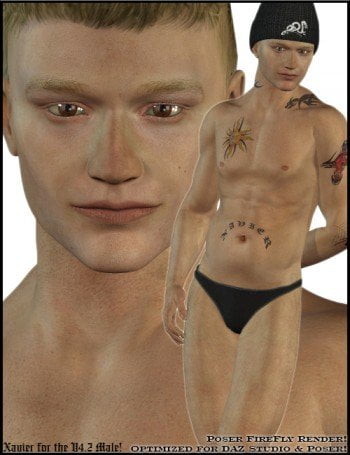 Introducing Xavier for V4.2 Male Morph by Morris!
Xavier is misunderstood. Yeah, he has issues, but don?t we all? And whatever you do, don?t remind him of his sister Victoria; he?s not in the mood to discuss her 😉
Xavier takes advantage of the new male morph on the V4.2 Model. He is a combination of the default Male morph and some of V4.2++ morphs, bringing to life a handsome young man!
Xavier?s textures include two head maps, a fresh shave and a bit of a scruffy look. I included and Eyebrow Transmap to be used over the skin textures eyebrows to help darken or lighten the color. Also included are INJ poses to ?turn on? or ?turn off? the eyebrow geometry. Also eight eye maps, four colors with or without highlights. Last, but not least, gorgeous body maps with or without detailed tattoos. His Ink gives him a tough guy look, but he?s also a smooth operator, even without the Tats!
I also added a few poses for the V4.2 Male Morph, 15 in total. Seven original poses, seven mirrored poses, and a zeroed pose. The poses were crafted around Xavier?s morphs, but were saved without morph forms, so will work with any V4.2 male character, with some minor tweaking.
As an added bonus, I also included a Genital Map that can be used with M3?s Genital model, and a ?fit? pose to help fit M3?s genitals to Xavier. (Please note that I used a Transmap for the genital Textures, to better aid in seamless integration between the two models, but once the Genital MAT pose is applied, the genital model may seem to disappear (Poser) while in preview mode, but does render visible.)
Xavier for the V4.2 Male Morph, has been optimized for DAZ Studio and Poser 5-7, to achieve the most realistic Renders possible! Little details such as a Lac Trans for the Lacrimals, enhanced bump maps and the use of Shaders in DAZ Studio and Poser bring these Textures to life!

---