Cheerful Clothing Set for Genesis 9 with dForce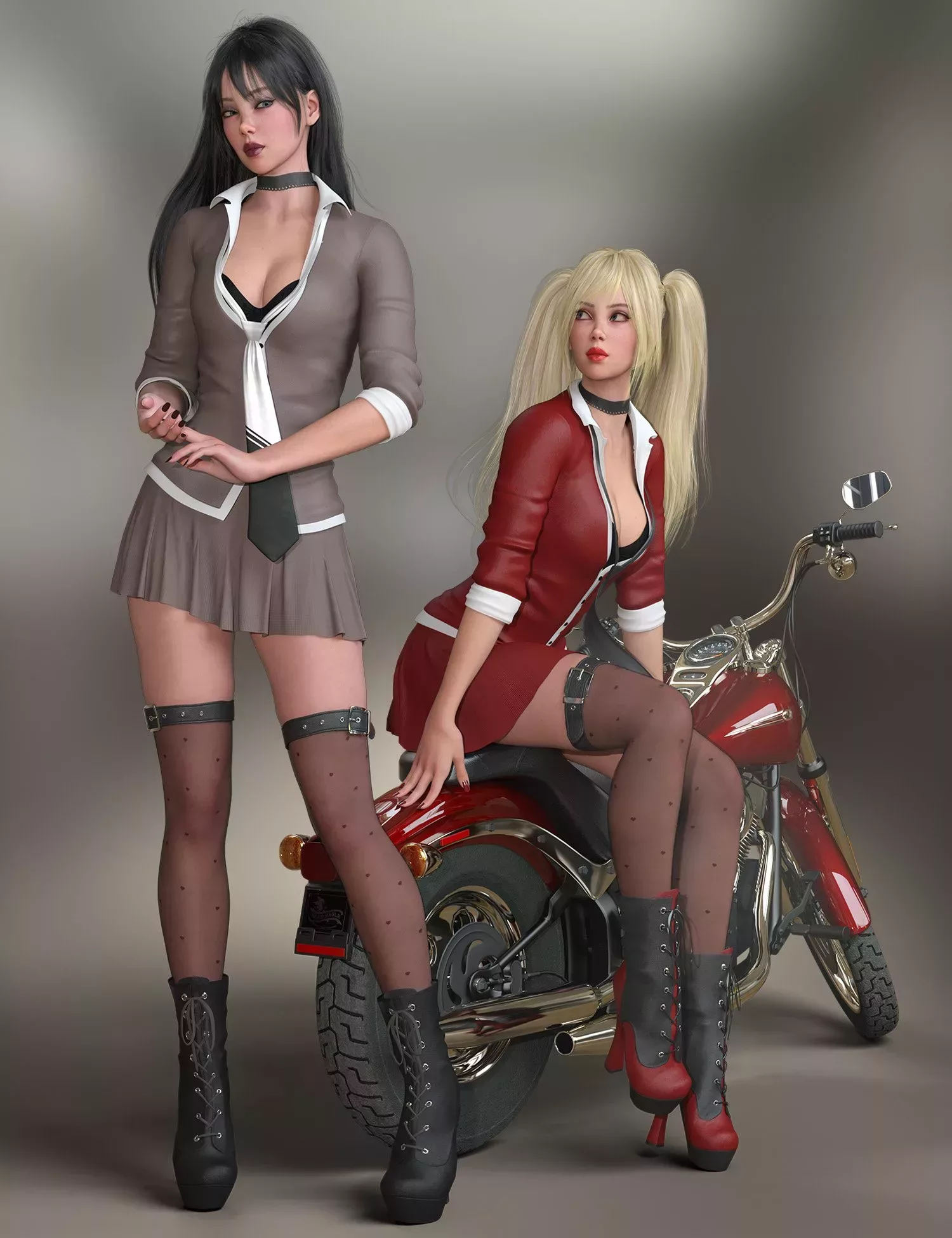 Introducing Cheerful for Genesis 9 with dForce: Enhance your 3D renders with this versatile and dynamic outfit!
This remarkable collection is designed exclusively for Genesis 9 in Daz Studio, featuring the powerful capabilities of dForce simulation and Iray rendering. With dForce support, the clothing effortlessly conforms to your character's movements, creating realistic drapes and folds that breathe life into your scenes.
Experience the highest level of visual quality with Iray compatibility, ensuring stunningly realistic materials and lighting effects. Every detail of the outfit shines under Iray's advanced rendering technology, adding a touch of realism and depth to your renders.
"Cheerful for Genesis 9 with dForce" offers a wide range of material options to suit your artistic vision. Choose from various colors, patterns, and textures to customize each element of the outfit. Whether you're aiming for a vibrant and energetic look or a more subdued and elegant style, the multiple material options allow you to achieve the perfect mood for your characters.
Unlock endless possibilities with this versatile ensemble. Dress your Genesis 9 characters in "Cheerful" and watch them come to life. The combination of dForce, Iray compatibility, and the multitude of material options guarantees that your renders will stand out with exceptional quality and attention to detail.
Don't miss the opportunity to elevate your 3D artwork with "Cheerful for Genesis 9 with dForce." Let your creativity soar as you explore the possibilities of this extraordinary outfit, bringing a sense of vibrancy, style, and realism to your renders.
Cheerful Clothing Set for Genesis 9: (.DUF)
Cheerful Boots:
AdjustAnkles
AdjustExpandAll
AdjustKnees
AdjustShins
AdjustThighs
PlatformSize
StilettoHell
ThickHeel
Cheerful Bra:
AdjustBreastL
AdjustBreastR
AdjustExpandAll
AdjustFrontMiddle
AdjustMidriff
AdjustWaistUpper
FrontDownL
FrontDownR
BreastTopLengthL
BreastTopLengthR
Cheerful Choker:
AdjustExpandAll
AdjustnCollars
AdjustNeck
TieMoveLeft
TieMoveRight
TieMoveUp
ChokerThickness
TieSize
Cheerful Jacket:
AdjustBreastL
AdjustBreastR
AdjustCollars
AdjustExpandAll
AdjustMidriff
AdjustNeck
AdjustSleevesUpperArm
AdjustThighs
AdjustWaistLower
AdjustWaistUpper
OpenButton1
OpenButton2
OpenButton3
OpenButton4
OpenFront
OpenFrontFull
OpenFrontL
OpenFrontR
ExtraFold
BottomLength
LowneckedNarrow
LowneckedWide
Cheerful Skirt:
AdjustButtocks
AdjustExpandAll
AdjustSkirtBottom
AdjustWaistLower
AdjustWaistUpper
WindAll
WindBack
WindFront
WindLeft
WindRight
BackLength
BackLengthLong
BackLengthShort
BottomWidth
FrontLenghtShort
FrontLength
FrontLengthLong
FullLengthLong
HighWaist
LowWaist
SidesLength
SidesLengthLong
SidesLengthShort
Cheerful Tie:
AdjustCollars
AdjustExpandAll
AdjustMidriff
AdjustNeck
AdjustWaistLower
AdjustWaistUpper
MoveL
MoveR
MoveUp
NoJacket
FrontSize
FrontWidth
LowneckedNarrow
LowneckedWide
MiddleLength
Supported Shapes:
Angela9
Freja9
Freja9Bulk
Kiri9
Nikolai9
Pixie9
Victoria9
XiuLin9
BaseFeminine
BodyEmaciated
BodyFitnessDetails
BodyFitnessMass
BodyHeavy
BodyLithe
BodyMuscularDetails
BodyMuscularMass
BodyOlder
BodyPearFigure
BodyPortly
BodyStocky
BodyThin
BodyTone
BodyVoluptuous
BreastsCleavage
BreastsDiameter
BreastsFullnessLower
BreastsFullnessUpper
BreastsGone
BreastsHeavy
BreastsLarge
BreastsLargeHigh
BreastsNatural
BreastsPerkSide
BreastsShape01
BreastsShape02
BreastsShape03
BreastsShape04
BreastsShape05
BreastsShape06
BreastsSidesDepth
BreastsSmall
NipplesAreolaeDepthFeminine
NipplesAreolaeDiameterFeminine
PectoralsCleavage
PectoralsHeight
MassUpperArms
Pregnant
StomachDepth
MassBody
ProportionHeight
ProportionLarger
ProportionLegsLength
ProportionSmaller
ProportionSmallerBO
Material Ful Set:
Latex Pink and White
Latex Red and Black
Latex Yellow and Black
Leather All Black with White Shirt
Leather Grey and White Shirt
Leather Light Brown and White Shirt
Leather Light Grey and White Shirt
Leather Red and White Shirt
Leather Yellow and White Shirt
Regular Black and White
Regular Black with Red Tie
Regular Pink and Purple
Regular Red-Navi Blue with Tartan
Regular White and Black
Regular White and Red
Regular White with Red Tie
Material Parts:
Latex Boots Pink and White
Latex Boots Red and Black
Latex Boots Yellow and Black
Latex Jacket Base Black
Latex Jacket Base Red
Latex Jacket Base Yellow
Latex Skirt Black
Latex Skirt Red
Latex Skirt White
Latex Skirt Yellow
Leather Jacket Black
Leather Jacket Grey
Leather Jacket Light Brown
Leather Jacket Light Grey
Leather Jacket Red
Leather Jacket Yellow
Leather Skirt Black
Leather Skirt Grey
Leather Skirt light Brown
Leather Skirt light Grey
Leather Skirt Red
Leather Skirt Yellow
Leather Tie Black
Leather Tie Grey
Leather Tie Light Brown
Leather Tie Light Grey
Leather Tie Red
Leather Tie Yellow
Regular Boots Base Black and White
Regular Boots Base Black
Regular Boots Base Red and Black
Regular Boots Base White
Regular Boots Leg Belts Black
Regular Boots Leg Belts White
Regular Boots Metals Chrome
Regular Boots Metals Gold
Regular Boots Sholace Black
Regular Boots Sholace White
Regular Boots Stockings Black
Regular Boots Stockings White
Regular Bra Black
Regular Bra Red
Regular Bra White
Regular Choker Black
Regular Choker White
Regular Jacket Base Black
Regular Jacket Base Navy Blue
Regular Jacket Base White
Regular Jacket Buttons Black
Regular Jacket Buttons White
Regular Jacket Shirt Black
Regular Jacket Shirt White
Regular Skirt Black
Regular Skirt Red Tartan
Regular Skirt Red
Regular Skirt White
Regular Tie Black
Regular Tie Red
Regular Tie White with Bottom Black
Regular Tie White
Style Boots Stockings ADD
Style Boots Stockings REM
Textures Include
16 Texture, bump, normal Maps (2000 x 2000 to 4000 x 4000)
Texture Templates available through the Product Library
Daz Studio Iray Material Presets (.DUF)
---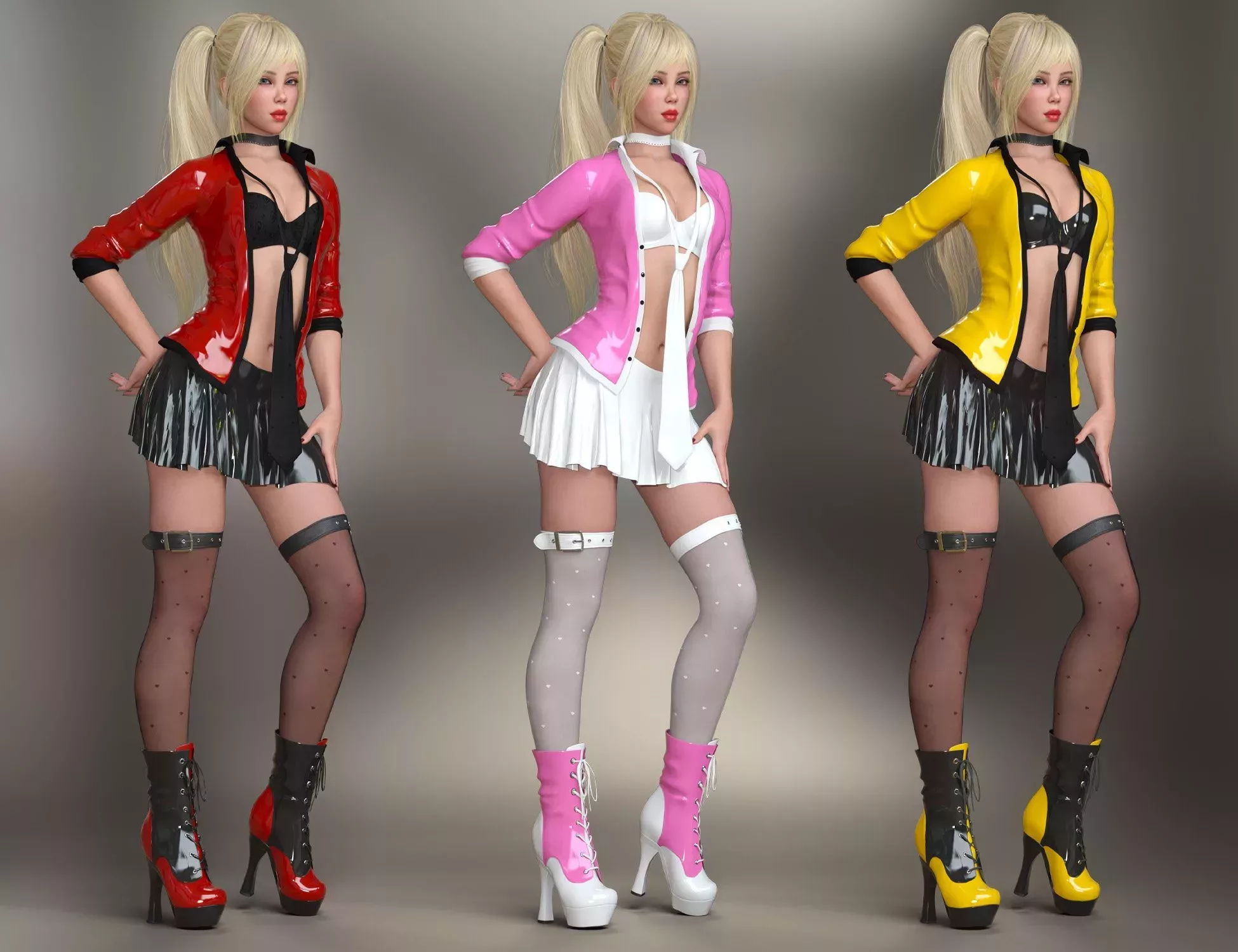 Download from QtyFiles Service
---