dForce MKTG 3 in 1 Lace Dress Outfit for Genesis 9, 8.1 and 8 Female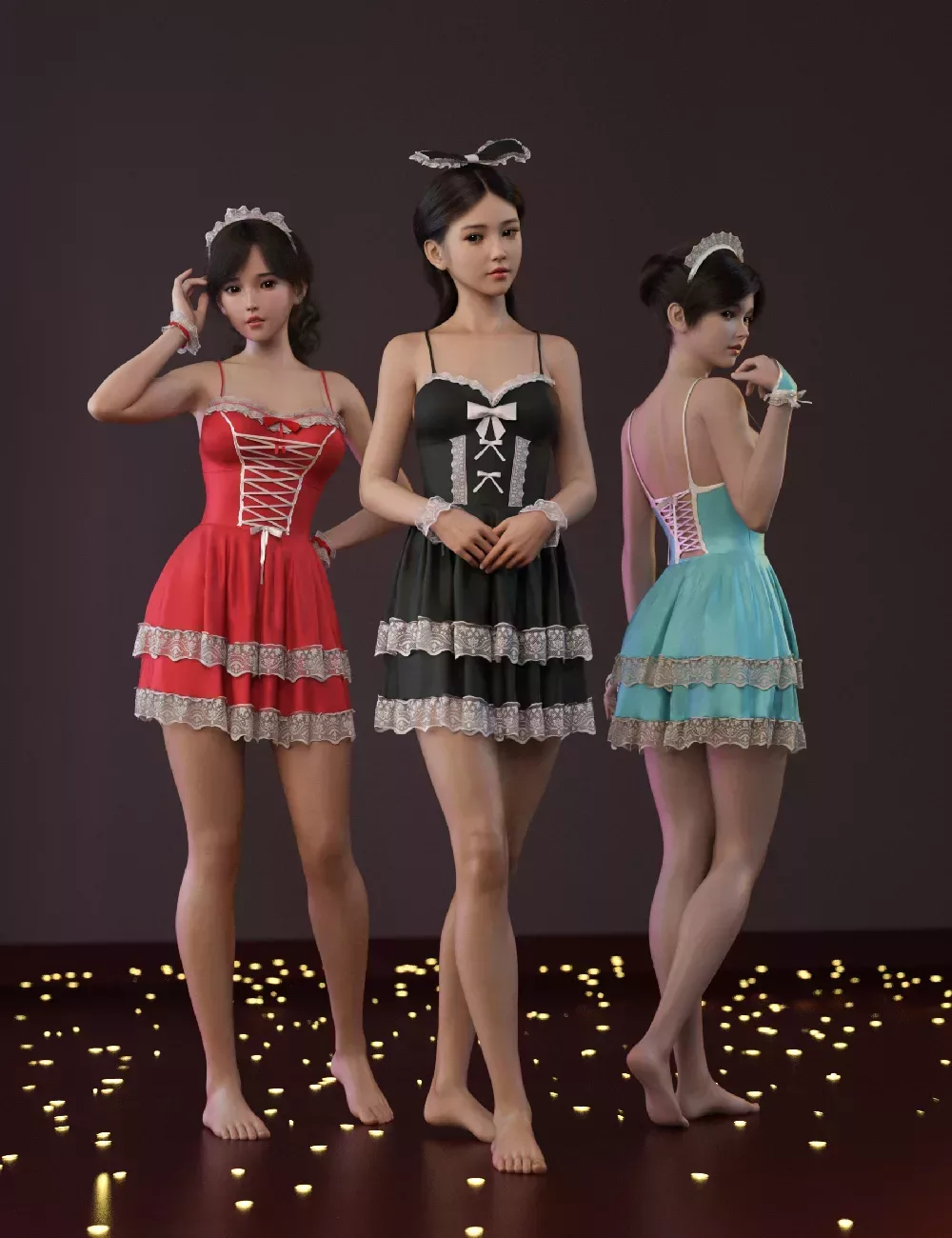 This product contains three overall outfits, namely "MKTG Backless Lace Dress"; "MKTG Bow Lace Dress" and "MKTG Suspender Lace Dress".
Each costume contains three parts a bracelet, dress, and headdress.
The individual garment parts of the three garments can be combined with other garments, each with a unified shader, to form a collection of garments.
Also included are simulation presets that allow clothing to be adapted to a variety of poses and scenarios.
dForce MKTG 3 in 1 Lace Dress Outfit for Genesis 9, 8.1 and 8 Female: (.DUF)
MKTG 3 in 1 Lace Dress All:
Bracelet(MKTG Backless Lace Dress; MKTG Bow Lace Dress; MKTG Suspender Lace Dress):
Expand all
Bracelet Expand Left
Bracelet Expand Right
Bracelet All Up
Bracelet Up left
Bracelet Down right
Bracelet All (Genesis 9)
Dress(MKTG Backless Lace Dress; MKTG Bow Lace Dress; MKTG Suspender Lace Dress):
Expand all
Adjust the front
Adjust the back
Adjust the left
Adjust the right
Dress short
Dress long
Adjust Waist
Loose Waist Lower
Dress Bow Up
Dress Bow Turn left
Dress Bow Turn right
Dress Bow long
Chest bigger
Chest smaller
Flat chest
Shoulder Straps Pull Up left
Shoulder Straps Pull Up right
Shoulder Straps Slide All
Shoulder Straps Slide left
Shoulder Straps Slide right
Pull Down All 01
Pull Down left 01
Pull Down right 01
Pull Down All 02
Pull Down left 02
Pull Down right 02
Dress Set Off Front Left
Dress Set Off Front Right
Dress Set Off Left
Dress Set Off Right
Dress Set Off Back
On the Ground 01
On the Ground 02
On the Ground 03
Dress All (Genesis 9)
Headdress (MKTG Backless Lace Dress; MKTG Bow Lace Dress; MKTG Suspender Lace Dress)
Supported Shapes Genesis 8:
Body Size
Bodybuilder Details
Bodybuilder Size
Emaciated
Fitness Details
Fitness Size
Height
Pear Figure
Thin
Voluptuous
Breasts Cleavage
Breasts Diameter
Breasts Gone
Breasts Heavy
Breasts Size
Breasts Small
Nipples
Nipples Depth
CJ 8
Charlotte 8
Gabriela 8
Josephene 8
Kala 8
Mei Lin 8
Monique 8
Olympia 8
Stephanie 8
Teen Josie 8
Twosret 8
Victoria 8
Aiko 8
Kanade 8
Karyssa 8
Sakura 8
Bonnie 8.1
Brooke 8.1
Clara 8.1
Cleopatra 8.1
Coral 8.1
Jacqueline 8.1
Jada 8.1
Jinx Jones 8.1
Noska 8.1
Rosa Maria 8.1
Victoria 8.1
CO Ichigo
CO Reine
Dior
Hann Mei
Hashimoto
Keicy
Lancy
Manami
Rera
Ruo Xi
Seo Hyun
Yiyi
Aillee
Nanami
Rynne 8
Shizuka
Grace Yong
CNB Rainy Koo
Gu Yu
Luoqu
Lycoris
CNB YunLan
Shiina
Shireen
RN Minto 8.1
Other Shapes may be supported in Daz Studio by Auto-follow
Supported Shapes Genesis 9:
Emaciated
Body Fitness Details
Body Fitness Mass
Body Lithe
Body Muscular Details
Body Muscular Mass
Body Older
Body Thin
Body Tone
Mass Body
Body Pear Figure
Body Voluptuous
Body Portly
Body Stocky
Proportion Height
Proportion Larger
Proportion Smaller
Breasts Cleavage
Breasts Diameter
Breasts Gone
Breasts Large
Breasts Natural
Breasts Small
Pectorals Cleavage
Pectorals Diameter
Base Feminine
Base Masculine
Josie 9
Victoria 9
Pixie 9
Minerva 9
Nikolai 9
Vo Yonina
Ally 9
MSO Peppa
Olivia 9
Olympia 9
HID Nao
Other Shapes may be supported in Daz Studio by Auto-follow
Materials:
MKTG 3 in 1 Lace Dress:
03 Backless Lace Dress-All MAT
03 Bow Lace Dress-All MAT
03 Suspender Lace Dress-All MAT
MKTG Backless Lace Dress:
03 Backless Lace Dress-Bracelet MAT
03 Backless Lace Dress-Dress MAT
03 Backless Lace Dress-Headdress MAT
MKTG Bow Lace Dress:
03 Bow Lace Dress-Bracelet MAT
03 Bow Lace Dress-Dress MAT
03 Bow Lace Dress-Headdress MAT
MKTG Suspender Lace Dress
03 Suspender Lace Dress-Bracelet MAT
03 Suspender Lace Dress-Dress MAT
03 Suspender Lace Dress-Headdress MAT
Shaders:
Color Black
Color Cyan
Color Red
Simulate Presets:
MKTG Backless Lace Dress:
Backless Lace Dress Reset All
Backless Lace Dress Straps Simulation ON
Backless Lace Dress Simulation OFF
Backless Lace Dress Pull Down left 01
Backless Lace Dress Pull Down left 02
Backless Lace Dress Pull Down Right 01
Backless Lace Dress Pull Down Right 02
Backless Lace Dress On the Ground 01
Backless Lace Dress On the Ground 02
Backless Lace Dress On the Ground 03
Backless Lace Dress All (Genesis 9)
MKTG Bow Lace Dress:
Bow Lace Dress Reset All
Bow Lace Dress Straps Simulation ON
Bow Lace Dress Simulation OFF
Bow Lace Dress Pull Down left 01
Bow Lace Dress Pull Down left 02
Bow Lace Dress Pull Down Right 01
Bow Lace Dress Pull Down Right 02
Bow Lace Dress On the Ground 01
Bow Lace Dress On the Ground 02
Bow Lace Dress On the Ground 03
Bow Lace Dress All (Genesis 9)
MKTG Suspender Lace Dress:
Suspender Lace Dress Reset All
Suspender Lace Dress Straps Simulation ON
Suspender Lace Dress Simulation OFF
Suspender Lace Dress Pull Down left 01
Suspender Lace Dress Pull Down left 02
Suspender Lace Dress Pull Down Right 01
Suspender Lace Dress Pull Down Right 02
Suspender Lace Dress On the Ground 01
Suspender Lace Dress On the Ground 02
Suspender Lace Dress On the Ground 03
Suspender Lace Dress All (Genesis 9)
Textures Include:
36 Texture, Bump, Displacement, Normal, Reflection, Specular, and Transparency Maps (4096 x 4096)
Texture Templates available through the Product Library
Daz Studio Iray Material Presets (.DUF)
---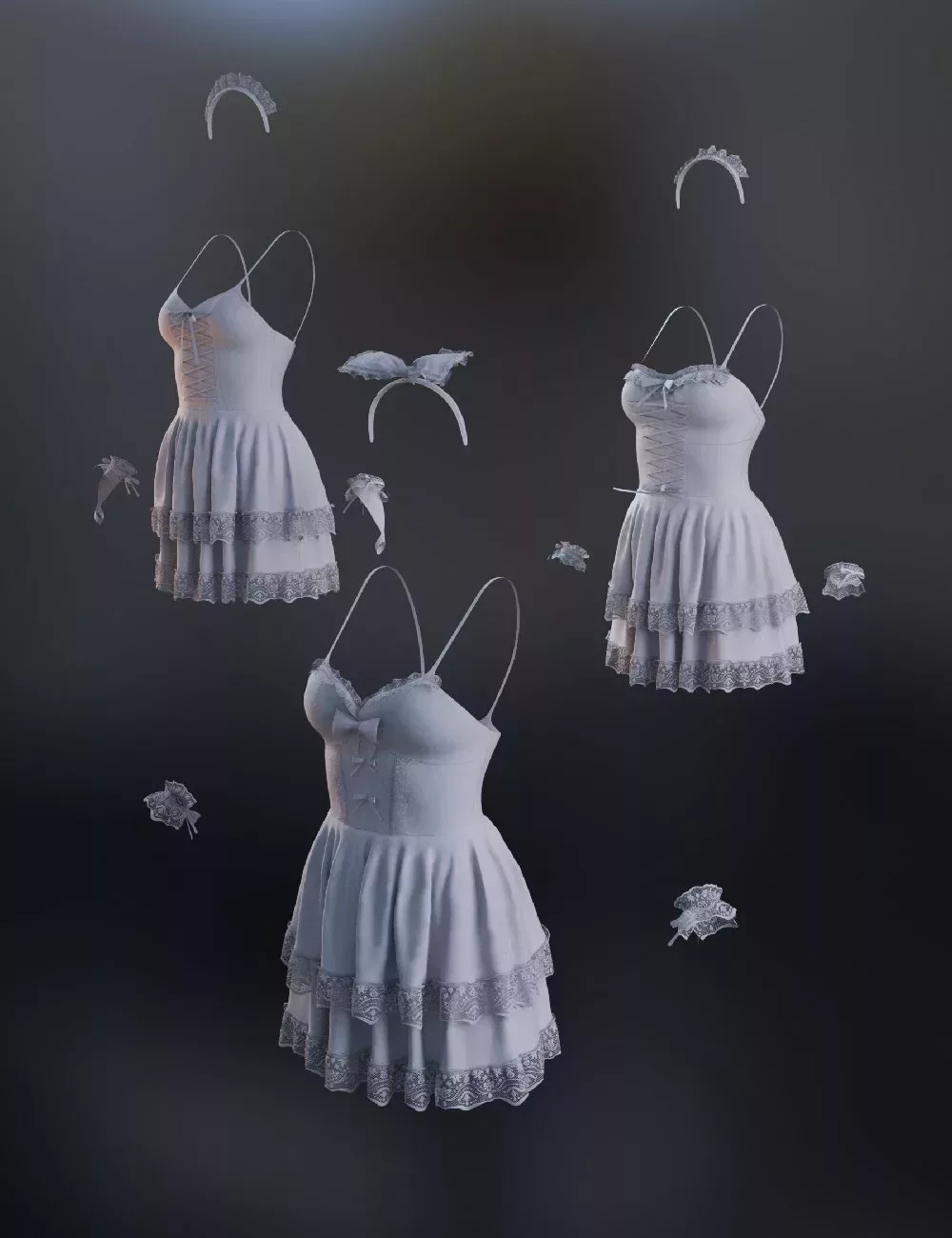 Download from QtyFiles Service
---